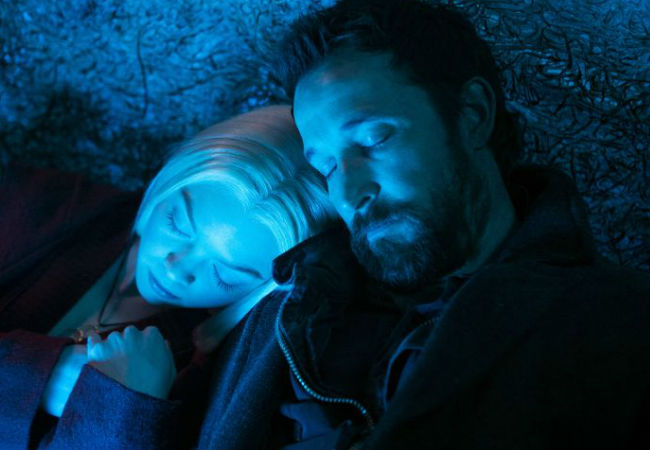 * THERE BE SPOILERS … AND ESPHENI … AND VOLM … AND ??? AHEAD *
Watching the double episode finale of Falling Skies felt, in all the best possible ways, like watching a twisted Hallmark movie of the week where estranged family members finally see eye to eye and heart to heart mixed in with those old Westerns where the cavalry rides in right in the nick of time combined with a classic Hollywood war movie where the hero sacrifices himself for the greater good of his comrades.
Yes, it had pretty much everything from the great big book of storytelling tropes thrown in there but it all somehow worked and worked supremely well (save for feeling less like a proper two hour finale and more like two distinct thematically-different episodes but in the grand scheme of things that matters little).
The centrepiece was not, much to my great surprise, Tom (Noah Wylie) and Ben's (Connor) Most Excellent Adventure to the Moon – Bill and Ted were busy alas and bust who knows how a telephone booth would react to the vacuum of space? – although that did feature heavily of course.
What really took centre stage, and in a way that made sense and did get mired in the Spielberg-ian treacle of overly-sentimental Mason moments (note: I actually LOVE Steven Spielberg but sometimes the heartfelt moments are laid on a little thick for my liking) was the father-daughter rapprochement between Tom and Lexi (Scarlett Byrne) who turned up out of the blue last week in her shimmering red week, looking for all the world like she was auditioning for a part in a British pantomime production of Little Red Riding Hood.
Naturally of course no one bar mum Anne (Moon Bloodgood) wanted anything to do with her, on account of her siding with the Espheni – who it turns out weren't the best parents on the planet what with their decision to kill their very own supernatural-esque war machine in case she got a bit too uppity – and killing Lourdes (Seychelle Gabriel and cheerleading the Skitter-isation of humanity into mindless, mudcake creature drones.
You know small inconsequential things like that.
Now while Pope's (Colin Cunningham) response to her re-appearance was to try and take a pot shot at her, which she deflected with Matrix-like slo-mo grace  – I get this feeling that The Matrix's Neo (Keanu Reeves) runs workshops across the fictional moviemaking world, instructing would be heroes and anti-heroes on the art of ducking and weaving and catching bullets in slow motion – saner, calmer minds like Weaver (Will Patton) and Anne argued that Lexi should be given a chance to prove she really is now loyal to the human cause.
That was though after Anne and Weaver had read Lexi the riot act, a fair enough thing to do given she didn't exactly excel in Being Nice to Humans 101 when she was back with the 2nd Mass.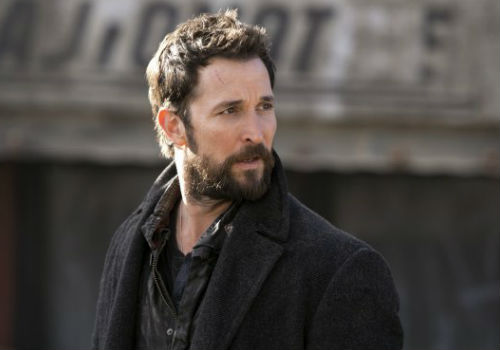 Tom, doing his best impression of a hard ass leader who's had enough, was made as hell and wasn't going to take it anymore, resisting any and all suggestions that Lexi should be allowed anywhere near him, the Beamer that would fly he and Ben to the moon, or anything the 2nd Mass. would ever do again in the entire history of the planet.
Yup, he was that angry.
But a consensus emerged that Lexi should supplant Ben in the Beamer given she knew the Espheni inside and out and had developed a few nifty party tricks while training with them such as controlling gravity and deconstructing matter at the molecular level and so against Tom's best judgement – which might we remind you has included trusting an infected Lourdes and horse riding very slowly to find Anne in season 3 – father and daughter went off on a road trip of sorts.
The kind of road trip where it emerged fairly quickly that someone hadn't checked the Beamer over completely before lifting off with a hairline fracture discovered on the port nacelle – not really but it's one of my favourite Star Trek techno-jargon thingies and I had to use it somewhere; there was fracture somewhere though – and the only way to conserve energy was for Lexi to wrap her and her dad into a lung-filling (cue your gag reflex now!) cocoon till they got the moon.
This could have made for rather boring television since two people asleep under white gauze does not compelling drama make usually but thanks to M. Raven Metzger's well-written script, it became instead a touching , almost poetic exploration of what happens when two people poles apart try to find some sort of common ground and eventually succeed.
And it all took place inside a brilliantly-realised dream sequence with the 2nd Mass. acting out Tom's dream scenario where everyone is blissfully, Hallmark-happy, the Espheni have been defeated and celebrations are in full swing.
It's all a bit too good to be true, and it is, with Tom uncovering Lexi as the architect of this My Little Pony-perfect dream, an attempt by his daughter to get her father to forgive her for her many and varied sins.
Her grief at realising she'd thrown her lot in with the wrong team and in the process possibly lost the love of everyone she should have valued, was palpable and expressed with genuine emotional depth by Scarlett Byrne who wove an at times spooky and at others heartwarming dream world in which to try and seek her father's love, acceptance and forgiveness.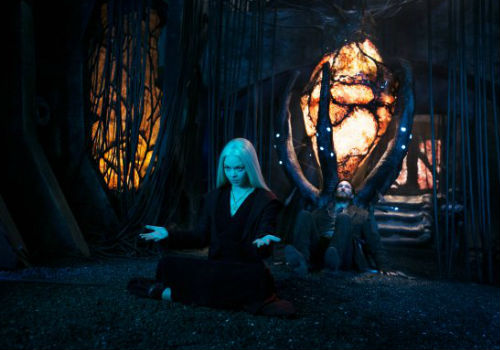 That they eventually bonded is no great surprise – this is Falling Skies after all where you can get rip-roaring drunk drinking red wine every time a heartfelt moment is shared between characters (and I have), usually the Masons who have no problem with stopping the apocalypse for some D & M chats- but it was artfully handled, its resolution natural and unforced and the dream gave the other members of the 2nd Mass. a chance to do their thing, even if it was an imagined thing, while Tom and Lexi flew to the moon.
It was upon emerging from the cocoon that a whole other storyline emerged, one fairly bristling with tension, do-or-die sacrificial behaviour and last minute wrinkles in the Throw a Bomb at the Espheni's Moonbase and Blow It Up Plan.
Rather than finding themselves hurtling towards the moon on the Espheni's tractor beam, Tom and Lexi found themselves dragged across to the mother of all Espheni motherships to be confronted by the Melted Face Overlord and a harnessed Mira (Desiree Ross) who has gone from "I won't drink the Kool-Aid, I don't even like the Espehni's Kool-Aid" to "Gimme a swimming pool full – gulp gulp gulp!"
Cue the Overlord delivering a James Bond villain-like "You're all doomed!" speech and Tom and Lexi teaming up as a bad ass father-daughter combo and seeing them off; not before alas the Overlord sabotages the ship, forcing Lexi to heroically stay behind to kamikaze it into the moonbase while Tom, with great reluctance, escaped in the Beamer, his heart heavy now he and Lexi had RECONCILED.
It was heartwarming without being turgidly cloying and sentimental, and Lexi, formerly the gal everyone loved to hate died a hero's death while Tom hurtled off into space in the middle of a space battle royale where Beamers were ripped to shreds by the Volm cavalry, summoned from wherever they've been by Cochise (Doug Jones) literally begging his dad to help.
(See even the Volm have family issues with Cochise's dad taking a good long while to get over his spat with his son and you know, SAVE A WHOLE PLANET; yup even the Volm can be super-super petty.)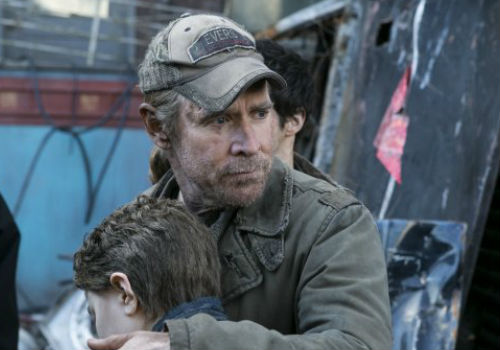 Meanwhile back down on earth, the 2nd Mass., the non-dream generated version anyway, were knee-deep and neck-deep in the Espheni's very own nightmarish version of The Fog.
It was every bit as creepy as it sounds.
An Alien-esque pod crashing into the middle of the rubble, more fog than a San Francisco pea-souper that super-glued people unfortunate to get caught in it to the ground and nasty little slithery creatures on black goo-filled umbilical cords who suctioned themselves to a person's throw and did their freakishly transformative thing.
It had everyone scurrying to get to safety – Ben, Maggie (Sarah Carter) and Hal, ended up atop a bus together, ironically enough with Hal delivering all sorts of guilt-inducing quips even as Ben and Maggie saved his ass; kind of lacking in the gratitude attitude there Hal hmm? – and left some notables 2nd Mass. identities in mortal fear of their lives such as Weaver (who led Matt in rousing round of "The fight's not over till it's over!"), Pope and Dingaan (Treva Etienne).
That none of them died was merely a question of timing as the power than apparently sustains EVERYTHING on Earth winked out just as the creatures were starting to swarm over everyone.
With Tom Lost in Space – thankfully without Dr Zachary Smith (Jonathan Harris) but rather with a whole new rather willowy, fae-like race of aliens (or something else entirely?) for company who seemed to know their way around American history, the "enemy of my enemy is my friend" quote, some choices pieces of earthly music and exactly who Tom is; are they benign or more galactic wolves in sheep clothing? – everyone on the ground, bar a few background extras safe and sound, and the Espheni on the backfoot by a considerable margin, it was a finale that ended well for all concerned with Hal and Maggie doing their best to inspire everyone to make the most of the situation in Tom's absence.
Which all sets us up perfectly for a nail-biting final season next year where no doubt the fate of the earth will be decided, the planet will be so full of combative alien races they'll need to take tickets to wait their turn to fight it out, more people will die heroic deaths and Pope may finally realise that Sarah (Mira Sorvino), who magically turned up in time to save him and Dingaan from a foggy death, is the best thing that has ever happened to him.
Got questions about the season 4  finale? Falling Skies showrunner David Eick has answers!