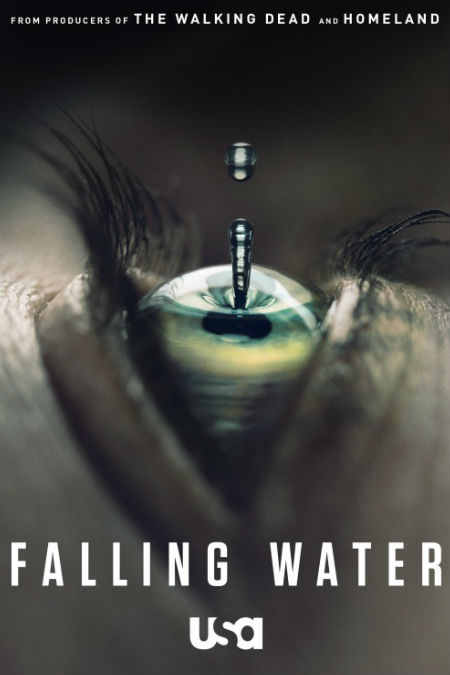 SNAPSHOT
An intersection between reality and unconscious thought, FALLING WATER is the story of three unrelated people, who slowly realize that they are dreaming separate parts of a single common dream.  Each is on a quest for something that can only be found in their subconscious.  However, the more they begin to use the dream world as a tool to advance their hidden agendas they realize that their visions are trying to tell them something more, and that their very real lives are at stake. (official synopsis courtesy USA Network)
What if your dreams were not your own?
That's the premise of a thrilling new drama from USA Network, created by created by Blake Masters and the late Henry Bromell and executive produced by Gale Anne Hurd, that dares to ask whether the most private of nocturnal activities can actually be the preserve of more than one person at once.
It's an intriguing though scarily-invasive idea and one backed by scientific research that suggests, notes Mashable, that dreams can be shared and very much influenced by the lives we lead.
"The concept may seem far-fetched, but science indicates that sharing dreams isn't as impossible as it sounds, and that there may be ways to influence a person's subconscious while they sleep, potentially even affecting the content of their dreams."
To lend credence to their premise, USA Network conducted a study of 500 Gen X, Y and Z respondents and came up with interesting discoveries.
"Third Culture Kids" (Multicultural Generation Y and Zers whose identities straddle different cultures, ethnicities and languages) are by far the "best" dreamers, reporting more vivid and lucid dreams than the general population, likely due to the interconnectedness of their world.

"The study also indicated that heavy screen users and avid gamers have far more frequent and vivid dreams than the rest of the population. 39 percent of tech-savvy respondents report that they dream daily, versus 26 percent of the general population. Gamers also have better recall, with 20 percent remembering their dreams, and tend to dream in more vivid colors, according to the research. Maybe our Pokémon Go obsession isn't so bad after all." (Mashable)
Fascinating though this is as an abstract notion, Falling Water explores what it would be like to be enmeshed in vivid shared dreams, and how frightening and disorienting it might be to effectively have someone else in your mind.
You get a real sense of this just watching the first 10 minutes of the pilot episode how applecart-upsetting it would be to have other people wandering into and out of your dreams and for your dreams to  be less a private endeavour and more a part of some grand design.
Would that feel destablising? You bet it would and it looks like Falling Water is going to go to some dark utterly absorbing places with this revolutionary idea.
Falling Water premiered 13 October 2016 and currently screens Thursdays at 10/9C.