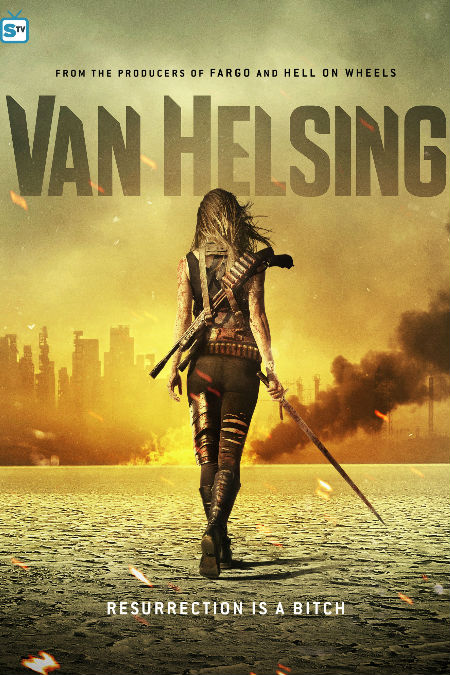 SNAPSHOT
Van Helsing is set in a world dominated and controlled by vampires.  Vanessa Helsing is the last hope for survival, as she unknowingly awakens to discover she has a unique blood composition that makes her not only immune to vampires, but with the ability to turn a vampire human.  With this secret weapon, Vanessa becomes a prime target for the vampires, while trying to save humanity. Van Helsing comes from the producers of Fargo and Hell on Wheels. Acclaimed director/playwright Neil LaBute serves as showrunner. (official synopsis via syfy)
Honestly the apocalypse just won't die will it?
If it's not aliens or virulent contagions, it's zombies, climate change and yes, now vampires with syfy's Van Helsing giving us a world in which the bloodthirsty undead rule the roost and humanity is an endangered species.
The one hunting all the vampires this time around is one Vanessa, daughter of Abraham Van Helsing who is resurrected to find out that not only is the world overrun with the very creatures her father sought to vanquish but that she alone can save what's left of humanity.
And with blood that can change a vampire back to a human, you can understand why Earth's new overlords aren't exactly going to invite her to tea and serve her crumpets on the nice china.
Vanessa is public enemy #1 which as you can imagine complicates things as does the fact that humanity's rump aren't exactly playing nicely together in what is now a very bloody sandbox indeed as Chad Oakes, co-chairman of Nomadic Pictures said in a statement (via io9):
"The series is unique in exploring a world completely dominated by vampires, while the human characters have to learn the importance of working together to ensure their survival."
Throw in supernatural elements and you have one hell of a drama on your hands, another (hopefully) fine addition to the ever-growing apocalyptic canon of TV storytelling.
Val Helsing premieres Friday 23 September at 9/8c on syfy.