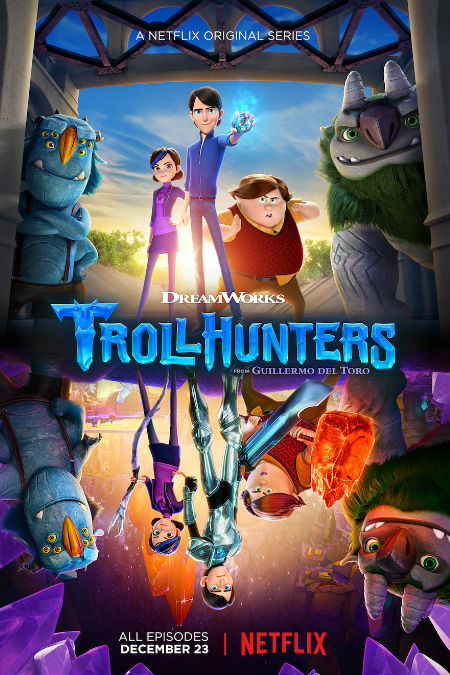 SNAPSHOT
Trollhunters follows 15-year-old Jim (Anton Yelchin) and his two best friends, Toby (Charlie Saxton) and the benevolent troll Blinky (Kelsey Grammer), who make the startling discovery that beneath their hometown lies a hidden battle between good trolls and bad. Ron Perlman also lends his voice as Bular, a sinister troll who goes after Jim and his friends. Jonathan Hyde, Lexi Medrano, Amy Landecker, Fred Tatasciore, and Steven Yeun co-star. (synopsis via Indiewire)
Life, huh?
There you are, calmly riding around town with your best friend being a happy but fairly unremarkable teenager when Destiny in the form of a troll named Blinky comes-a-calling.
Sporting a mellifluous voice, courtesy of Kelsey Grammer – itself the source of  an hilarious line in the trailer when Toby, freaked out from a near miss with their newly-discovered evil troll enemies, hisses at their erstwhile protector "You have a sweet voice but you BRING DEATH WITH YOU!" – Blinky comes with the usual revelations about Jim, featuring the voice of Anton Yelchin before his untimely death in June, being their Only Hope, the chosen Master etc etc.
But such is the charm of the Guillermo del Toro-created Trollhunters, the first two episodes of which premiered at New York Comic Con this year, which has been produced by Dreamsworks Animation and Cha Cha Cha Films, that you skip across this well-worn trope almost instantly and embrace a world where good and evil do battle beneath the feet and gaze of humans.
(Although as Blinky points out, and the trailer demonstrates in a trucking great demonstration, it's a war that breaks out into the human sphere from time to time, and could well doom as so many things threaten to do.)
Overall, this looks like a wholly-charming, completely engrossing piece of animation that, coming as it does from the fertile creative imagination of del Toro, promises one hell of a destiny-shaping ride.
Trollhunters is available on Netflix globally from 23 December.