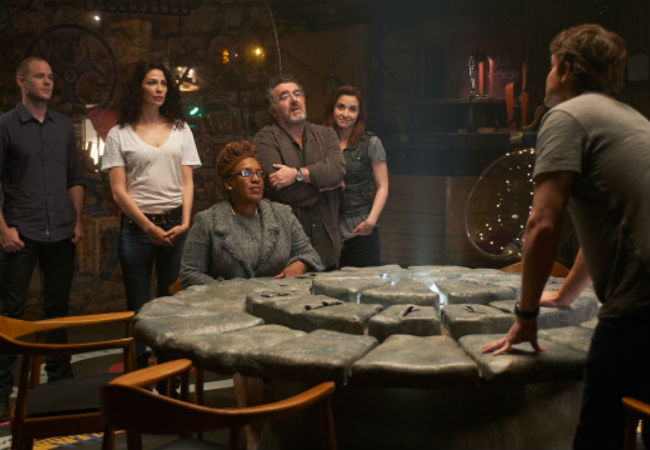 Saying goodbye to a much-loved TV show is never easy.
After spending years, episode in, and episode out with a group of characters you have to know, love and deeply appreciate who inhabit a world you would probably very much like to call your own, they are gone, living on only in your downloads or DVD boxsets, flickering memories of what was once was.
It's not something I particular enjoy, even if in this new so-called Golden Age of Television, there is a line of potential replacements a mile long just waiting for their chance to dazzle, impress and enthral.
The last thing you're thinking about when you watch the finale of any show you love is what you will view in its place and so it was when my housemate and I sat down to watch "Endless", the final episode in the final season of Warehouse 13, something we'd put off for as long as humanly possible  – an act of superhuman effort thanks to the ever present threat of spoilers in the interweb – because we simply didn't want to say goodbye.
If we're honest, there was a lurking fear deep down that perhaps Warehouse 13's neat as a bow farewell to its viewers would somehow slip a gear, not quite manage to say goodbye in the way or with the quality or emotional gravitas we imagined it would.
Given the robust strength and imagination of the five episodes up to this point including the marvellous insanity of "Savage Seduction" and the Big A action of "Cangku Shisi" that seemed an unlikely eventuality, but still there it lurked, the product of our unwillingness to say goodbye, and our mind's inventive tactics to delay the act as long as possible.
But say goodbye we finally did, and "Endless" proved to be one of those magical episodes that neatly and beautifully captured everything we, and countless other viewers of syfy, which appears unable to program a series beyond five seasons – perhaps their headquarters will explode if they do? – loved about Warehouse 13, a show unafraid to mix action, comic goofiness and tender moments of authentic emotion.
"Endless" had it all with new, crazy artefacts galore, the much-teased romantic coming together of Pete (Eddie McClintock) and Myka (Joanne Bering) – something I mentally resisted happening treasuring their witty brother/sister repartee but which was handled in a sweet but pleasingly understated way – and spotlight character moments for all, including dearly departed Lena (Genelle Williams) who appeared via a recalled moment with the imperious but quite human in "Endless" at least, Mrs Frederic (C. C. H. Pounder).
It all took place, against the supposed looming move of the Warehouse to China, an act precipitated when its country of residence ceased to be the dominant power and another country rose up to take its place in the global pecking order.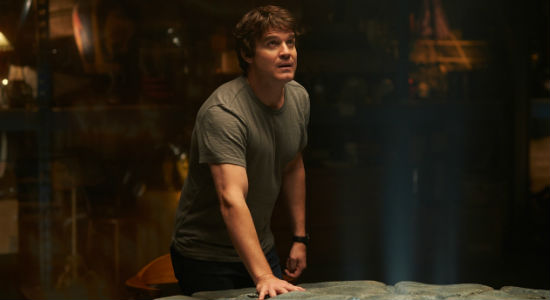 Pete, arguably the emotional centre of the show, wasn't handling the prospect of losing his home and sense of purpose – something he felt he never had away from Warehouse 13 – at all well, storming out at one point to try to find some way, any way to stop what looked at that point to be the inevitable.
The others however, including the "father" of the current Warehouse, Artie (Saul Rubinek), Claudia (Allison Scagliotti) and Steve "Jinksie" (Aaron Ashmore), were far more sanguine about the looming end of their time in the wilds of South Dakota, and gathered along with Mrs Frederic around a previously unseen artefact, the Round Table, which inspired the legend of King Arthur and his circularly-seated knights.
This massive table of organ-like stone keys functions as the Warehouse's time capsule, capturing the defining memory of each time's time in its employ, a recollection triggered by the agent placing their hand on the symbol-etched key before them.
In any other show, this might have simply been an excuse to trot out file footage, a lazy way for writers to say goodbye to the show with minimal effort, but this is of course one of the most inventive shows out there, and so with a mix of tears, laughter and regret, we were able to see the event that had most defined the tenure of each agent.
And they were every bit as funny, clever and revealing as you'd expect them to be.
Claudia: Well, it's only human to have doubts. Right, Mrs. Frederic? You must have had your doubts.
Mrs. Frederic: No, I was always resolute.
Claudia: Thank you again.
Claudia's was perhaps the most outlandishly hilarious with an out of control artefact, the 42nd Street Film Marquee, summoning up legions of malevolently-smiling, silver sparkling showgirls chasing the Warehouse team from hither to yon, all of whom were compelled by the power of the artefact to dance, dance, dance!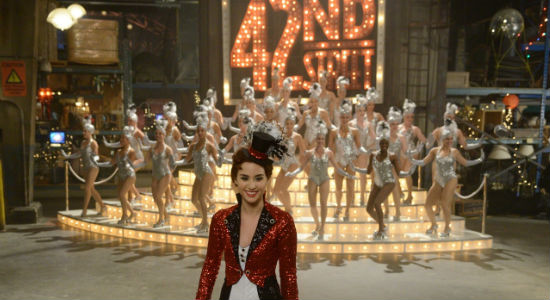 It was creepy in as much as leering painted clowns are creepy with the upbeat musical number "42nd Street", and almost impossible to defeat since the endless showbiz dance moves made it all using a computer and grabbing anything an exercise in the sort of coordination no one but probably Myka possessed.
The gags flowed freely – Pete: "I used to dream about being chased by leggy showgirls" Myka: "Oh just shut up … and dance!" – the solution was inventive, a combined use of Busby Berkely's Flask and a Tin Pan from the legendary Tin Pan Alley – and we had hitheto dancing talents revealed in a memory that let slip that Claudia was having doubts about becoming the next Caretaker of the Warehouse.
Doubts that were talked through later in a father/daughter chat with Artie, who reminded Claudia that sometimes, in even a place as self-sacritificial as the Warehouse, its OK to be a selfish.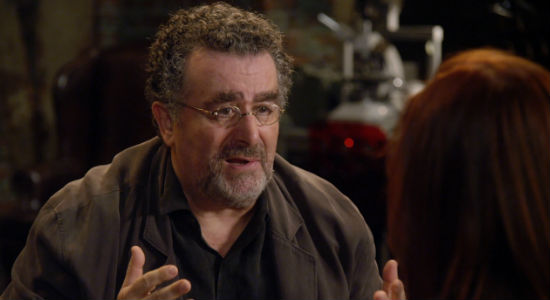 It was only right at the very end, sometime in an unspecified future time, that you discover what Claudia ultimately decided but the scene's real strength was in giving Artie and Claudia one last special moment together, one made all the more poignant by the revelation that Artie has a son, a fact long hidden from everyone but Mrs F., but brought to light in Artie's defining moment.
A lavishly recreated party scene from New Year's Eve 1941 when a reluctant new bride, afraid to let her husband go to war, had used Thomas Wedgwood's Champagne Glass to freeze a moment in time she understandably didn't want to end, its purpose lay mostly in givingus a rare chance to see Artie away from the Warehouse with his "One", the only person in the world each agent is allowed to have who is privy to what it is they really do for a living.
Artie's real moment came a little later on in the Warehouse when all the pent-up feelings of loss and sadness came spilling out in an anguished, heartfelt soliloquy:
"And what difference does it make? It's over. And this is how it ends? Just over? And what am I supposed to do? Just walk away? Just walk away. You know, you give your whole life to something every day without complaining–well, no serious complaints! I'm here every day. Every day I'm right here for you and your damn ping–your pings. Ping, ping, ping! Ping, ping, ping, ping, ping. I'm like a slave at your beck and call. You know I have lost–I have lost friends, family. People I've loved… have died in my arms, but I stayed faithful. I gave you everything and now that there's nothing left… for you to take, you're just gonna–just leave. Whore! That's what you are, you know! Yeah, you're just selling out to the highest bidder. Fine! You wanna go? Go! That's what you wanna do? Go! You don't want me. I sure as hell don't want you! En–enjoy your new home. You think you're gonna find somebody like me. Somebody who cares about you like I do? Ha! Ha! Good luck with that! Good luck finding somebody as devoted! Somebody who would give their whole life… without a "thank you." Without even a… piddling, little miniscule… acknowledgement that they're appreciated. That they even matter to you… at all."
It ended in the sweetest and most-Artie of ways with a solitary apple rolling down the aisle till it rested at his feet, whereupon he picked it up, managed a simple but appreciative "thank you" and returned to say goodbye to the only real home he'd ever known.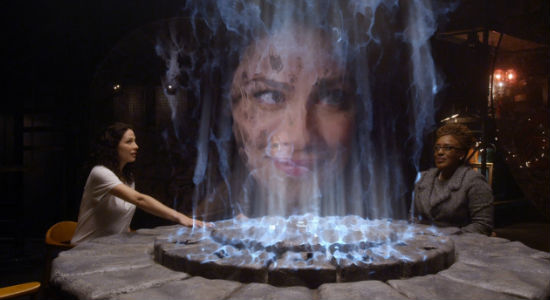 Myka was up next, and again while the memory was slapstick-hilarious with a Japanese artefact the Five-Tailed Fox Ceramic Statue turning five Stepford Wives women into furious fighting ninja with one touch after a Miss Marple-like grilling by Myka, it was more about prompting Pete's partner to finally admit she was in love with him.
I had resisted the idea of Pete and Myka being a couple right through season 5, not because I am not a romantic; I am in fact an incurable one, addicted to love true love in all its pop culture forms, but because it all felt a little too rushed, too last minute, an after thought to resolve non-existent URST (unresolved sexual tension).
I saw them as close brother and sister-type friends, partners to the end, covering each other's through thick and thin, and everything up to season 5 in the way the writers had given life to the characters suggested this.
So to suddenly have them become love interests seemed a little too late but to the credit of Warehouse 13's talented team of writers, it was exactly as you'd expect it to be, tender and sweet yes but quip-laden and a little goofy with a hint of the benign, affectionate tension that exists between two people who know each other intimately:
Myka: And you know what? You'd better get used to doing what I tell you.
Pete: Oh.
Myka: Yeah.
Pete: Could be good but it could be bad. So when do we get naked?
Myka: Well, we body swapped. You've been me naked.
Pete: Oh, yeah. That was a good day. (Myka punches him in the shoulder) Oooh. Oh, uh, after five years, I probably should tell you the whole punching thing… really turns me on.
Myka: I know.
Pete: Naughty.
With this unwanted, on my part at least, romantic tension resolved, an event by the way that everyone else seemed to take in their stride amazingly well, we were left with Jinksie, a character who I felt was often neglected by the writers, a man who never quite seemed to fit in.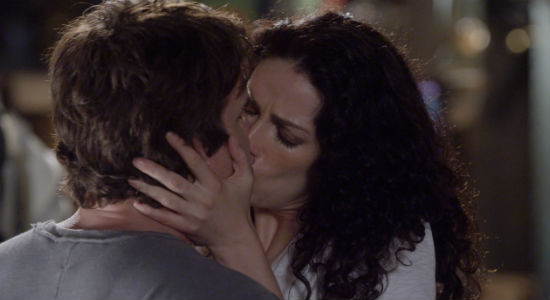 To their credit, they gave voice to this dynamic in Steve's defining moment which took place when he and Claudia, miniaturised to a fraction of their normal size by H. G. Well's Shrink Ray, were deep inside Artie's heart whose rhythm was being disrupted by a teeny-tiny clock-like artefact.
After blasting it to smithereens and rescuing Artie from the brink of death, Jinksie, who admitted that he never felt like he fit in:
Steven: Let's be honest. I've never completely belonged here. I'm kind of our Marilyn.
Claudia: Munster? Uh, no way. I'm Marilyn.
Steven: No, no, no. You are Eddie. Pete is Herman, Myka's Lily, Artie's Grandpa, and Mrs. Frederic is [she shoots him a stern, disapproving "don't go there" glance] … not really part of the pattern.
was left floating in the vast expanse, at least to his temporarily small form, of Artie's heart, lost in the wonder and glory of it all, and ultimately transformed by an experience like no other:
Steven: I was inside a beating human heart. I'd forgotten about that moment. It was indescribable. I–you know, I saw it. I was there. It was like…
Mrs. Frederic: Nirvana?
Steven: You know, when I came to the warehouse, I didn't think that I'd ever find peace. Just… so much chaos, you know. But…
Claudia: You found it.
Steven: No. No, it was given to me. The warehouse showed it to me.
But of course that wasn't it.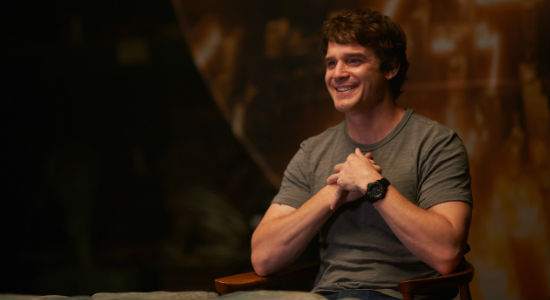 Pete hadn't had his time in the defining moment sun yet and after realising his quest to stop the Warehouse's move was quixotic at best and kissing Myka, he returned to the table, placed his hand on the Round Table, and all the memories that anyone in Warehouse 13 had ever had came up on the holographic display, a sign Myka thought that Pete hadn't had a defining moment.
But in fact, the beating, smart-mouthed, old soul, deep feeling heart of Warehouse 13, all sassy oneliners aside, had had ALL of the defining moments, the sort of thing that would happen to a man who had his found his very sense of being and purpose in the supernaturally-charged world of a labyrinthine, cluttered warehouse hidden in the badlands of South Dakota:
Pete: Maybe my defining moment is all of it… every minute… that I got to spend with you guys. And I'm sorry, Mrs. F, I just was scared. I was scared that if I lost this, I'd go back to being the person I was before, and… but this is who I am now. The warehouse and–and all of you have made me a better man. If it ends tomorrow or if it goes on forever, nothing–nothing will ever change that.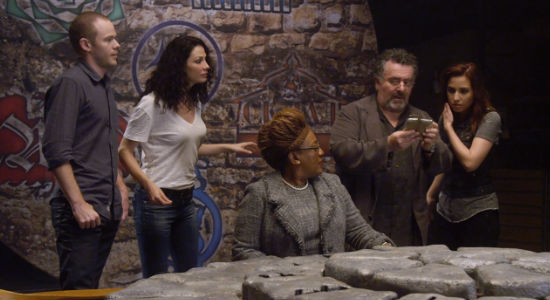 It was the perfect emotional end cap to a series that has never been afraid to wear its heart most firmly on its sleeve.
For all of the larger-than-life adventures, the imaginatively powered artefacts, the various Big Bads, the endless quips, and the derring-do worthy of James Bond, what really defined Warehouse 13, what became its defining moment was Pete and the sense that he had finally come home.
It was the perfect way to finish a series, however prematurely cancelled, with everyone gathered together, Pete pouring out his soul, and the hint, just a hint, that maybe things may not move on quite as expected after all.
Well for the Warehouse 13 crew at least.
For the rest of us, it's goodbye to a show that made us laugh, gasp, swoon, cry and clap with glee, a show that knew that it's perfectly OK to be goofy, postmodern-ly mythologic and openhearted all at once, that this is the stuff of life, no matter how unreal its setting may have been.
Farewell everyone – may you continue to bag the artefacts, have each other's backs and fight the good fight against villains and artefacts large and small till the end of time.
And oh hey, should you want a reunion of some sort in the future, that's perfectly fine with us …
* Thanks to TV Rage for the awesome list of faithfully-rendered "Endless" quotes, and to the Warehouse 13 Wikia for the wonderful list of artefacts of which, fittingly for the show's finale, there was an abundance.