The rather pun happy title of the fourth last episode (yes I am counting them down, tissues in hand) in the final season of Warehouse 13, "A Faire to Remember", would suggest that this was a tale of jocularity, fun and extreme silliness.
The sort of stuff that Warehouse 13 does very well indeed.
And to an extent that's exactly what we got with Pete (Eddie McClintock) and Jinks (Aaron Ashmore) off for a spot of medieval fun at a Renaissance Faire, where a weird and wonderful artefact did doth reside – it is almost impossible not to want to type this entire review in ye olde English but for the sake of our collective sanity, I shall limit it as much as I can – one which was causing all manner of mayhem, sending all the maids, princesses and jesters, SO many jesters, scattering merrily (or not so merrily) in every direction.
As case-of-the-week tales go, it was a lot of fun, apart of course from the threat posed to the life of one of the Faire's employees Oswald (Ryan Cartwright), a man very low on the totem pole who was at risk of actually dying if he didn't do something heroic, unwittingly cursed by Katarina (Erin Way) the woman he loves (although he is endearingly unaware of that at this point) when she impersonated her fortune teller aunt and predicted his future using a set of Tarot cards desperately need of some purple goo.
Yep quite the mess she caused in an attempt to cheer the man she loved from afar up.
But when they finally got together, since no curse can keep love, true love, down, they were such an adorable couple that you could totally forgive her inadvertently imperilling the relationship before it had even begun.
Pete naturally was thrilled to be in dress up, play acting mode, taking it to the whole renaissance theme with alacrity; Jinks however was none too pleased to be there, doing his best to get things solved before Oswald met his maker.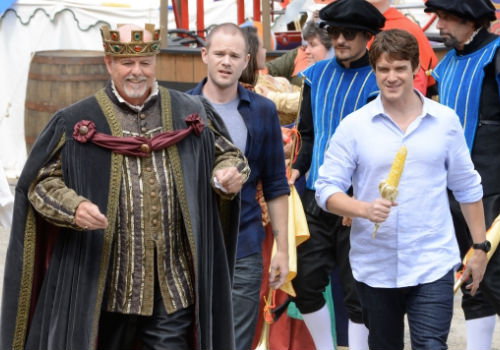 The tension-tinged banter between the two men was Warehouse 13 at its dialogue playful best, Pete particularly being given multiple chances to be goofy, silly Pete.
What is so enjoyable about watching Pete in full Pete mode is that far from being an insubstantial character, he gets a chance to play the little lost that we know and love.
Beneath all the carrying on and verbal tomfoolery is a man who feels things deeply, who know that he and Myka (Joanne Kelly) are heading to an emotional reckoning some kind – please not a relationship, dear lord please no; an affirmation of deep, affirming brother/sister bonds instead thank you – and is taking every chance he can get to keep things light and merry.
It was also enjoyable to watch another case-of-the-week unfold, a good call by the writers who could have easily made every single last minute of the final six episodes Very Important and Emotionally Poignant – and sure there is some of that as you'll see in a moment – but managed to find a way to give us a chance to the team doing what we have loved them doing for the last five seasons.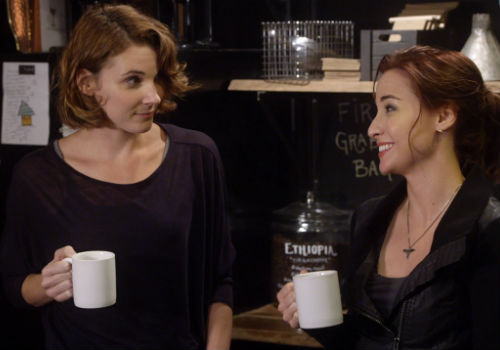 For all the quipping and playfulness of Pete and Jinks storyline, the real heart and soul of the episode lay back at Warehouse 13 where Claudia (Allison Scagliotti), aching for sister Claire (Chryssie Whitehead) to be released from the coma into which Artie (Saul Rubinek) placed her 15 years previously for her own protection and those she loved – too late to save Claudia and Claire's parents alas who died in a car accident caused by one of Claire's Carrie-like energy outbursts – set her "free" using some artefacts and Myka's help.
Of course nothing quite went to plan, and while Claudia was back to her own pre-artefect energy possession self, albeit rather shocked to find her 15 year old soul stuck inside a 30 year old's body (this was played to perfection by Whitehead), and the sisters bonded in no time flat, over Garbage's "When I Grow Up" no less, Myka found herself the new host to the crackling, anger-instigated bursts of destructive energy.
This finally gave buttoned-down Myka permission to vent on a whole host of issues from her isolation in Warehouse 13, both physical and emotional to her terror at battling cancer largely alone, and in that respect was good very good.
In every other respect it was bad, very bad since it meant that the angry outbursts had to go into someone and couldn't be contained in an artefact, something Artie had tried repeatedly to do.
Crestfallen that her Very Clever Plan to free Claudia had gone awry, Claudia, who has suffered the most of any character in the show, losing her parents permanently, her brother temporally to a vortex, her sister to an artefact, her teenage years to a lengthy stint in a mental hospital and her future to being the future Caretake of the Warehouse, realised once again that nothing in life is free.
It was heartbreaking to watch her realise that she couldn't have the happy ever after ending.
Well not just yet anyway, and as Claire bravely and self-sacrificially gave herself once more to the dreamless embrace of the coma, Claudia was left wondering once again what else she'd have to give up in a life that hasn't exactly been a walk in the park.
It gave her and her surrogate dad Artie a chance to bond a little bit more, especially important given neither of them are exactly touchy-feely types, both using rather robust coping mechanisms to keep emotional reality at bay.
It also re-established once again just how much Claudia is a part of the warehouse, not simply because she has been chosen in some weird, mystical way but because her own flesh and blood, remains trapped in a Sleeping Beauty-esque fashion within its walls.
She couldn't leave even if she wanted to and someway or another, she will need to make her peace with her destiny.
Again, what I loved about this episode was the writers ability to balance the Big and the Small story lines, with neither losing anything to the other.
Yes Warehouse 13 is doing its darndest to wrap up all the loose story lines in a bright, happy, hopefully artefact-untouched bow, but not at the expense of celebrating those things that have made this quirky series such a pleasure to watch.
And for that, oh writers, I, and I am sure many others, are most grateful.