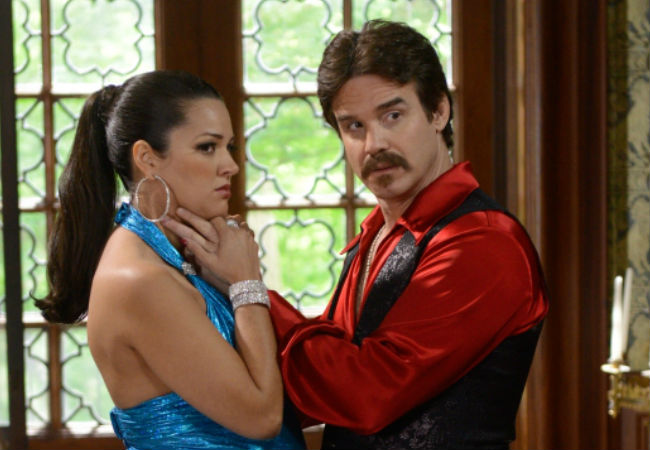 This was a gleeful, hilarious, over the top hoot of an episode of epic proportions.
Epic I say!
And by so being, "Savage Seduction" was absolutely, perfectly a quintessential Warehouse 13 episode, an inspired choice as the series draws to a much-mourned close.
It all took place, naturally enough, deep in the heart of a telenovela (short run serial dramas with soap opera-like plots that are popular in Latin and North America among other places), in this case one called Seducción Salvaje, which is found still showing on the (now) unplugged TV of Pete's (Eddie McClintock) lost love, and now married and heavily pregnant to someone else Dr. Kelly Hernandez's (Paula Garcés) beloved Nana (Teresa Yenque).
Unnerved by the disconnected still-active TV, the still playing telenovela, which supposedly finished its run the night before, and her grandmother's milk carton status – sensible girl; with that kind of nous you'd survive every horror movie going – Kelly calls in the only people she knows who may have any experience with possesses televisions, Pete and Myka (Joanne Kelly).
And race to her help they do, at least once Pete recovers from the fact that he didn't father Kelly's baby, something he only comes to realise when Myka points out he hasn't seen his now married ex in two years or so, but as you might expect, things don't quite go to plan (not that of course there is a plan yet, such is the way of artefacts).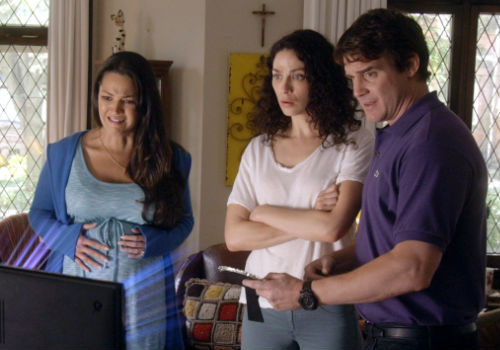 Before you can say Doña Fausta Obregon, the matriarch of the squabbling wealthy clan on Seducción Salvaje, who is now mysteriously played by Kelly's missing Nana, Kelly and Myka are sucked into the show, along with Nana's pet cat, and with their memories wiped, find themselves playing warring members of the same household, unaware of who they actually are.
With a memorable cry of "This house is not clean!", Pete summons Artie and together the intrepid twosome leapt after Kelly (now playing rich gal with an attitude Carmen) and Maribel (feisty maid with an attitude – OK everyone has attitude; it's a telenovella after all!) but not before holding onto Harvey Korman's cufflinks so they don't lose their identities.
What ensues is classic Warehouse 13 – hilarious flamenco riffs and a hair-unsettling whoosh of wind whenever anyone changes between their character and their real identity, delicious over-acting which gives everyone a chance to give vent to their inner ham (Eddie McClintock, as you can imagine, has a ball with his part) and a plot so convoluted it takes a while to isolate the artefact and purple goo it.
It's the pot-boiled narrative that gives the writers the opportunity to exercise the whole will they/won't they, should they/shouldn't they romantic dynamic between Pete and Myka with their telenovella characters finding themselves in a passionate embrace more than once.
I am still hoping against hope that the obvious, and yes, laziest outcome isn't the one they settle on since not every male/female paring in a TV show has to end up in love happily ever after.
As I've said before Pete and Myka are more brother and sister than a romantic couple, and it would be a shame to see Warehouse 13's writers, who have got so much right over the years, and especially this season, get it so wrong in the show's final episodes.
Still, whatever road they send Pete and Myka down, "Savage Seduction" gave them the chance to at least play act what love, true love might look like on those rare occasions when it comes a-callin' to a Warehouse 13 agent.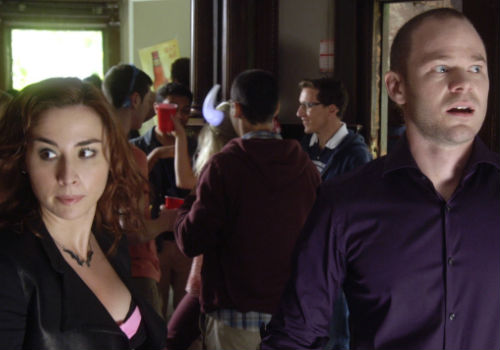 Claudia (Allison Scagliotti) and Steve (Aaron Ashmore) on the other hand head off to college frat house to find an artefact that allows its members to be in two places at once.
While their studious side presents learned presentations or pours over books taking notes like their lives depend on it, their wild, crazy side is drinking up a storm and partying, usually, till they drop.
Tracking down this split personality artefact is essentially just a playful case of the week excursion for Claudia, who has been holed up in the Warehouse for days, obsessing over a way to free her sister once and for all from her coma, and Steve, who is more repressed and responsible than normal, glorying in the ability of a sat nav to get him places so easily and efficiently.
The fun begins when Steve encounters the artefact and ends up hewn into serious, conscientious Jinksie, and flamboyant "you go girrrrrl!" Jinksie goes to town partying with the hot young men of questionable sexuality in the frat house.
While nothing of any real consequence arises from this Freaky Friday-esque excursion into academia, apart from us seeing Claudia in complete obsessive mode (and why wouldn't she be?; she wants to get her sister back), its clear that Scagliotti and Ashmore are having a lot of goofy fun.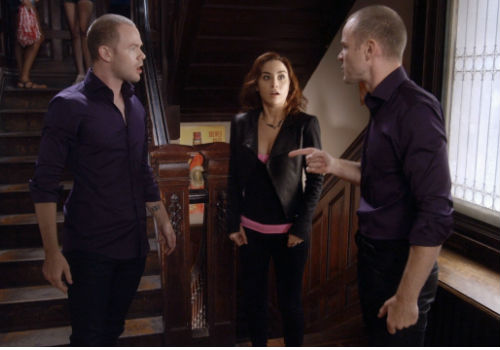 And that is just as valid a reason for an episode as anything else really.
Savage Seduction is essentially a showcase for one of the defining attributes of Warehouse 13, which is its willingness to be completely, hilariously, over the artefact-created top goofy.
No pretensions to serious drama, no intense raison d'être, no great moral in the story – just good old-fashioned, character-driven fun.
A last chance if you like for the characters to engage in the silly banter and visual hijinks that have made Warehouse 13 such a joy to watch.
The key, of course, has been that all this silly, silly humour is rooted quite cleverly in such a very serious attention to detail characterisation.
They're not just jokes or silly Keystone Cops visuals for the sake of it, transplanted rather awkwardly for yuk-yuks and guffaws in the middle of a plot; they come from the the interactions between the beautifully drawn characters we have come to know and love and that's what makes the humour such a delight to take in.
And what will make its first-run disappearance from out screens such a tragedy (yep, we won't be laughing then).
*But it's not gone just yet! Here's the trailer for the penultimate episode "Cangku Shisi" …