The first episode in any new season of a show you truly love is usually a cause for celebration.
But while "Endless Terror", the premiere episode in the fifth season of Warehouse 13, was welcomed with open arms by this longtime fan and no doubt many others, any joy felt was tempered by the knowledge that this is the first of only six shows in a truncated final season that has an awful lot of storytelling to do before it finishes its run.
Thankfully, if the cracking pace set by the writers for this episode is any guide, we're in for a whole lot of story in a very short time, a sign that the show's producers intend to go out with the sort of bang befitting a show that has always had a fondness for explosions of varied intensity, origin and destructive ability.
"Endless Terror" certainly didn't waste any time getting us back into the Warehouse 13 swing of things.
It had an epic adventure that spanned centuries, different Warehouses, a host of freaky artefacts with unimaginable power (unless you're a Warehouse 13 writer in which case consider them wonderfully imagined) and multiple variations on the space time continuum (but enough of that because over-explaining the anomalies of time travel makes Pete's head hurt).
And quips and witty banter aplenty such as this exchange between Pete (Eddie McClintock) and Myka (Joanne Kelly) over the take-charge attitude of Leonard da Vinci's granddaughter, Lisa (Rebecca Mader), one of the agents of Warehouse 9 who they encounter when they journey back in time:
Pete: "She's really bossy!"
Myka: "But you really like that."
Pete: "I really do."
And even a conclusion that turned out to be as complete as conclusion as you might have expected, indicating that there will be one last world-shattering battle for the soul of the Warehouse yet (which we learned draws its power from the Alpha Centauri star system).
In short, it had everything you could possibly want from a Warehouse 13 episode, a sign that if things have to end, they will end as they began – with a mix of the serious, the fantastical and the downright goofy.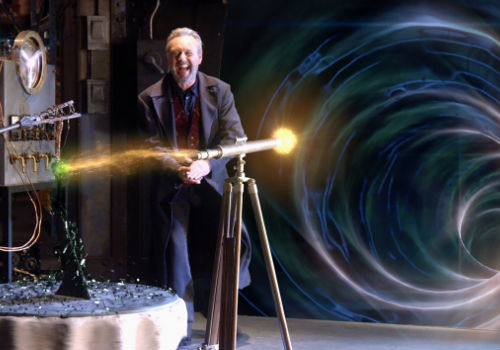 It began, much as season 4 ended, with Paracelsus, one time caretaker of Warehouse 9 before he let all the power go to his head, become immortal and slaughtered whole villages in his quest to advance science at the expense of pretty much everything else, intent on wiping the current Warehouse 13 team , including a defiant proto-caretaker Claudia, from the face of space, and as it turns out time too.
A quip-filled banter between a determined Paracelsus and an equally determined Claudia ended with the young tech genius, who was technically part of the Warehouse Paracelsus now controlled, being made to do, puppet-like, what the evil genius wanted.
This included naturally enough constructing a time machine out of a host of artefacts – it turns out time travel was quite the thing in the middle ages and the Enlightenment with both Leonardo da Vinci and the court of Louis XIV having their fun with the space-time continuum; who knew? – into which Paracelsus stepped with Pete and Myka eventually following him once it became clear he had tinkered just a little bit with the current timeline.
What followed was pure Warehouse 13 with a rollicking oneliner-punctuated journey through 16th century Europe with Pete and Mika to stop Paracelsus's enacting his evil vision for the future where the end justified the means to the nth degree, while Artie (Saul Rubinek), Claudia (Allison Scagliotti) and "Jinksie" (Aaron Ashmore) did their best to sort things out in the altogether altered present.
It was mostly light and fun with appearances by Lindsay Wagner and René Auberjonois as Dr. Vanessa Calder and Hugo Miller respectively, a brief flirtation with some seriousness and whether the benefits generated by a total sublimation to the cause of scientific progress is worth all the human collateral damage, and more artefacts than you could poke a non purple goo'd-stick at coming together to create all kind of mischief.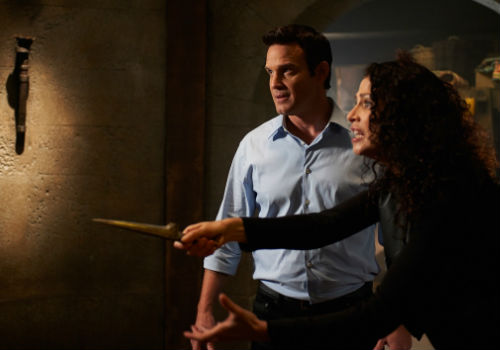 And as you might expect, "Endless Terror" also gave Pete and Myka the chance to kind of, sort of talk about the latter's recovery from cancer.
Or not really, with each of them dodging their true, deep familial feelings for each other with all the alacrity of politicians seeking to avoid committing to a position, any position, even as they at least acknowledged that something had happened.
Quite whether Myka was really deathly ill with terminal cancer, or whether Paracelsus actually did heal when he duped Pete into freeing him from imprisonment was never fully addressed, which introduced an agreeable amount of emotional ambiguity in a show with no usual appetite for it.
But while Pete and Myka might have been fine and dandy with leaving things in a glorious state of ambivalence, Claudia was having none of it, determined to make Artie pay for keeping the existence of her sister from her.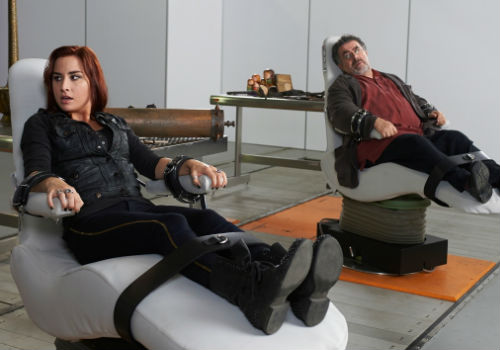 Thankfully, the writers didn't see fit to string it out out the argy-bargy between the two characters who are essentially like a father and daughter to each other for too long with a rapprochement of sorts taking place by the end of the episode, although on the strict proviso that answers come forth, and come forth quickly.
This neat tying up of the messy, emotionally-intense plot strands from season 4 is very much in keeping with the ethos guiding the final six episodes of the series as executive producer Jack Kenny told Sci Fi Vision:
"… when you have six episodes, and you're ending a series, we didn't want to go dark. We didn't want to get into deep, heavy, serious stuff.

…It's way more just a fun little roller coaster summer ride for our fans and the people who've loved the show."
What this essentially seems to mean if we can look forward in the all-too-short final season to more of the witty one liners, lighthearted interpersonal banter, wacky artefacts and baddies of the week that have made this show so greatly loved by so many people.
*Saying goodbye is not something either I or my TV watching partner in crime like to do quickly, so we're going to be stringing the final 5 episodes over 10 weeks so we can forestall the final farewell for as long as possible. Hence while the episodes will be broadcast weekly, I will be reviewing them fortnightly as I see them on the schedule of our own making.
** and make sure you check out the full  Sci Fi Vision article for the complete rundown of their visit to the set of the final season of Warehouse 13 and their interviews with the cast and crew.