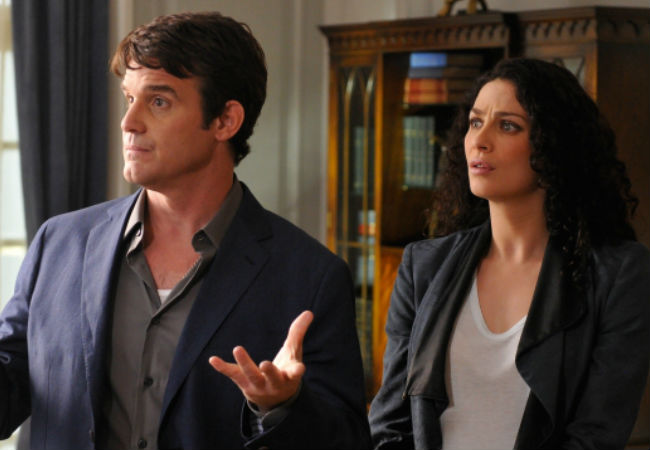 Pete (Eddie McClintock) and Myka (Joanne Kelly) sitting in a tree … K-I-S-S-I-N-G ??
Dear God I hope not.
It's not that they wouldn't make the cutest couple – although what do you give people who have pretty much everything they could want, all stored in a giant secret warehouse? Hmm, I'm thinking a LONG artefact-less vacation in the Bahamas maybe? – but their relationship has always been more of the "affectionately squabbling siblings" variety that "dirty weekend in Vegas" type and romantic coupledom would feel like a characterisation misstep.
But if last night is any indication, and I hope I am reading way too much into it, Warehouse 13's producers seem to be positioning everyone's favourite dangerous artefact-chasing, world-saving, South Dakota-living partners for some sort of liaison that doesn't involve witty banter and goofy platonic charm.
Really, really positioning them for it.
Sent to Washington D.C. to investigate the death of a man who drowns in the middle of the gym, miles away from any water – he is soon joined by a number of others, all of whom are found with salt water in their lungs – they are reunited with old friends and former Secret Service colleagues Ted Simkins (Mark Deklin) and Elise Meyer (Janet Varney), who against all rules and regs have not just fallen in love but are preparing to take the plunge in a far more permanent way.
Watching their two friends behave as, well as any married couple would with a mix of affection, banter and benign digs at each other, Myka, who at the beginning of the episode has a reasonably D & M conversation with the always disappearing Mrs Frederic (CCH Pounder) about what she plans for her life after her health scare, specifically if she wants kids (it's as awkward and surprising as it sounds), and Pete begin to feel a little uncomfortable about whether their working relationship will go the same way.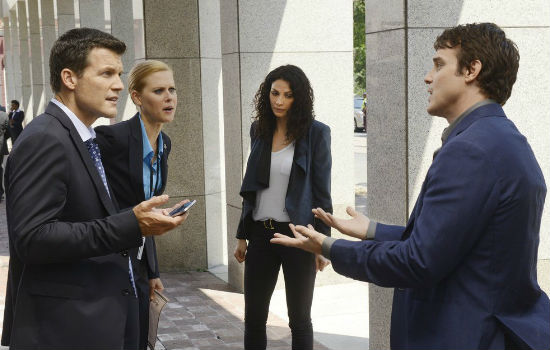 It all leads naturally to some hilariously ill-at-ease conversations, as each member of Warehouse 13's A team – sorry Claudia (Allison Scagliotti) and Steve (Aaron Ashmore) but though I love you, they are – struggling to express how they really feel about each other in the light of Myka's recent serious health scare, try to define exactly what they mean to each other.
It's not 'til they're back in South Dakota, artefact safely locked away and case closed – it's as entertaining a case as ever but perhaps proof that though I am mourning the end of the show, that there are only so many ways you can tell these artefacts used for bad and not good stories – that they get a chance to sort of kind of talk.
Alone in the bowels of the warehouse, Pete tells Myka that if she ever wants to have kids, that he would seriously – he has to stress this given how endlessly jocular he is about pretty much everything – be happy to talk about it.
It's a sweet, touching moment, underlined by Pete's earnestness and sincerity, and Myka's shocked inability to offer any kind of coherent response.
I am hoping that the will they-won't they banter of the episode was just that and that the real core of their relationship remains that of close, devoted siblings that would do anything for each other.
If that's the case, and I desperately hope it is, then for god's sake, Pete and Myka get out of that damn metaphorical tree will ya?!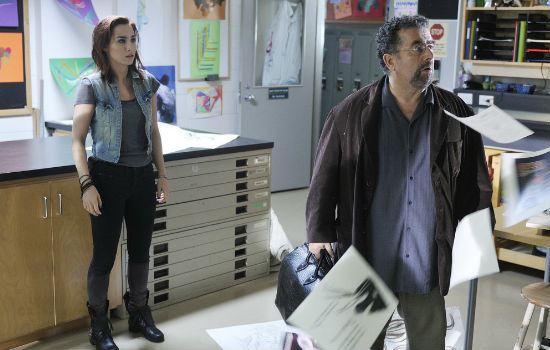 Meanwhile back in South Dakota, Artie (Saul Rubinek), Claudia and Steve go travelling far from home without leaving the Warehouse, when Artie finally consents under considerable emotional pressure from a characteristically persistent Claudia to reveal the truth about her long lost sister Claire (a sister she had lost all memory of by the way).
Using an artefact, Memory Walking Baby Shoes (bronzed shoe booties on a plaque), they travel deep into Artie's memories to relive the day that Claire, eyes sunk back in some demonic-looking possession way, began manifesting fearsome telekinetic powers that took the form of a levitating black spinning cloud of debris.
Triggered by anger, and caused naturally enough by an artefact – in this case by a music box bought at a garage sale – she becomes a destructive, spinning vortex of rage whenever she was threatened, which unfortunately for Claudia's parents happens when they decide she needs to go away for treatment somewhere far, far away.
Claire, naturally, is having none of that and unleashes her uncontrollable telekinesis which flings the car in which her parents into a tree, killing them and leaving their now murderous daughter in a coma of sorts.
Seven year old Claudia fortunately is inside the home, aware that "something bad" has happened – but not a witness to the events until she travels into Artie's memories with him – and certain that the music box has caused it.
She is that rare person – someone who can sense that an artefact is about and that it is bad – oddly though it's a power that hasn't been on display until this episode; it would've been handy in many past cases although admittedly a tad narratively inhibiting – and it looks like she is the one who has thrown it into the fireplace where it burns to a crisp.
This terrible series of events, which shakes Claudia to the core, is the beginning of her close relationship with the only father she has ever known, Artie.
And it is he who, via a reluctant field trip to long suppressed memories held by both he and Claudia, who does his best to convince his surrogate daughter that she must leave well alone.
The music box's destruction meant that Claire couldn't be decoupled from its effects, causing her to remain in a destructive psychotic state and necessitating her being placed in an artefact-induced coma deep in yet another secret part of the seemingly limitless Warehouse 13 complex.
However, ever after seeing what her sister is capable of, and knowing what happens when you fiddle with things of which you don't have direct experience, the final scene in "Secret Services" suggests Claudia, Warehouse 13 caretaker in waiting though she may be, is about to let her heart rule her head and set her sister free.
Uh-oh, tie down everything that could be whisked into a vortex, batten down the hatches and get ready for a new Big Bad who is permanently in a very bad, very destructive bad mood.
It all suggests a very busy, very emotionally messy end to Warehouse 13's fifth and final season.
* Check out the promo trailer for the next episode "A Faire to Remember" …