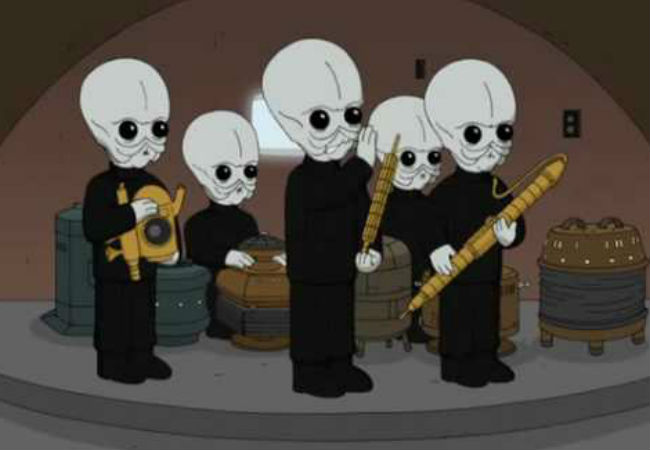 SNAPSHOT
During his final night at San Diego Comic-Con, CONAN presented a hilarious faux-documentary in the classic "Behind the Music" style faux documentary about Figrin D'an and the Modal Nodes, most famously known as the Star Wars Cantina Band. Music business luminaries as Michael McDonald, Kurt Loder, Don Was Shep Gordon Sethey Boone (Paul Rudd) and Bingo Fleming (Conan O'Brien), recalled the band's rise to fame and eventual fall into obscurity, while the reunited band questioned whether or not they liked each other. (synopsis (c) Laughing Squid)
Who among us doesn't a love good behind-the-scenes documentary about our favourite band or singer?
Sure, they're about as authentic as a reality TV show, and they're off less about what happened than some PR person's idea about what happened, but they're still fascinating nonetheless, and remain as ubiquitous as a Rolling Stones farewell tour poster.
Which, of means, that they're ripe for a deftly-executed parody which is most certainly what Conan O'Brien mockumentary about the Cantina Band from Star Wars: A New Hope aka Figrin D'ana and the Modal Nodes is, a glorious celebration of everything that makes these televisual spotlights interesting and yeah, hilarious all at once.
The things you find out the band are amazing! The albums! The groupies! The sex! The gambling!
It's revealing, it's reflective and it's damn funny, galactically-funny in fact and you owe it yourself to watch the video … and download all 17 albums, of course …