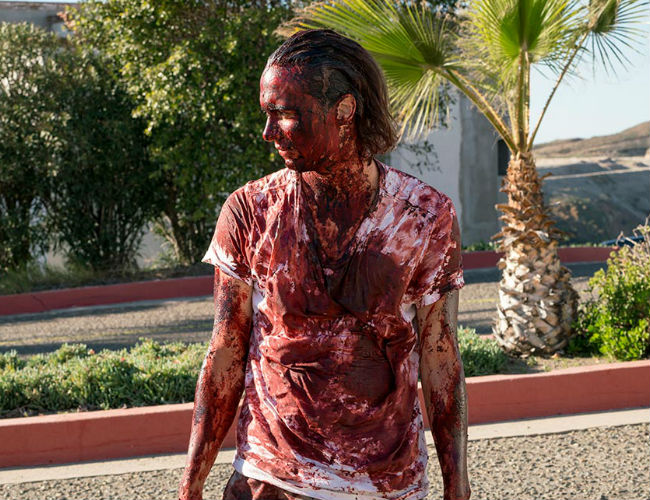 *SPOILERS AHEAD … AND SURPRISING, AND ALAS NOT-SO-SURPRISING REVELATIONS*
So it turns that Victor Strand (Colman Domingo) has a beating heart after all.
True it's a little twisted and self-serving and gruff and … but it's THERE people and beating furiously for his one true love Tom Abigail (Dougray Scott) who presumably await him down in Baja.
So in all that time that we were thinking that he was up to no good, itching to get back to his friends of ill-repute, he was in fact doing his darndest to get back to the man from whom he initially stole money and with whom he went to become a life and business partner.
We found all this out in a series of beautifully written flashback scenes with writer Kate Erickson masterfully fleshing out Strand's character elegantly and meaningfully without once weighing down the narrative unfolding around them.
And that is not an easy thing to do with flashbacks and exposition all too easily swamping the storyline if you don't keep a firm eye on them.
In this case, it gave us insight into why Strand is behaving the way he is, taking a man who to this point came across as mysteriously one-dimensional and giving him some pleasingly human touches.
This is not to say he is by any means any kind of saint; after all he met Tom, whose family surname adorns the yacht upon which he and the others are attempting to escape the hell of the apocalypse – "attempting" being the operative word in this week's action-packed episode -when he had stolen some credit cards from him.
It was an attempt to start over again after Hurricane Katrina had left him bankrupt, and why while stealing from another normally gets you locked up by the police, Tom relented, not so much forgiving Strand as "obligating" him to stick around since not doing so would being on all kinds of ruinous legal action.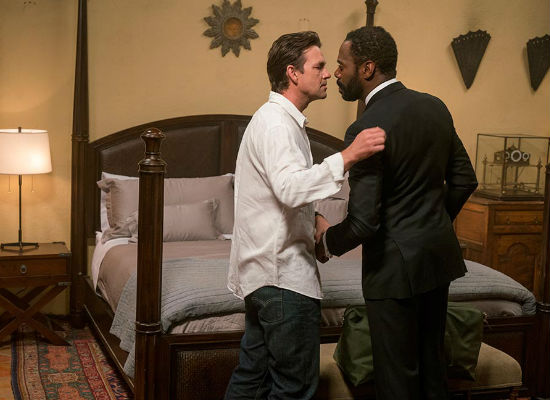 But then true love took its course and Strand and Abigail fell in love, the kind of love that would make a man i.e Strand leap overboard into a dinghy when his yacht is being overrun by three annoyingly self-assured early twenties thugs-in-the-making brandishing guns and determined to take the Abigail for themselves.
OK make that two thuggish 20-somethings – hot-headed bully Reid (Jesse McCartney) and a seriously pregnant woman with attitude and a love of sniffing bourbon from a glass – and Jack (Daniel Zovatto) who you may recall is the one that Alicia (Alycia Debnam-Carey) was injudiciously talking on the radio a little while back.
Apparently it hasn't taken some people to realise that piracy might be a great way to ensure your survival, the sort of people you suspect who were either up to no good before the apocalypse or who have some serious sociopathic tendencies that polite civilisation had hitherto kept in check.
Fortunately for Alicia, it quickly turned out Jack IS a decent guy, hating all the pretty sleazy, life-threatening stuff he has to do, and only listening to the big boss Connor (Mark Kelly) – who it turns out is a decent guy even if he is partial to stealing other peoples' only means of survival – because he saved his life and he felt obligated to help out.
While things initially looked none too good for our crew, including a banged-up Madison (Kim Dickens), and will-they-won't-they Chris (Lorenzo James Henrie) and Ofelia (Mercedes Mason), they found the means and determination to band together, especially when it became abundantly clear that Reid meant to kill them stone cold dead despite Connor's injunction not to do so.
It was the big unifying plot point that this fraying group of people needed, marred only by the fact that in banding together, they still lost Alicia, who feigned love sweet love for Jack as a canny survival mechanism, and Curtis (Travis Manawa) to Connor's "Hey you will be totally useful for my benignly nefarious purposes!".
It also gave Fear the Walking Dead, which hitherto has been a pleasingly slow-moving show the kind of jolt it need for narrative momentum but not so much that it lost the very slow-burning, meditative qualities that have made it such a rewarding series to watch.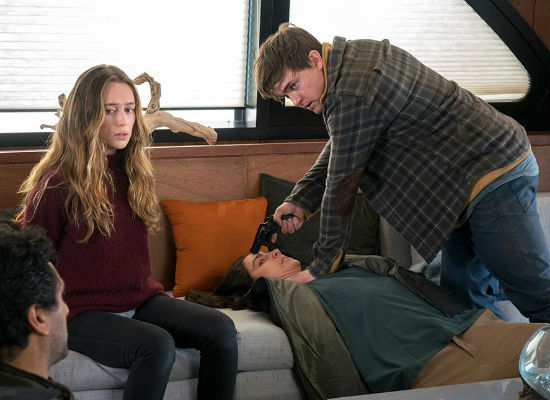 Oh, and Nick (Frank Dillane), where was Nick in all this you ask?
Why swimming ashore (without a note from his mother, thank you), stealing through an abandoned survivors' camp of still-erected tents and scattered possessions, killing a zombie and smearing himself in zombie guts – on the skin Nick? Really? How does that infect you?! – and finding Tom Abigail's childhood friend and right hand man Luis (Arturo Del Puerto) who is the one who's going to get them into Mexico.
Luis turned out to be crack shot which came in handy when he and Nick were speeding back to the boat and the latter noticed a number of people onboard the yacht who weren't his mum, or Travis or Daniel (Rubén Blades).
Bang! Bang! And Ben and Breannah were no more, as dead as you can be in the apocalypse, shot through the head so quickly that it seriously alarmed Reid, Jack and Mouthy Pregnant Lady.
So they got the boat, and Madison fished Strand out of the woman where a stray bullet or two had rendered his Zodiac less than buoyant, and they all set off again, you would presume for Mexico.
But Curtis and Alicia are still M.I.A. and while the group is united in spirit, they're not so united in person, giving Fear the Walking Dead in "Blood on the Streets" – a reference to taking advantage of a nasty situation for your own benefit; a fitting them both for the attempted yacht stealing and Strand's backstory – that extra frisson of dramatic excitement and momentum it needs to become truly compelling.
Which it will no doubt become in the weeks ahead, when we'll see the back half of season 2 unfold in all its undead glory.
So things look like they could be going from bad to worse – hurrah for the apocalypse! – with the group splintered and everyone, in one way or another, even further in harm's way in next week's episode "Captive" ...