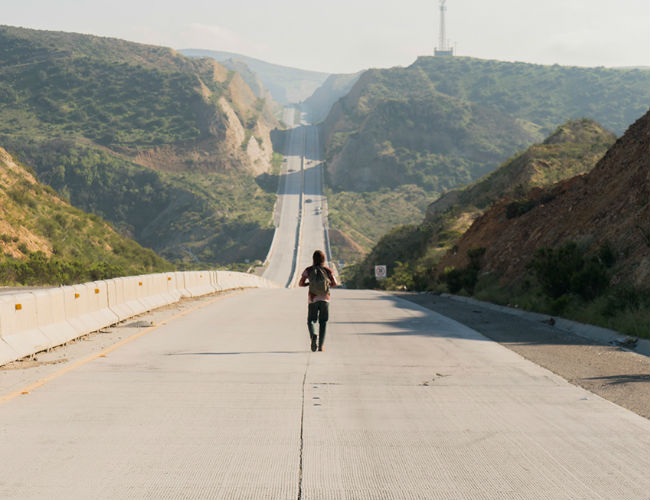 *SPOILERS AHEAD! AND A REMINDER THAT CACTI SHOULD NOT FORM A STANDARD PART OF YOUR POST-APOCALYPTIC DIET*

#Roadtrip #You'redoingitwrong
In the first episode of the back half of Fear the Walking Dead season 2, we went with Nick (Frank Dillane) on a cross country trek across, or rather up northern Mexico, in search of people just like Celia (Marlene Forté) who venerate the ambulatory undead as some twisted iteration of living humans.
It's an entirely bizarre reaction to a bizarre set of circumstances, something that most normal people would eschew in a second, but entirely consistent with the sort of decision Nick, who was described by Robert Kirkman, creator of The Walking Dead universe, in this background intel, would do:
"Madison's screwed up teenage son. He's too old to stay home, too scared to flee…pretty much a parent's worst nightmare. He has flunked out of college, had a lot of trouble, got mixed up in some bad elements, and is definitely the problem child. And it's exacerbated for him to be next to this perfect sister who seemingly doesn't have anything going on in her life that is negative."
So much might have changed in the zombie apocalypse but not Nick who sets off from a way station, covered in his customary blood, with a member of Celia's extended family Sofia (Diana Lein) who's heading in the opposite direction with Juan, a ten year old possibly orphaned boy who's father may still be alive down south.
It's pretty clear pretty quickly that road trips have changed … and not for the better.
Gone are the days of stocking up on a sandwiches and candy, mapping out your route, and setting the stereo to full volume with a killer Spotify playlist lending a soundtrack to hours and hours of hopefully fun-filled, laughter and conversation-punctuated driving.
Now? Well let's just say that the candy option is well and truly out for starters.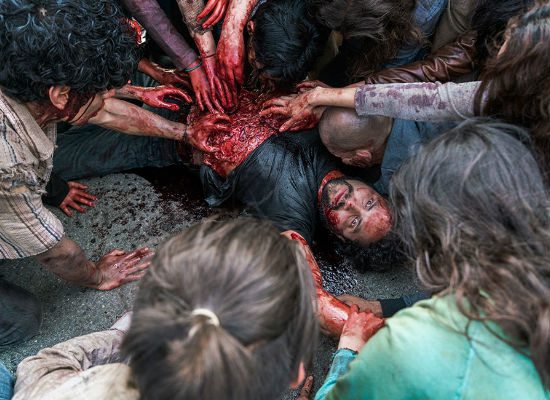 In this sometimes tense, often meditative episode, which featured Nick and no one but Nick – an interesting choice given the usual ensemble nature of the mid-seasoners but hardly unprecedented in The Walking Dead franchise – everyone's favourite recovered/not recovered drug addict, who abandoned his mum Madison (Kim Dickens) and sister Alicia (Alycia Debnam-Carey) back at the burning compound once home to Victor (Colman Domingo) and Celia, went on quite the journey during which …
He lost and water at the hands of an understandably frightened, baseball-bat swinging woman who found Nick sleeping in the shell of her home.
Encountered Las Mansa, or The Hands, wild, lawless man who, as Sofia notes, finally have a world that suits them and their capriciously violent ways, who shot at him before asking a single question.
He was ambushed by a couple of hungrily aggressive dogs, one of which bites him before he can scrabble up onto a rusted wreck of a car.
Where he is promptly surrounded by a herd of zombies who are only distracted by the sound of car horns and gunfire from the distance.
Giving Nick enough time to find a hobbled zombie, grab his belt and fashion a tourniquet for himself (he's nothing if not resourceful although the decision to eat cactus pulp didn't exactly meet with his body's digestive approval).
Giving him enough support to stagger on to Tijuana "where the dead aren't monsters" – um yes they are and pretending they are otherwise is going to help his cause – but not before eating the meat off the carcass of one of the dogs who found in the zombie herd a foe they couldn't growl and bark into submission.
He experienced flashbacks to pre-apocalypse days with Gloria (Lexi Johnson), his then drug-taking partner in crime who was with him in rehab when news came of his father's death – this is only time we see another cast member when mum Madison delivers the awful news – and who shot up with him the night before the apocalypse becoming the likely first zombie in L.A. when she overdosed.
So yeah not exactly a riotously fun-filled road trip guaranteed to generate fond and wonderful memories.
In fact, were it not for Luciana (Danay Garcia) and two men from La Colonia in Tijuana, a walled-off encampment up on a plateau overlooking the city where market stalls and kids playing soccer abound, who rescue him from a looted store, he would most likely have died wandering the great empty terrain of Mexico, one man against a series of enemies, some human, others undead and most fearsomely geographic.
"Grotesque" is an epic episode in a lot of senses, pitting one survivor, who turns out to be quite a bit more adaptable than you might have expected – although his capacity to survive his own demons and the life-threatening places they take him is testament to his ability to survive the kind of travails that might fell most other people – against a revolving door of adversaries, all of which he must beat or surmount if he is to survive.
It recalls the kinds of epic hero quests that are the stuff of many works of fiction, a one man against the world scenario that distills in microcosm the realities of life in the zombie apocalypse where survival is not a given and sheer determination to survive isn't always enough.
That someone as resourceful as Nick comes close to dying underlines how precarious existence is in this new dog-eat-dog world (in this case, quite literally almost), "Grotesque" becoming a salutary lesson in the dark mechanics of living and dying in the apocalypse.
Nick then is the archetype, the one who represents what everyone else in this fearful new world is encountering; in his case his enemies are vast and his assets, bar those he resourcefully conjures up are few, and survival is not even remotely a given.
It makes perfect sense that this single-character episode would usher in the second part of Fear the Walking Dead's sophomore season since the group is now, for the first time, split up into three – possibly four if you think Daniel (Rubén Blades) which is doubtful but not impossible – entirely disparate groups who can rely on the whole strength-in-numbers maxim.
Nick's situation is, by his own decision, the most extreme of the lot, an emblematic representation of what life is like in the new world of the zombie apocalypse, and the perilously shorts anyone has of surviving it, especially alone.
If you ever think things are going to get better in next week's episode Los Muertos", think again. Apart from the title translating as "The Dead", no one looks like they're having a good time of it with survival a precarious proposition for all concerned …