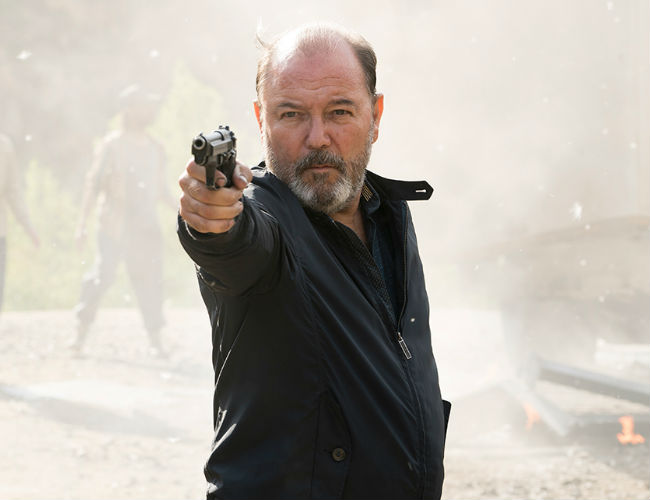 SPOILERS AHEAD … AND THE BASEST PARTS OF HUMANITY, BOTH COLORECTAL AND OF THE SOUL …
"La Serpiente" was a really shitty episode.
No, I mean, really … shit everywhere as Madison (Kim Dickens), Victor (Colman Domingo) and Qaletaqa Walker (Michael Greyeyes) followed the shhhhh! super-secret squirrel route into the Lola's kingdom of damned water (again literally; honestly, not being crude just for the sake of it).
Unfortunately for their personal hygiene, sense of self-worth and mounting dry cleaning bills, Victor's amazingly direct route into Water Water Everywhere and Not a Drop to Drink Land (if you're the surrounding people of Tijuana who take a while to figure out "Hey we could take the water they give us by force!") involved crawling through faecal matter and killing a zombie who was blocking a pipe that when cleared … well, honestly you really don't want to know.
Suffice to say, it was not pretty; so much so, that when they arrived at DamLand, the wettest land of them all, and didn't get shot by Daniel  (Rubén Blades), one of the first things pretty much everyone demanded was that they wash.
Just another one of the sacrifices you have to make to stay hydrated in a world where all the water engineers and pipe maintenance folk are more interested in some human sushi that practising their craft.
As it turned out, well initially at first, all they got for all of their jeans-soiling trouble was Lola (Lisandra Tena) aka She Who Shall Not Corrupt Her Soul – for the record Madison respects her stance to stay apocalyptically virginal and not kill anyone; thinks it's massively shortsighted and going to get her killed but respects it … all together now "Awwww" … see ya Lola – refusing to give them a drop off the much-need H 2 and O.
This was largely because Efraín Morales (Jesse Borego), one of the Lola's true believers – well mostly; he was all for "release the river! God will get us more water!" – ratted on Daniel shooting at the rioting villagers as the retreat, leaking water tank in tow.
Not exactly a team player now are we Daniel? (His performance appraisal was beginning to look more than a little shabby; no water bonuses for you, angry old man.)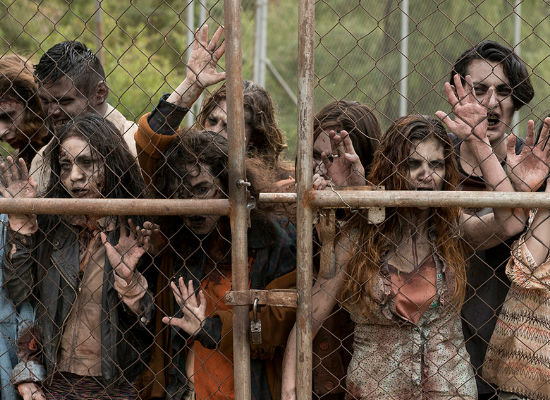 Lola sided with Efraín at first, believing Daniel was about to leave her to run back to The Ranch to see Ofelia (Mercedes Mason) who is alive and well and poisoning people en masse – BIG mistake by Walker was proudly boasting to Daniel that he'd turned his daughter into the killer Dad never wanted her to be; strike one against father-in-law/son-in-law harmony and friction-free apocalyptic festive events – and only decided to give Madison 10,000 gallons a week (ever the cockroach of measurement systems, imperial even survives the end of the world) until the rains come.
Why? Glad you asked!
Because "La Serpiente"of the episode's title, that would be Victor who never met a situation he couldn't turn (mostly) to his own advantage, figured out a water for The Ranch to get their water, Daniel to bolster his position and for everyone, bar the water tanker attendants who ended up rather undead and on fire, and perversely wet through at the same time, to get what they want.
Right on cue, as Walker stomped off all upset a little too early that they weren't getting water, and Madison was a mean lady and he would have to kick off The Ranch and he hated himself etc etc tantrum-tantrum-tantrum, the angry villagers arrived sans pitchforks and torches (honestly does no one respect the classics anymore?) to back up Daniel's claims that Lola was being was too sweet and naive and that Victor, serpent-brain and all, was a cleverly-manipulative so-and-so.
It was some rather clever politicking and realpolitik strategising that saw two of the wiliest people in the show, Victor and Daniel, achieve a two-birds-one-stone goal while leaving Madison looking as lustrously above the fray as ever.
It was masterful work, and proof once again that Fear the Walking Dead is a great deal more intelligent and nuanced in its storytelling than its rather more blatant parent.
It also nicely examined, once again, how hard it can be to hang onto your humanity when every facet of this hard, cold, cruel and shit-covered (again, literally) new world cried out for parking your humanity, killing as needed and then trying to be warm and cuddly again if you can.
Madison, as much as anyone, appreciates there's no way to kill and finagle your way to getting what you want and need then shove those necessity is the mother of ruthless invention back in their holes and carry on as if you're not two steps beyond serial killer status.
Lola, at least, for now, remains largely shielded from that thanks to the willingness of the Victors and Daniels of this world (and Madison who damn well knew what was going on, and find it freaking hilarious thank you very much; later on, not in front of Lola, because no one has timing that bad OK?) to do the dirty work for her and keep her believing she can stay pure as the dam water before her.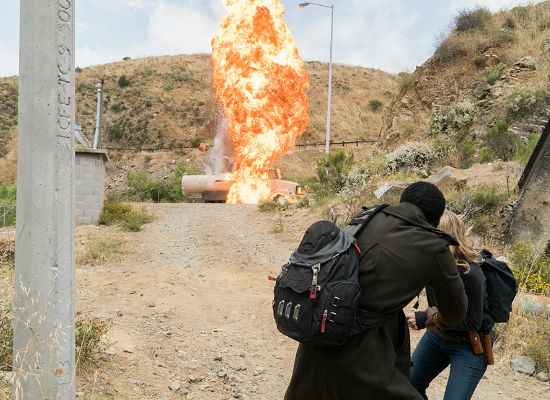 And so, after a few heart-to-hearts where Daniel said he's stay with Lola because he knew Ofelia was safe and didn't have to see her – Lola arranged for him to see her anyway; once again awwwww she's so dead – Victor and Madison had a lovely moment of friendship where the former demonstrated he does have a beating heart down there somewhere, and Daniel and Victor affirmed they get, I mean really get each other, water flowed back to The Ranch, Walker got picked up on the side of the highway in a smiling Murder She Wrote end of episode kind of way (where was a zombie Jessica Fletcher? Where?!) and everyone, for one more episode at least, lived happily ever after.
The reality, of course, as with any somewhat happy ending in the apocalypse is that the neat tying up of loose ends is not a permanent state of affairs, merely a temporary stay of execution, and trouble awaits pretty much everyone involved.
Lola can only hold off the water-starved hordes for so long without becoming The Damned Queen of the Water, soaked in as much blood as aqua, Madison and Walker, despite the knowing smirks are cruising to a fighting for The Ranch bruising, and Victor's mind, the "La Serpiente"of the episode is still conniving, plotting and planning and, yes and, heading back to The Ranch where all that Machiavellian self-interest is going to result in the singing of "Kumbayah" around the camp fire with S'mores.
The world has ended, the rule of law and unsullied humanity with it, and no one, no one at all, gets to emerge unscathed, including those, like Lola who would most like to do so.
The apocalypse is a nasty piece of work people and Fear the Walking Dead did a masterful job once again of demonstrating just why that's the case and how only the canny and the clever will ever get ahead (and get a glass of water and clean clothes).
Next week on Fear the Walking Dead … death, guns, zombies and much shooting … in other words pretty much what the apocalyptic doctor ordered and Lola, most certainly, did not …