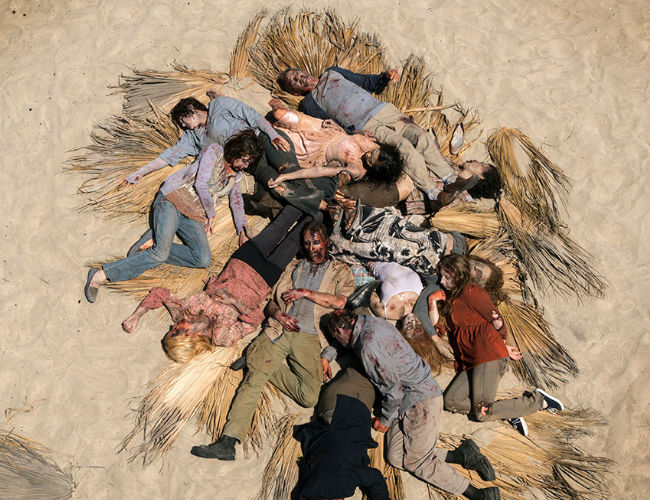 *SPOILERS AHEAD … AS WELL AS UNORTHODOX USES FOR BROKEN TEQUILA BOTTLES AND MAKE YOUR OWN DILUTED OXYCOTIN TABLETS*
There's nothing quite like a relaxing holiday by the beach.
All you have to do is sit by the bar, get yourself smashed on tequila, break glasses against the wall and yell loudly … and oops that wasn't smart, get surrounded by lots of noise-loving zombies all eager for some vacation flesh-and-blood.
Yep, good times … GOOD TIMES.
Not to mention the cardio workout you get when you have to figure out how to escape said densely-surrounded bar and get to freedom, sans bites, flesh wounds and your own ticket to zombieville, the most vacantly hungry land of them all.
If you're Madison (Kim Dickens) and Victor (Colman Domingo), you get to do all that and more!
There's squeezing into small, dank cellars, smearing yourself in zombie blood – it's this year's hot new fashion trend; all the hippest survivors are doing it – and walking slowly, ever slowly, and then not, through a horde of ever-so-friendly zombies, all of whom simply want to get to know you.
Not to mention brokering peace with the warring marriage faction, led by widower Oscar Diaz (Andres Londano) and griefstricken mother-in-law Ilene Stowe (Brenda Strong) who want nothing more than to take over the hotel and make Elena (Karen Bethzabe) pay for locking them in a ballroom with their undead wife/daughter respectively.
And, and this frankly should be the pièce de résistance of any post-apocalyptic Mexican beach holiday, herding all the zombies in the hotel off a long pier into a riptide-cursed ocean while you – hi there Maddy! – swim to a Zodiac boat with your daughter Alicia (Alycia Debnam-Carey), sitting nervously in it, worried you will join others she has loved as zombie chow.
Ain't holiday making at the Rosarito Beach Hotel grand? Aint it just?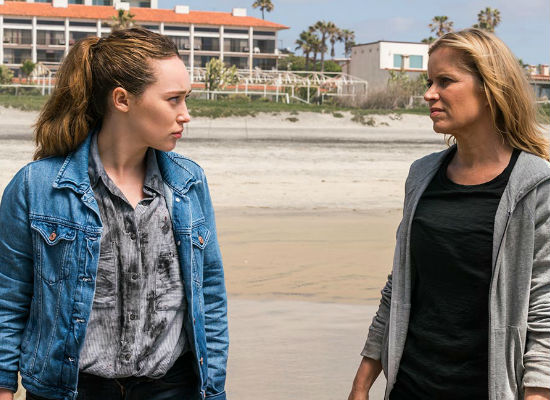 In a series of scenes that were laid-back yet dramatically intense, which has become Fear the Walking Dead's signature style, and marked it out from its progenitor and stablemate The Walking Dead, we were treated to the welcome idea that not everyone would treat the apocalypse, zombie or otherwise, as a long-overdue opportunity to go Lord of the Flies on everyone else's asses.
While that would undoubtedly happen since let's face it all of humanity is not gunning to replace Mother Theresa in the saint stakes, the reality is that plenty of people would step up and band together for the common good.
Unrealistic you say?
Witness wars, natural disasters, the fight against poverty and a whole host of other community-busting situations – sure there are looters, warmongers and opportunists but there are also those who would shelter, protect, and seek to preserve life beyond their own.
Madison, who brokered peace between the Zombie Wedding Crowd – yep Oscar kept his dear, dead undead wife Jessica in the room with him, Governor-like, only belatedly allowing Victor to kill her so the grieving could begin, something the latter man who refuses to see the hotel as home (unlike Madison), knows far too much about – and her tattered group of survivors, is one such person, moving way beyond selfish survival to that of the wider group.
Sure it was partly realpolitik, knowing that if they didn't band together and protect their property that some less savoury characters would simply come and take it from them, but it was also borne of a genuine concern for doing what's right, something Madison hasn't always followed through on but she know recognises as a priority.
Establishing the basis for their utopia here on earth, she, along with the rest of the survivors from both camps, acted together to draw the undead en masse out of the hotel and lead them merrily Pied Piper-like onto the pier where they would tumble into the ocean and begone in a fearsome tide of the dead.
Not exactly the life any of them planned for and certainly not the relaxing beach holidays of old – seriously not one cocktail with a paper umbrella to be seen! – but it's life now, and rather than engage in feats of orgiastic violence, Madison and the others mutually recognised that banding together for the common good was the best and most sensible way forward.
See humanity isn't so nastily inward-looking all the time now are they?
Life too found a way over at La Colonia in Tijuana where Nick (Frank Dillane) found love with the now brother-less Pablo – the other titular member of the episode – Luciana (Danay Garcia) who couldn't sleep one night, and then, after some chatting and napping, REALLY couldn't sleep.
It sounds like the set-up for some cheap apocalyptic porn but it was actually pretty touching watching these two get together, especially after an embrace earlier in the day when Nick realised just how Luciana had lost and why she was so tough and guarded.
There were revelatory moments too between Alejando (Paul Calderon) who actually survived a zombie bite – let's hear it for kickass immunity people! – and Nick, who used his junkie skills to create watered-down Oxycotin tablets, the better to extend their trading life for water and food as a community.
Underhand yes in a way but hey again the greater good was on the table here, and in an increasing sign that the apocalypse is actually good for some people, Nick is stepping up again and again to not only show flashes of humanity but a real palpable concern for those around him.
It's heartwarming yes but also proof that the apocalypse and the end of most life doesn't have to be the end of our humanity, a message that The Fear Walking Dead, which seem anywhere near as addicted to dark violence as The Walking Dead, seems intent on welcomingly promulgating every chance it gets.
Will the good altruistic moments last though? Quite possibly but next week's "Pillar of Salt" – hello Biblical reference which implies getting the hell away and NOT looking back – show they will sorely be tested …