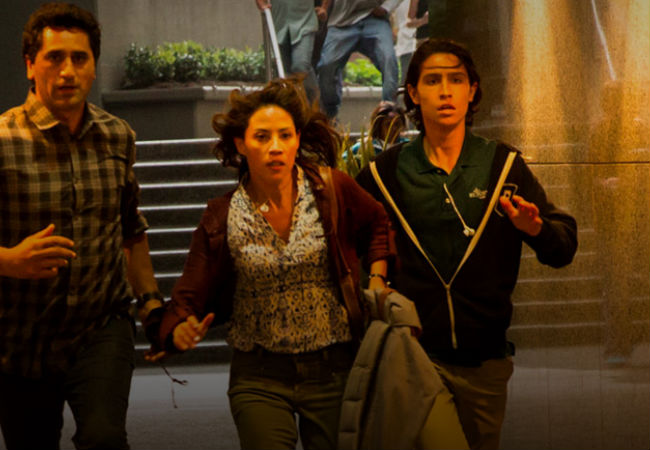 *SPOILERS AHEAD … AND SCHOOL LOOKING JUST THE WAY YOU FANTASISED IT MIGHT … THE WORLD THOUGH? NOT SO MUCH.*
If ever an episode title aptly captured the storyline within, it's this one.
No matter how hard Travis (Cliff Curtis) and Madison (Kim Dickens) tried to bring their still disparate family groups under one fast-moving umbrella and get them out of harm's way far, far out into the desert, events kept conspiring to not only keep them apart but nowhere near their nirvana of imagined safety.
And yet agonisingly, and frustratingly, close to each other in the same destined for the civilised guillotine city.
In that respect, this episode, which picked up the pace from last week's deliciously languid slide-into-the-abyss slowburner but only just, perfectly captured what it must be like to be caught in a situation where things are going from bad to worse but there's no way for you to influence the events in any meaningful way, or let's face it, at all, or to effect the escape you know is absolutely necessary if you're going to survive.
Complicating things mightily was Nick's (Frank Dillane who continues to impress in every scene) withdrawal from drug use, brought about in large part by the death and almost instant zombification of his drug dealer Calvin (Keith Powers) and the fact that, you know, getting anything, let alone drugs, is becoming exponentially more difficult by the hour.
While it did delay the blended family's escape from LA, a whole other kind of movie than the one Hollywood made, it did mean that sister Alicia (Alycia Debnam-Carey) was forced to stay by her brother's side to tend for him instead of rushing back to boyfriend Matt, who is very sick and not that far from being a member of the undead himself.
At which point, he would not embrace Alicia in gratitude for her dedicated nursing skills, so much as, well,  eat her.
Nick knew it, Madison knew it and so they conspired to keep Alicia from going all Florence Nightingale for her soon to be member of the apocalyptic problem, not the solution, boyfriend.
It might seem odd at first glance that Nick didn't tell Alicia straight out why rushing to Matt's side would be an enormously bad idea, or that Travis neglected to tell his ex Liza (Elizabeth Rodriguez) and son Christopher (Lorenzo James Henrie) but all three of the in-the-dark characters were of the same don't-want-to-hear-it mindset so telling them outright wouldn't have served any real purpose.
Best to save them first and explain things later, no matter how bizarre it all appeared, and how many barbers shops you have to hide in to escape the looting, burning, soon-to-be undead shambling masses mob out on the streets.
Again, the writers nailed the dynamics of human behaviour perfectly; we might suspect something's wrong, we might even witness it firsthand but our capacity for self-delusion, even in the face of the blooming obvious,  and the need to protect ourselves, can be powerful, and anyone brandishing the truth, in this case Travis or Nick, would likely simply be laughed, or more likely, yelled off.
So best to simply keep mum, get the ones you love safe and sound, and worry about long, winding expositional passages later on … and so they did.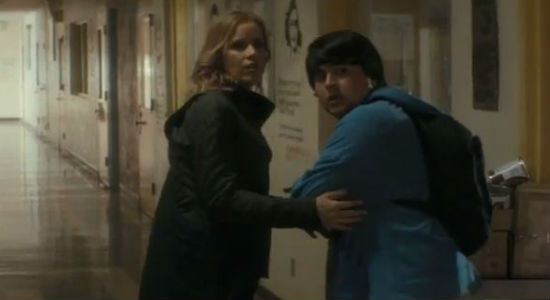 Another major win for the writers was the way they captured that eerie sense that all of have had after a traumatic event in our lives when our world has changed irrevocably but everyone else is carrying on as normal.
We saw it again and again in the episode but most acutely when Madison and Travis's neighbours were holding a birthday party for their 9 year old as if nothing out of the ordinary was happening.
And in their small part of the world, that was exactly the case.
Nick though, haunted by his experiences in the drug addicts' flophouse and his recent execution-by-great-big-truck of his drug dealer "friend" Calvin, was incredulous that his world could be so utterly changed and different and yet the world of his neighbours was going along much as usual.
The same dynamic afflicted Madison and Travis who glanced around their once cosy neighbourhood with the scared eyes of people who no longer warmth, safety and neighbourliness but threats in every untoward moment and sound.
Their neighbour packing his car? Nothing weird there until he coughed. Uh-oh.
Twilight falling over their street much as it has always has, only to have its serenity broken by the once-coughing, now undead neighbour attaching the birthday girl's family across the road.
Everything the same as always … until it spectacularly wasn't.
By the end of the day, any sense that this crisis would end, that it could be muddled through until the end was in sight was dead in the water, as dead as Madison's boss Artie (Scott Lawrence) who attacked Madison and Tobias (Lincoln A. Castellanos) as they collectively tried to get supplies – Madison, the confiscated drugs from her office to help Nick ride out his withdrawal, and Tobias, his trusty knife – and get the hell out of the eerily deserted school.
And by day's end, Madison would be stopping Alicia going to the aid of their zombie chomped neighbours, the first no doubt of many me-first, moral compromises to come.
Everything so normal, and yet so manifestly not; so close and yet so far.
The second episode of Fear the Walking Dead captures all this brilliantly, once again distilling how utterly normal and yet so not the end of the world might be.
The next episode of Fear the Walking Dead, which stands resolutely separate and different in so many admirable ways from its narrative mothership The Walking Dead, is "The Dog", which airs just under 2 weeks from now …