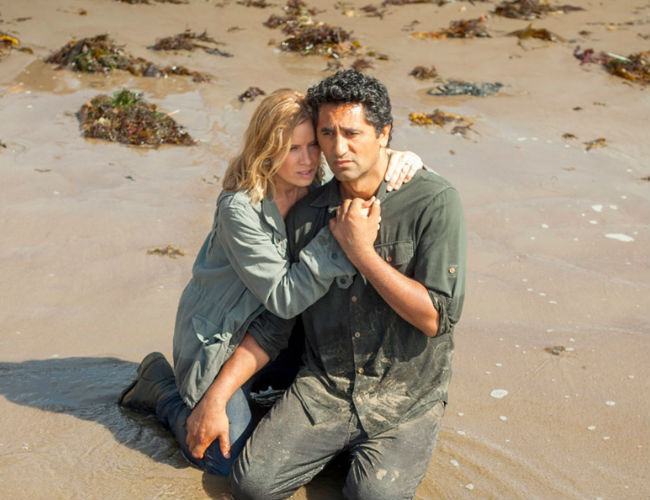 *SPOILERS … AND ZOMBIES … AND DEATH ALL AROUND AHEAD*
One of the most searing lesson from the near universally-well realised first season of Fear the Walking Dead aka When the World Went to Undead Sh*t has been how tenuous civilisation and all the ethics and conventions of upstanding, moral behaviour we take for granted, really are.
They may look permanent and near-unassailable but as Travis (Curtis Curtis) and Madison (Kim Dickens) discovered to their horror, it doesn't take much to send them crashing down to earth until all that's left of the rule of law, and humanity's more altruistic impulses is a bloodied knife, swarms of undead who care not for social niceties, and a beaten-to-pulp face.
(The recipient in this instance being one Cpl Andrew Adams, played by Shawn Hatosy who found out the hard way that you don't shoot Ofelia (Mercedes Mason) in the arm – he was aiming for the chest but thankfully missed – in front of Travis Manawa and live to tell about it; especially after he rather nicely let Adams go rather than kill him like Daniel (Rubén Blades) wanted.)
The speed at which the institutions we all depend on broke down was represented in all its frightening intensity, with the military instituting an evacuation order to Edwards Air Force base that left Travis and Madison's extended, unofficial new family and all the inhabitants of the secret hospital hanging rather precariously in the wind.
This is where Fear the Walking Dead has excelled from the start, willingly forgoing any sense that humanity will hold the moral high ground during a civilisation-obliterating apocalypse, as well as acknowledging that with people dying and rising at autonomic undead left and right that keeping the electricity on, power running and traffic signals working is well nigh impossible.
And with the cessation of all the warm-and-cosy embrace of civilisation, comes the kind of brutality and hard decisions that people like Madison and Travis, who is forced to kill his ex-wife Elizabeth (Elizabeth Rodriguez) when she becomes infected – she assents to this with a knowing resignation, knowing all too well after her stint in the hospital, what lies ahead for her – never thought they'd have to make.
And it's as traumatic and heartbreaking as you might expect.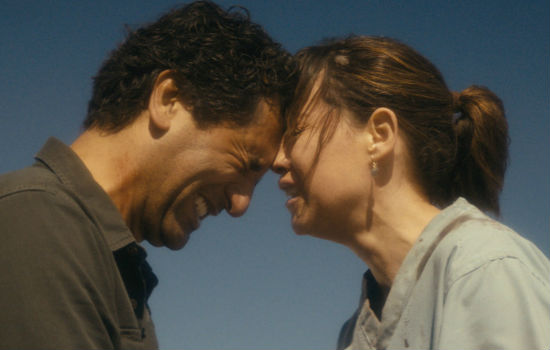 The scene where Madison, and then Travis, who have followed Liza down to the beach below their temporary beachhouse hideaway – courtesy of Victor Strand (Colman Domingo) who even has a bigass yacht moored offshore, the better to escape the undead with – have to say goodbye to Liza is infinitely sad.
Not just because of a death that cannot be avoided, and the grief that will follow, but because it represents an all too personal deathknell of everything they've been trying to hold on to up to that point.
While they were fenced in by the military they could pretend that everything was going to be OK, that civilisation would stand and the certainties of their life would prevail.
But any idea that this was even an option, and deep down they all knew it wasn't but like all of us, clung to hope while it was still there in some form, vanished in the instant Travis mercy-killed Liza.
It was Nick (Frank Dillane) who rightly observed that the world, swaggering along with the confidence of people who know where they're going and why, has caught up to him, all of whom no lost in a world with no clear markers, no sure steps forward and no roadmap that can be followed.
Everyone, and everything is lost and divining what to do in the face of this kind of uncertainty is deeply, soul-scarring unsettling; well to everyone but ex-heroin addict Nick who's spent a lifetime in a cloud of random steps forward.
What was interesting about "The Good Man" was that it brilliantly balanced big action scenes – a stadium full of zombies swarming onto a military base anyone? Hell of an overkill diversion Daniel! – with some deeply affecting, big "P" philosophy questions about what is right and wrong in this darker age, and who is good and bad.
It harks back to the ongoing theme of the show's parent series The Walking Dead, which through various characters such as Hershel and Dale has asked repeatedly whether humanity is innately good, of whether the better angels of our nature are civilised affectations best left to kinder, gentler non-apocalyptic times.
They're questions with no easy answers, but Fear the Walking Dead was able to ask them in the context of big immersive action set pieces without skipping a beat, symbolic of the show's wider ambition to investigate what happens to humanity (and it's impressive execution) when the rug is pulled from under them, and all that's left is who they are, and not what they own, or what they do.
It bodes for season 2 which will be able to open up this line of action-augmented questioning on a wider geographic (thanks to Victor's yacht Abigail) and time scale (we're right at the beginning of the descent into zombie hell) than even The Walking Dead has been able to attempt.