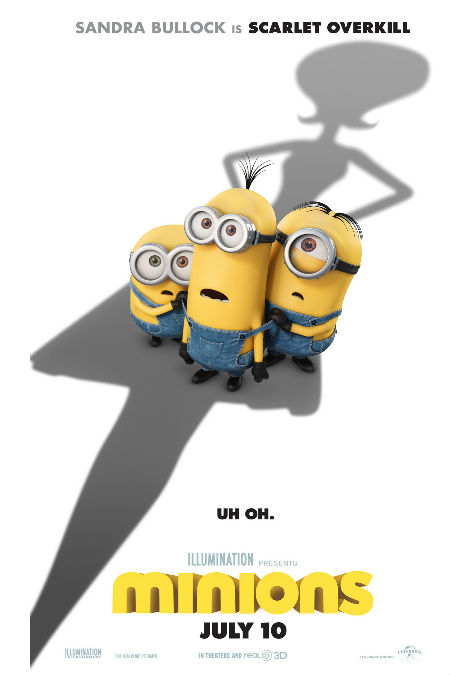 Which supporting player, looking on enviously as the star of the show receives all the applause, accolades and kudos, hasn't wondered when they will get their, naturally well-deserved, moment to shine?
While it's hard to know definitively if the Minions, the banana-loving sidekicks to reformed villain Gru in the two Despicable Me movies, have ever entertained those sorts of ambitious, patience-starved dreams, they have now found themselves the stars of their own madcap, irreverently silly adventure and the good news is they are more than capable of carrying the headlining role they have been given.
A prequel of sorts to the Despicable Me movies,  Minions, directed by Pierre Coffin and Kyle Balda, finds our favourite yellow jellybean-shaped, sweetly-inept supporters of those inclined to devilish pursuits – an hilarious opening sequence shows them moving through evil overlords in frighteningly fast fashion with T-Rex and Napoleon, among others, coming a-cropper at the Minions' hands – back in the late swinging '60s in search of a new villain to which they can happily pledge their allegiance.
Through pure luck and happenstance, strategic thinkers and planners these wanna-be sidekicks are not, the three Minions who set off to rescue their entire race of the villain-less doldrums, plucky, brave Kevin, musically-inclined Stuart and gleefully childlike Bob (all voiced to delightful comic effect by Pierre Coffin) come across the Nelson family who rob banks in much the same way other more orthodox families might plan a day out at the beach.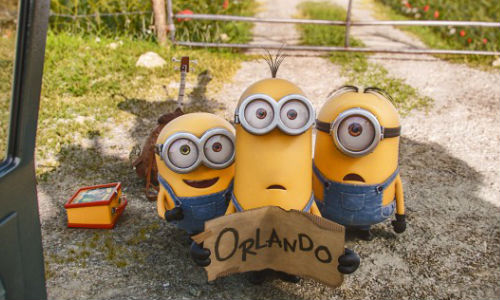 It's an odd kind of bonding but one Kevin, Stuart and Bob take to immediately, accompanying their new family of sorts to the highly secret Villain-Con held deep under a yet-to-be-developed Orlando and featuring Scarlett Overkill (Sandra Bullock), the most glamorous, and of course, merciless villain the ever-hopeful Minions have ever had the good fortune to meet.
Initially at least, it's love at first sight, and Overkill whisks her new accidental accomplices – the way they get this much-longed for new gig is as gleefully, haphazardly unplanned as everything else the Minions put their hands to – to a cliche-draped London where they are given the task of stealing the Queens' crown so their new boss can assume the role she has always craved more than other – that of the Queen of England.
Eager to please their new mistress, and afraid of what will happen if they don't – let's just say that Overkill offers a heavily conditional love to her diminutive new cohorts – the Minions, armed with some nifty inventions from Overkill's groovy husband Herb (Jon Hamm), including a jelly-like hyponitising cap and an unpredictably extendable metal legs and arms apparatus, scurry off to the Tower of London to carry out what can only be described as a mission impossible.
But eager to please, and blissfully unaware that like Mordor in The Lord of the Rings, one does not simply walk into the Tower of London, things go quickly and hilariously wrong (and partially right), culminating in an Aardman-esque flight through the streets of London pursued by the long arm of the law, and eventually, the fury of a scorned Overkill, more than a little peeved than her grand plan has failed so miserably.
It all culminates in a ludicrously wonderful climax, which owes more than a small debt of gratitude to over the top low budget sci-fi flicks from the 1950s like Attack of the 50 Foot Tall Woman.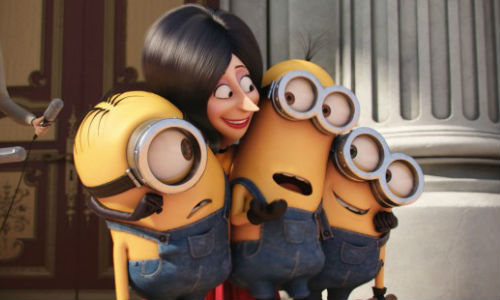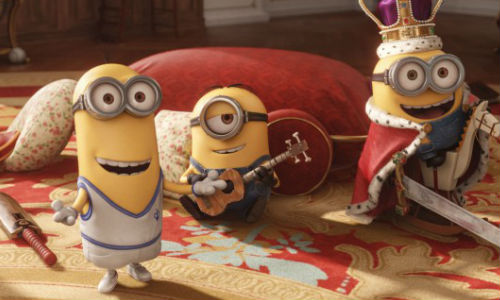 While not matching the towering emotional and narrative triumphs of Pixar's recently-released animation masterpiece, Inside Out, Minions, thanks to a visually-rich, slapstick heavy script by Brian Lynch, of which the Keystone Cops would have been proud, still manages to conjure up an insanely, addictively large amount of one very important quality – FUN.
Anchored by a catchy '60s soundtrack, an inspired homage to The Monkees, and liberal usage of the Minions' endearingly cute gibberish-like utterances, the film makes up for a threadbare plot and a welcome lack of moralising – no real lessons aren't learnt here thank goodness – with an anarchic sense of riotous joy.
Yes the Minions may seek to serve evil, and revel in subsuming themselves to masters and mistresses of grossly dubious moral intent, but at heart, they are loyal, sweet and utterly dependable and it is these qualities that ultimately make them so enjoyable to watch.
Throw in their propensity to self-sabotage on a comically grand scale, sacrificing good (or is that bad?) intentions for rather poor execution almost every time, and a childlike glee at doing what they love most, and you have eminently watchable characters who prove over and over again throughout Minions' mirth-inducing running time, that they have what it takes to well and stand on their own two feet, evil overlord or no.