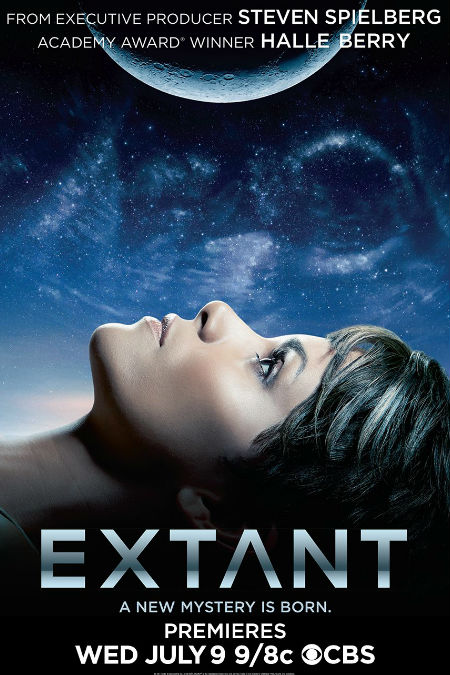 There's a whole lot of creepy going on in Extant … and for the most part it's all quite well executed.
Which is a pleasant surprise after the dramatically nonsensical debacle that was, and is Extant's summer sister series on CBS, Under the Dome, which inexplicably continues to attract viewers who I can only assume have family members being held against their will who will be killed if they don't keep watching the show.
While Extant had some out there elements – it is a futuristic sci-fi conspiracy show after all so out of the ordinary is to be expected – and made healthy use of trope recycling, it managed to keep a level-headed storytelling keel throughout, remaining intriguing and yes even compelling with little in the way of face-slapping cringing, a healthy sign for any pilot.
Frankly if you were Molly Woods – and you're not; Halle Berry is and she is a damn fine job of playing a freaked out astronaut returning to earth after 13 months to find she's pregnant, her android son Ethan (Pierce Gagnon) is going all psycho child on her, her current hubby John (Goran Visnjic) doesn't care, and her dead boyfriend Marcus (Sergio Harford) and dead co-worker are speaking to her – you would be enormously creeped out by all the unexplained things suddenly going on in your life.
After all, you're a consummate professional, lauded to your face and even behind your back where naturally nefarious deeds are afoot, by your boss Alan Sparks (Michael O'Neill), ticking all the boxes, dotting ALL the "i"s, crossing all the "t"s, Ms. Perfectionist Professional 2014 … and things like this just don't happen.
They don't ever happen.
And if they do, you uncharacteristically delete them, well the footage of them anyway, when you awake from a 3 hour blackout, following a desperate 13  hour marathon to repair supposed solar flare damage, to discover that the dead husband, one time fellow astronaut, who you thought had scrawled "Help Me" on an airlock door, and spoke in halting monosyllables, wasn't even there.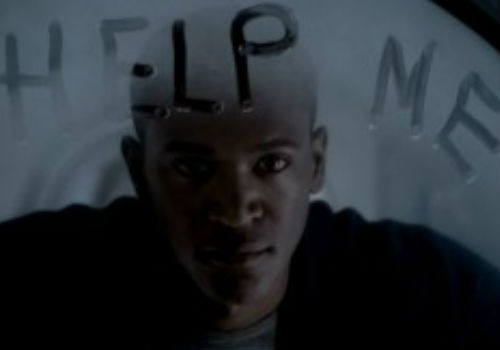 Either you're going completely gaga bananas, in which case why can't you at least give your dead ex-boyfriend the ability to utter more than one word at a time, or there are sinister doings afoot, the same ones that possibly drove your driveway-lurking ex-coworker – is he supposed to be dead to0? Lordy what is with the undead these days? – to kill himself.
Or did he?
So many questions, the big mummy of which is how Molly managed to get in the family way on a SOLO space mission where no one was scheduled to call in for ration packs, recycled water and nice old chat for the entire 13 months.
It's the question uppermost on the mind of Molly's BFF Sam Barton (Camryn Manheim), the doctor at ISEA, the private company that employs both women, who agrees to stay, ahem, mum on the twice-run results while Molly works out what to do next.
It's understandable that Molly'd be freaked out, especially given the weird goings-on while she was up in space which she likely thought she's left behind her with her return home, but one wonders how long she can keep the bureaucratic wolves from the door while she thinks it all through, usually while taking her uber-high tech garbage out to her amazingly, glowing rubbish bin (one of the things that marks this show as taking place in the near but advanced future).
One thing is for sure when the shit does hit the fan, and if Extant has the storytelling chops I hope it possesses, this will happen sooner rather than later, it's going to be very hard to make any kind of clean get away, what with hubby in bed, business-wise thank you very much, with yet another evil Japanese mastermind, the head of the corporation that owns ISEA, the freakily youthful Hiseki Yasumoto (Horiyuki Sanada, Helix).
In yet another dark and this-spells-trouble twist for Molly, Yasumoto, who represents an odd new trend in sci-fi drama, which is that of the scheming Japanes businessman, is channelling funds on the QT without his board's knowledge to John Woods' Humanich, to build robots with a "human connection" who will come with no kill switch and simply the peace, love and mung beans that we will all stay friends even come the Robot Uprising (which is either before or after the zombie apocalypse, I can't remember).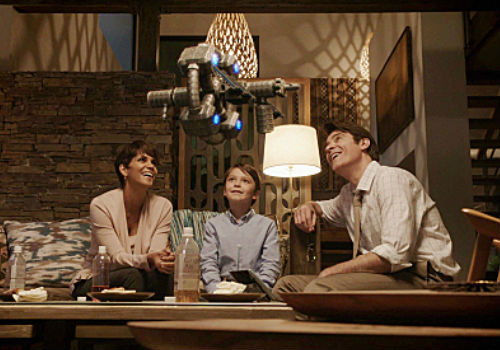 Ethan is of course the live-in experiment for all this future robot-human connection-ness, which will come with rounds of "Kumbayah" and flowers in the hair New Age potential, at least in John Woods mind, and frankly as a selling point for Humanich he leaves a little or a lot to be desired.
Only Molly notices that he is going all bird-killing, friend-squashing weird with John only to see his vision of the future and not what's under him, which won't make him much use when the corporate scheming goons come massing at the front door.
Oh and there's the small matter of the person unknown who may or not be her dead co-worker, who slips her a note in the park via a paid-for balloon – like buying a drink for someone in a bar but extra-creepy if that's possible – with a note attached that says "I KNOW WHAT HAPPENED TO YOU. CONTACT SOON".
It's all very Rosemary's Baby meets I Know What You Did Last Summer Meets AI (no surprise given Steven Spielberg is the executive producer) which stands  a very good chance of being a very good sci-fi show if they manage to avoid tripping themselves up in the tangle of conspiracy threads that is sure to come as the series progresses.
What will stand this chilling show in good stead is the fact that it's anchored itself firmly in a very human context, a futuristically-minimalist one to be sure a la Gattaca or I Robot, in which the beating human (or alien; who can tell really?) heart of Molly Woods will be front and centre.
Now let the crazy, improbable plot twists begin!
Here's the original series trailer + a short preview for Extant …
And the trailer for episode 2 "Extinct" …