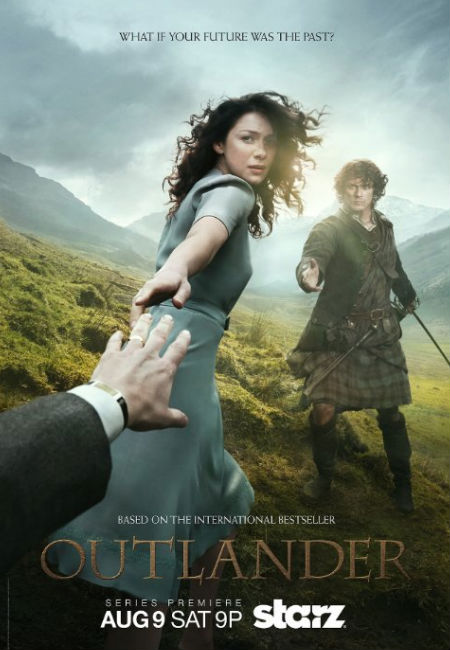 I believe it was that great pop sage Huey Lewis who once marvelled in song at the curious, saddening, maddening, life-saving "Power of Love".
But I doubt even he could have predicted that love, powerful though it might be, could span centuries, fuel two lifetimes lived simultaneously by one person, and transform the lives of people living 250 years apart, all of them touched by conflict and struggle of one kind or another.
But in Outlander, the Starz adaptation of Diana Gabaldon's immensely popular set of novels, love in all its twisted, complicated, and glorious incarnations is front and centre, the beating heart of a series of stories that straddle multiple genres like romance, science fiction and fantasy, and historical fiction like a powerful 18th century Scottish highland warrior upon his steed.
The narrative power of Outlander lies primarily in the fact that it admirably manages to be all things to almost all readers, without sacrificing one iota of its storytelling integrity or becoming a diluted half-hearted lowest common denominator series.
This is due largely to the fact that Gabaldon is a research professor steeped in the ways of drawing together facts from disparate sources and moulding them into a cohesive readable whole, a well-learned ability that is on full display in the Outlander books, whose spirit and engaging storytelling nous has made the transition to the small screen intact in all its gloriously romantic detail.
Refreshingly, and in marked contrast to the prevailing trend in modern television, the exquisitely high-quality series from Starz, which appears to have gone to an inordinate amount of trouble to be both faithful to the books and render them in splendid cinematic form, is not in a desperate hurry to tell its story, nor does it engage in shock and awe gore to surprise and titillate.
There is something delightfully languid about the way in which Outlander takes its time introducing us to Claire Randall (Caitriona Balfe), a nurse newly returned from working in hospitals on the frontlines of World War Two, and her Oxford university professor/war time MI6 HQ operative husband Frank (Tobias Menzie, who also plays the part of his brutal ancestor Jonathan) who are on a second honeymoon in the Scottish Highlands in late 1945, trying to re-establish the effortless rapport they possessed before war kept them apart for five long years.
This sense of emotional dislocation is reported on almost matter-of-factly by Claire, who, accepts, along with pretty much everything else in her life, what she is given and does her best to accommodate herself to it.
It is a trait that stands her in good stead when she is flung back to 1743, and the heady days of the run-up to the Second Jacobite Rebellion when the nationalistically militant clans of the Highlands are waging a guerilla war of sorts with the English, after touching a ceremonial stone at the centre of old celtic ceremonial grounds.
Forced to adapt to the fact that, against all her understanding of the scientific world – she is a botanist among other things – she has been sent back in time and is now hunted by the English military and a benignly-treated prisoner of a Scottish band of freedom fighters of whom future love interest and educated man Jamie Fraser (Sam Heughan) stands out by a country mile,  she draws on her considerable well of knowledge and ability to find a way to return to the standing stone and hopefully her former life.
Balfe's portrayal of Claire, who, in a short space of time is, in her own words, "assaulted, threatened, kidnapped and nearly raped" and who anchors just about scene in the opening episode, is impressive, nuanced and finely-weighted, bringing a reassuringly authentic mix of capability and fright, shock and calm headedness to a character caught between two worlds.
Her exemplary performance is augmented by everyone in the cast, many of them actors known only to English audiences, who evince a believable take on 18th century Scotland (which is a beauty to behold, grandeur around every corner even in the midst of bloody battle) and barely post-World War Two England, bring both eras to compelling life.
The unhurried narrative pace aids in the creation of the world-building, giving those of us who haven't had the pleasure of reading Gabaldon's highly-popular work the chance to get to know the characters, the turbulent times in which they live and the motivations that drive them.
It is a luxury too to have 16 episodes in which to let the story play itself out, and you can only hope that Ronald D. Moore (Battlestar Galactica), who knows a thing or two about unhurried, multi-layered storytelling, is allowed to maintain this languid pace throughout the rest of the season.
Given the prodigious amount of material in the 8 books in the series already released – the most recent Written in My Own Heart's Blood released in June this year – Outlander could, like Game of Thrones, continue on for an eternity, which will be a fine thing indeed if the rest of the show is executed with the attention to detail, love of an engrossing and yes, fantastically-wrought-romantic story and cross-genre gallivanting that is so beautifully and pleasingly on display here.