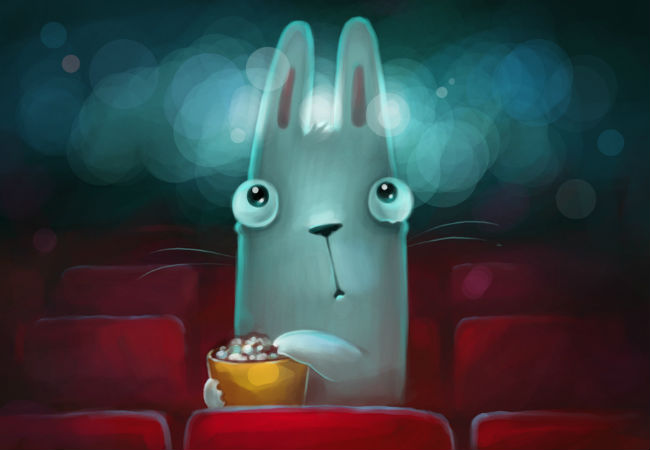 Let's get animated!
Or perhaps let a whole lot of fabulous characters in some wonderful looking animated movies do their thing. There's certainly a lot to choose from with some beautiful looking, and just plain quirky, silly fun animated films coming up in 2016.
As is the way of the interwebs, where it never rains but it pours trailers-wise, I've grouped five of them together for your viewing pleasure.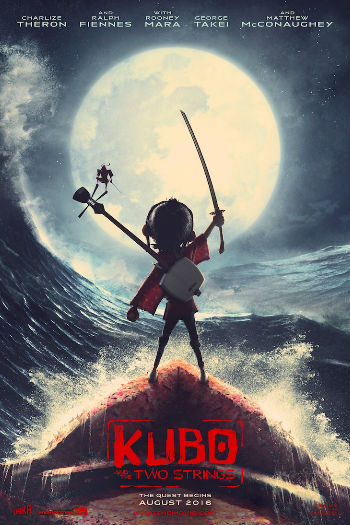 SNAPSHOT
Kubo and the Two Strings is an epic action-adventure set in a fantastical Japan from acclaimed animation studio LAIKA. Clever, kindhearted Kubo (voiced by Art Parkinson of Game of Thrones) ekes out a humble living, telling stories to the people of his seaside town including Hosato (George Takei), Hashi (Cary-Hiroyuki Tagawa) and Kamekichi (Academy Award nominee Brenda Vaccaro). But his relatively quiet existence is shattered when he accidentally summons a spirit from his past which storms down from the heavens to enforce an age-old vendetta. Now on the run, Kubo joins forces with Monkey (Academy Award winner Charlize Theron) and Beetle (Academy Award winner Matthew McConaughey), and sets out on a thrilling quest to save his family and solve the mystery of his fallen father, the greatest samurai warrior the world has ever known. With the help of his shamisen – a magical musical instrument – Kubo must battle gods and monsters, including the vengeful Moon King (Academy Award nominee Ralph Fiennes) and the evil twin Sisters (Academy Award nominee Rooney Mara) to unlock the secret of his legacy, reunite his family and fulfill his heroic destiny. (synopsis via Coming Soon)
Laika's animation is exquisite.
If Coraline, ParaNorman and The Boxtrolls (one of my favourite films of 2014) have shown us anything, it's that Laika has a real gift for pairing breathtakingly imaginative stop motion animation with richly-written stories and characters you want to spend all time in the world with … or at least the length of a feature film (who are we kidding? We'll have it on repeat!).
With that kind of enviable track record, there's every expectation that Kubo and the Two Strings will be another triumph for the groundbreaking independent animation company
Kubo and the Two Strings opens 19 August, 2016.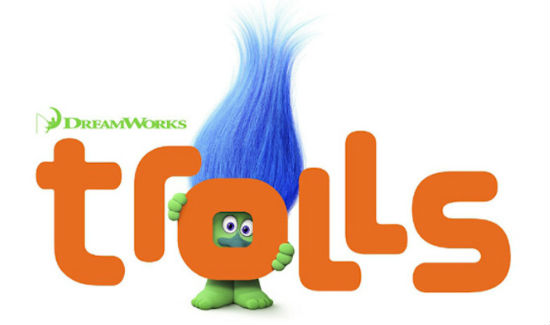 SNAPSHOT
DreamWorks Animation's "Trolls" is an irreverent comedy extravaganza with incredible music! From the genius creators of "Shrek," "Trolls" stars Anna Kendrick as Poppy, the optimistic leader of the Trolls, and her polar opposite, Branch, played by Justin Timberlake. Together, this unlikely pair of Trolls must embark on an adventure that takes them far beyond the only world they've ever known. (synopsis via Coming Soon)
Gotta say – I see a troll and all I can think of is Mimi from The Drew Carey Show who not only collected them by the desk full but also emulated them in her idiosyncratic dress style.
Quite how Trolls will make the leap from toy to film isn't clear from this incredibly brief teaser in which – GASP! – a troll becomes someone's snack, but at least it kind of looks like it could be fun.
I'll reserve judgement until there's more to go on.
Trolls releases late 2016.
The Secret Life of Pets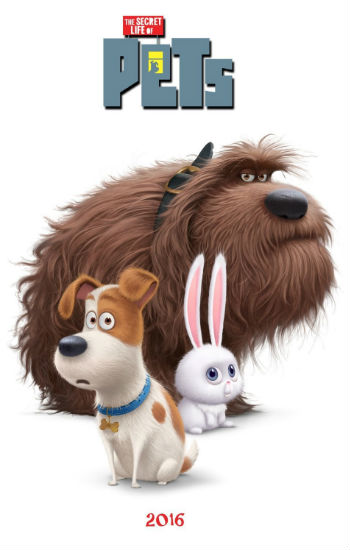 SNAPSHOT
For one bustling Manhattan apartment building, the real day starts after the folks on two legs leave for work and school. That's when the pets of every stripe, fur and feather begin their own nine-to-five routine: hanging out with each other, trading humiliating stories about their owners, or auditioning adorable looks to get better snacks. The building's top dog, Max (voiced by Louis C.K.), a quick-witted terrier rescue who's convinced he sits at the center of his owner's universe, finds his pampered life rocked when she brings home Duke (Eric Stonestreet), a sloppy, massive mess of a mongrel with zero interpersonal skills. When this reluctant canine duo finds themselves out on the mean streets of New York, they have to set aside their differences and unite against a fluffy-yet-cunning bunny named Snowball (Kevin Hart), who's building an army of Ex-Pets abandoned by their owners and out to turn the tables on humanity…all before dinnertime. (synopsis via Coming Soon)
I LOVE the look of this movie. My animal-adoring niece LOVES the look of this movie. And together there's a mighty fine chance, nay a certainty, that we'll be in a cinema on release day to watch this fun-filled movie that has already made quite the promo splash with its hilarious teaser trailers.
The new trailer for The Secret Life of Pets, directed by Chris Renaud fleshes out the storyline much more than earlier efforts and it looks like it's going to be equal part heartwarming lessons learnt and laughs aplenty.
And if you can't find something funny about a small chihuahua jumping up and down on a couch in time to heavy metal music, then you're dead … dead I tell you!
The Secret Life of Pets releases 8 July 2016 in USA and 8 September in Australia.
Zootopia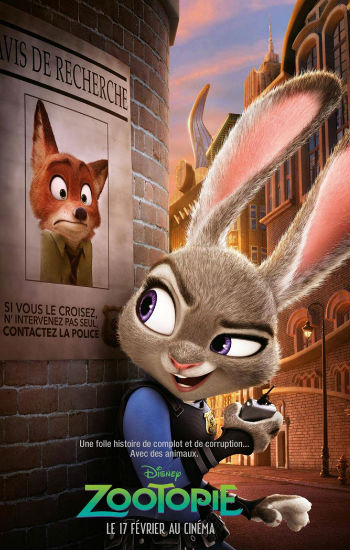 SNAPSHOT
The modern mammal metropolis of Zootopia is a city like no other. Comprised of habitat neighborhoods like ritzy Sahara Square and frigid Tundratown, it's a melting pot where animals from every environment live together—a place where no matter what you are, from the biggest elephant to the smallest shrew, you can be anything. But when optimistic Officer Judy Hopps (Ginnifer Goodwin) arrives, she discovers that being the first bunny on a police force of big, tough animals isn't so easy. Determined to prove herself, she jumps at the opportunity to crack a case, even if it means partnering with a fast-talking, scam-artist fox, Nick Wilde (Jason Bateman), to solve the mystery. (synopsis via Coming Soon)
Sporting an impressive premise – that all the animals of the world live in one city made of all kinds of different environments in relative peace and harmony – and a substantial wit, Zootopia or Zootropolis, depending on where in the world you are, looks like all kinds of fun!
Chock full of all kinds of social commentary, some brilliantly-realised sight gags and a great mismatched buddy relationship at its heart, Zootopia looks like being one of the most original animated movies to come along in a while.
Zootopia opens 4 March 2016 in USA and 17 March in Australia.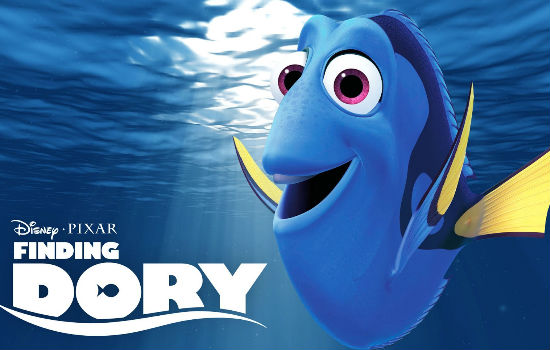 SNAPSHOT
Finding Dory reunites Dory with friends Nemo and Marlin on a search for answers about her past. What can she remember? Who are her parents? And where did she learn to speak Whale? (synopsis via Coming Soon)
It make absolute sense that a Finding Nemo sequel would focus on the adorably forgetful, befuddled Dory.
Voiced by Ellen Degeneres, the film looks to be every bit as whimsical and sweet as you'd imagine it to be; granted we've had the teasingest of teaser trailers to go on but these brief glimpses promise a movie with silliness, heart-and-soul and whale-speaking lessons.
Who'd want to see that?
Finding Dory opens 16 June 2016 in Australia and 17 June in USA.