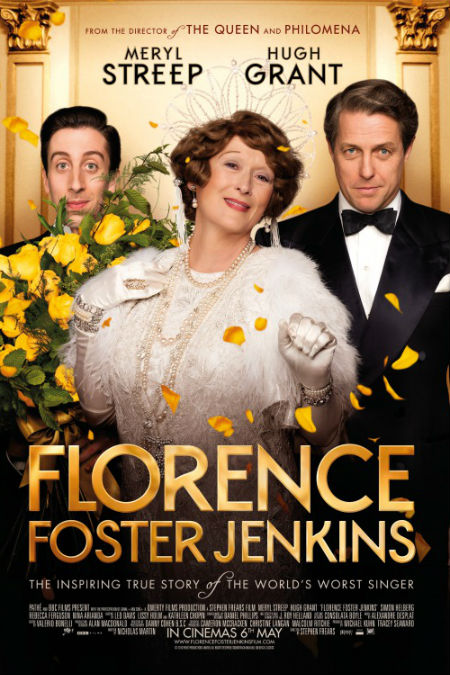 SNAPSHOT
Directed by Stephen Frears (Philomena, The Queen), Florence Foster Jenkins tells the inspirational true story of the eponymous New York heiress who obsessively pursued her dream of becoming a great singer. The film celebrates the human spirit, the power of music and the passion of amateurs everywhere. The voice Florence (Streep) heard in her head was divine, but to the rest of the world it was hilariously awful. At private recitals, her devoted husband and manager, St Clair Bayfield (Grant), managed to protect Florence from the truth. But when Florence decided to give her first public concert at New York's Carnegie Hall, St Clair realised he had perhaps bitten off more than he could chew.
All of us deep want to believe that we are wondrous, extraordinary beings, capable of so much more than out often everyday ordinary lives might suggest.
We all dream of being the next J. K. Rowling, the next Beyonce, the next Marie Curie or the next Tom Whittaker, and suspect deep down that if we were just given a chance, a real chance, we could make something of this innate self-belief?
But what happens when you have a loved one who believes in you, who gives you that longed-for moment to shine? What then? Do you rise or fall? Ascend to accolades and applause or disparagement and trolling?
In the case of heiress Florence Foster Jenkins who heard the voices of angels in her head and was determined to give her gift to the world, who sadly heard something altogether different, it's all of that, and more in a film that looks sweetly delusional, inspiring and wonderful all at once.
Because the thing is, it seems, no matter how gruelling and shocking the truth may be to that stoic inner voice that compels us to greatness and achievement, the truth is that if we're loved and believed in, and given the chance to shine, that no matter what happens after that, we're already well ahead of most everyone else (and happy as Florence's husband reminds her).
And that alone means we've won no matter what the outcome.
Florence Foster Jenkins opens in Australia on 5 May 2016 and in UK on 6 May.