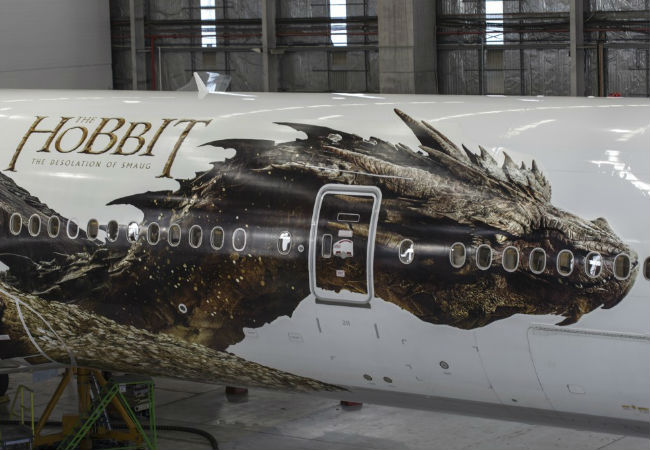 With only days to go, days I tell you!, till the second instalment in Peter Jackson's latest Middle Earth franchise, The Hobbit: The Desolation of Smaug, lands in cinemas, the promotion as you might expect is ramping up considerably
And in line with its involvement with the Lord of the Rings franchise, Air New Zealand, the official airline of the very real country that stands in for Tolkein's wondrous land of mystery and magic (and very large eagles), Middle Earth, is once again throwing its considerable promotional weight behind the movies (accompanied by the hashtag #airnzhobbit).
Not only has it released a charming video, Just Another Day in Middle Earth which features the airline's staff and passengers coming across flight attendants with hairy Hobbit-size feet and pointy ears, dwarves in barrels and caches of gold in airline hangers, among many other wondrous things, it has re-painted one of its planes with an arrestingly large portrait of Smaug (voiced by Benedict Cumberbatch) who guards the treasures of the dwarves in the underground kingdom of Erebor, far below the Lonely Mountain.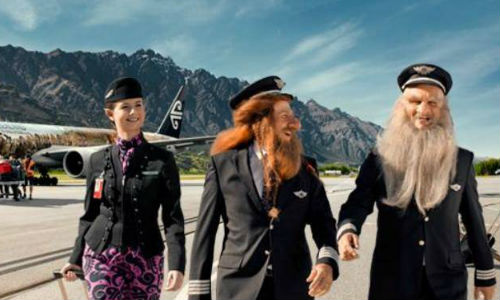 The giant-sized vision of the dragon which features prominently in The Hobbit: Desolation of Smaug, was designed for the airline by Weta Digital, the people behind the amazing special effects in all the Middle Earth movies, whose visual effects supervisor Eric Saindon had this to say about their creation:
"Capturing Smaug's presence and the amazing detail in his design while accommodating the windows, doors and wing shape was quite a different experience for us. It was great to see Smaug brought to life, and he appears even larger in the film."
The plane on which it is emblazoned flew to Los Angeles for the film's official world premiere in Los Angeles, giving everyone their first real look at Smaug, who has only been hinted at in posters and movie trailers to date, in all his terrifyingly mammoth glory.
My odds of being able to fly on the plane at the moment are limited at best so I will content myself with all the amazing photos at airnzhobbitmedia.com, and get myself ready for The Hobbit: Desolation of Smaug which opens in New Zealand on 13 December, and in Australia on Boxing Day, 26 December.
And here's the delightful safety video that Air New Zealand debuted in October 2012, after which it quickly, and understandably, went viral …