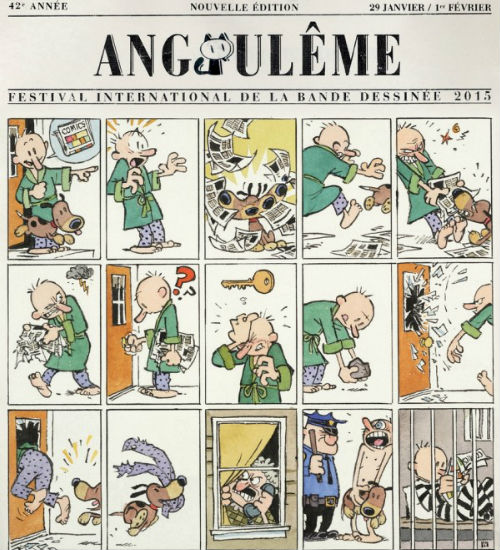 It's a rare day indeed that new artwork surfaces from one of the great masters of the comic artform, Bill Watterson, the man who gave us Calvin and Hobbes, one of the greatest comic strips to ever grace newspaper pages.
He has only emerged from his self-imposed retirement on two occasions since 31 December 1995 when the final Calvin and Hobbes strip appeared – once to appear in Stripped, a masterful documentary about the place of comic strips in a rapidly evolving digital world, and the second to co-author three comic strips with Stephen Pastis, creator and artist of the gloriously irreverently subversive Pearls Before Swine – so the release of a poster for next year's Angoulême International Comics Festival in France is a very big deal indeed.
He has drawn this poster, which according to Bleeding Cool, is the first of a series of forthcoming pieces, in his capacity as the President of next year's festival, a result of being awarded the prestigious grand prix de la ville d'Angoulême, which is "awarded during the Angoulême International Comics Festival to an author for his body of work and/or for his achievement in the evolution of comics", according to Wikipedia. 
The presidency also involves an exhibition of his work, along with that of this year's president Dutch cartoonist Bernard Willem Holtrop and the legendary late Jack Kirby, who co-created many of Marvel's most well-known characters such as Captain America and the Fantastic Four with the equally revered Stan Lee.
Another inducement to go to the festival, at least of your a lover of Scandinavian childrens' literature and art is an exhibition of Scandinavian comic strip art including the work of Tove Janssen, creator of the Moomins, one of my favourite series of books as a child.
Of course, what we will be anticipating more than anything is the promised artwork from Bill Watterson, a man who deserves all the accolades placed upon him and then some.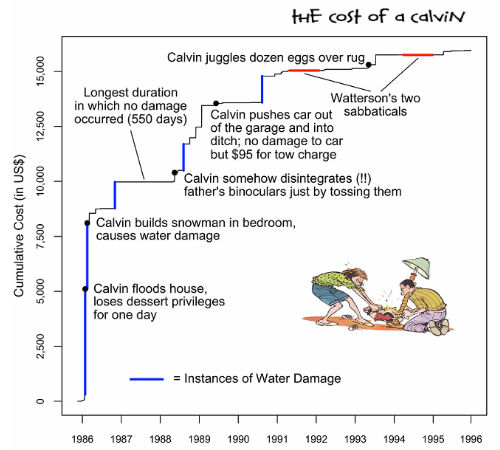 Speaking of Calvin and Hobbes, which of course we were, Uproxx has uncovered a study by Matt J. Michel of "editor of humorous scholarly journal Proceedings of the Natural Institute of Science" which examined how much all of Calvin's adventures cost his beleaguered parents over the 10 years the comic strip ran in news papers:
"The totally crucial research finds that Calvin caused approximately $15,955.50 worth of damage during the course of Bill Watterson's comic. Not including Watterson's two sabbaticals in the comic's run, this works out to $1,850.55 per year. The figure ranges from the little items (a $2 jar) to the very expensive (flooding parts of the house on five different occasions, at a cost of up to $4,798.83 per event according to Homewyse)."
Uproxx went on to note that a great deal of thought went into the methodology behind the study:
"Most of the damage occurred early in the comics, when Watterson had to establish Calvin's mischievousness. Michel didn't include damage that was alluded to but unexplained ("the salamander incident" followed by "the noodle incident"). For most items, he looked up the current cost on Amazon, with the exception of a sweater owned by Calvin's mom, which was assumed to be more J. Crew's speed. For property damage, Michel used estimates from Homewyse and Fixr based on the zip code for Watterson's residence in Chagrin Falls, Ohio. Wow, that's detailed. A day can really slip by when you're deliberately avoiding what you're supposed to do."
The basic conclusion is that while having a child is expensive for any parent, having a Calvin, or multiples of him (don't forget he has a cloning "duplicator" at his disposal) is more costly than anyone would like to even contemplate.