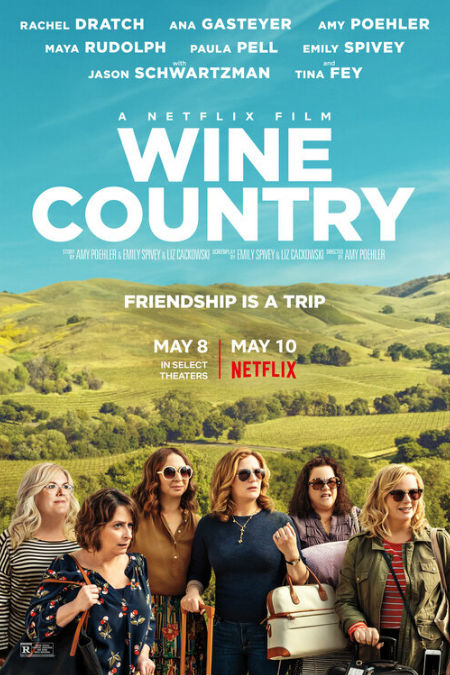 SNAPSHOT
In honor of Rebecca's (Rachel Dratch) 50th birthday, Abby (Amy Poehler) plans a scenic Napa getaway with their best, longtime friends. Workaholic Catherine (Ana Gasteyer), post-op Val (Paula Pell), homebody Jenny (Emily Spivey), and weary mom Naomi (Maya Rudolph) are equally sold on the chance to relax and reconnect. Yet as the alcohol flows, real world uncertainties intrude on the punchlines and gossip, and the women begin questioning their friendships and futures. A hilarious and heartfelt comedy directed by Amy Poehler, Wine Country co-stars Tina Fey, Jason Schwartzman and Cherry Jones. (synopsis via ScreenRealm)
We all love hanging out with our friends, and if it can be longer than a snatched two hours after work, then all the better.
What we don't always count on, since we love our friends and how can there can be such a thing as too much time spent with them, is that, say, a weekend away with him may not turn out to the paradisaical love-in we're hoping for.
It might, in fact, especially if there's wine involved, go quite pear-shaped, leaving us wondering what happened to all those life-affirming bonds on which we've based so much of our life?
That's the theme of the Amy Poehler-directed Wine Country, where a bunch of friends set out to celebrate one of their number's 50th birthday, only to realise their friendships may not be quite as rosy as they seem.
It's based on some real-life experience, according to ScreenRealm:
"Inspired by real-life group trips taken by SNL alumnae, including director/producer/star Poehler and co-star Rudolph, Wine Country follows a group of longtime friends as they head on a getaway in honour of one their 50th birthdays."
So hello real life with a twist of existentially-rueful comedy. I'm in!
Especially, if there's wine involved while I watch it.
Wine Country premieres on Netflix on 10 May.