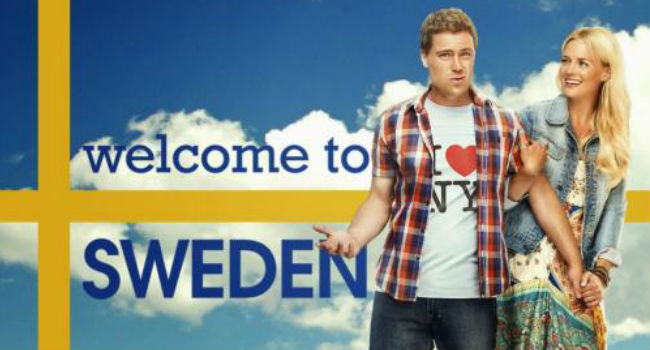 Welcome to Sweden!
Moving to a whole other country is never the easiest of undertakings, something that accountant to the stars, Bruce Evans (Greg Poehler, brother to Amy Poehler who produced the series) discovers when he heads to Sweden to live with his girlfriend Emma (Josephine Bornebusch).
Telling a bemused Swedish immigration official that he is "here for love", he embarks on getting to know the country, the language, and Emma's family, determined to make this seismic fish-out-of-water change in his life work.
Of course, there are obstacles and missteps a plenty, which provides the source for much of the comedy but Greg Poehler, who wrote the series based on his life – he has lived in Sweden for 12 years with his wife – told reporters that that is not all the show, a co-production between NBC and Swedish television channel TV4, is about:
"The show is really two things — it's a fish out of water story … and also it's very much a love story about these two main characters."
(source: zap2it)
Amy Poehler was quick to point out that the show is not poking fun at Sweden per se:
"This show is certainly not making fun of anything that happens in Sweden. It's about love taking you somewhere else and you having to adjust, not only to the idea of a new relationship, but a new country. I think our goal always was to celebrate what makes Sweden so excellent and also what makes it so weird, just like the U.S."
Featuring cameos from Will Ferrell (who is married to Swedish actor Viveca Paulin), Gene Simmons and Parks and Recreation's Aubrey Plaza, Welcome to Sweden is every bit as funny as I expected when I first came across the show, and a more than worthy line-up to NBC's roster of quirky, clever, and yes, very funny sitcoms.
Welcome to Sweden premieres on NBC on July 10 at 9 p.m. ET/PT (it has already aired in Sweden with season 2 already ordered).
Everything wrong with The Matrix
While I think pretty much everyone would agree that the first instalment in the Wachowski's Matrix trilogy was an artistic, intellectual and narrative triumph, films two and three descended into an unholy mess of style over substances (although I have heard countervailing opinions that those of who don't "get it" are simply just not paying enough attention).
But what if it wasn't just the final two thirds of the series that was full of plot and thematic holes big enough for a thousand Neos to artfully jump through in formation?
What if it was everything about The Matrix that unravelled if you looked at it too closely? What then my friends?
Well as usual its the brave gang at Cinema Sins who dare to question the holy grails of moviedom to hilarious effect, an approach that prods and pokes till the movie or franchise in question comes apart at the seams.
It doesn't mean you stop loving the movie/s in question; it simply means you're a little wiser to the central conceits underpinning it/them the next time you press PLAY.
And finally what would do if the Easter Bunny attacked?
Specifically how would you react if outrageously funny, manic comedian Billy Eichner of Billy on the Street, came running up to you on the streets of Manhattan, and asked you whether your favourite movie was Mel Gibson's The Passion of the Christ, which is celebrating its 10th anniversary, or Bridesmaids or Identity Thief or … ?
Think carefully because a wrong answer – HINT: it's The Passion of the Christ, supposedly Billy's favourite movie – will land a humorously melodramatic outburst and the death by pavement impact of an innocent Easter egg.
It's crazy, it's bizarre and the best celebration of Easter ever.
Just don't whatever you do, pick the wrong answer.
EGGS … WILL … DIE …