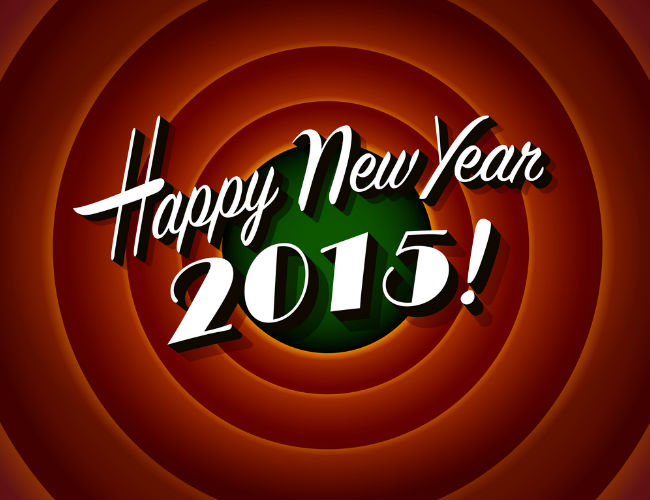 If you thought 2014 was a bumper year for movies, and it was, then 2015 is shaping up to be every bit as big and varied with brilliant blockbusters, heartfelt indies and a panoply of other films all jostling for our moviegoing attention.
Given the sheer volume of movies scheduled for release next year, narrowing my list down to just 10 was a big ask but I somehow managed it … barely.
I, of course, reserve the right to rave and wax lyrically about far more than these 10 movies in the ensuing 12 months.
You have been warned – best get your popcorn now and make yourself comfortable …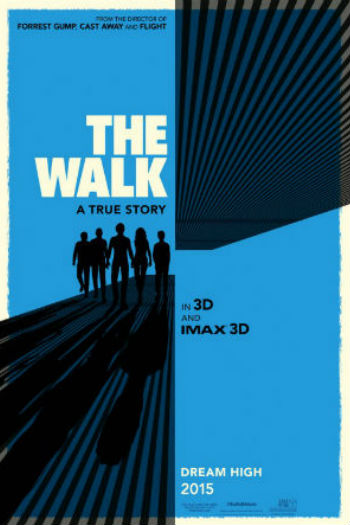 SNAPSHOT
Oscar-winning director Robert Zemeckis (Back to the Future, Forrest Gump) is bringing Philippe Petit's astounding August 7, 1974 high-wire walk between the two World Trade Center towers to life in The Walk … Twelve people have walked on the moon, but only one man has ever, or will ever, walk in the immense void between the World Trade Center towers. Guided by his real-life mentor, Papa Rudy (Ben Kingsley), and aided by an unlikely band of international recruits, Petit and his gang overcome long odds, betrayals, dissension and countless close calls to conceive and execute their mad plan. (synopsis via Coming Soon)
WHY I WANT TO SEE IT: A well told bio flick is always worth spending time going to see especially when it's about someone as idiosyncratically audacious as Philippe Petit, portrayed by the inestimable Joseph Gordon-Levitt and directed by Robert Zemeckis.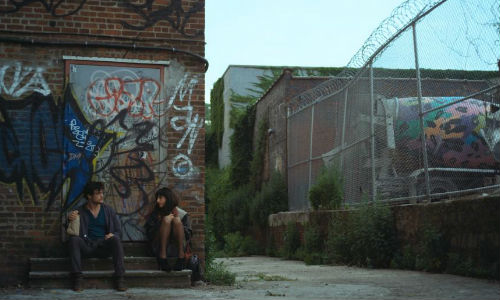 SNAPSHOT
Structured like Annie Hall, the film opens with Shirin (Akhavan) sifting through her life after breaking up with Maxine (Rebecca Henderson).

As Shirin is forced to move in with pretentious artists and goes on a string of painful one-night stands, the film flashes back to tell the story of Shirin and Maxine's relationship in an effort to examine what went wrong. Akhavan, who wrote the film after a real break-up, takes embarrassing details from her own life to create her own unique brand of awkward comedy. (synopsis via Hollywood Reporter)
WHY I WANT TO SEE IT: I am a sucker for any and all awkward indie comedy/dramas especially if they have an entirely fresh take on this well-worn sub-genre like Iranian-American Akhavan does.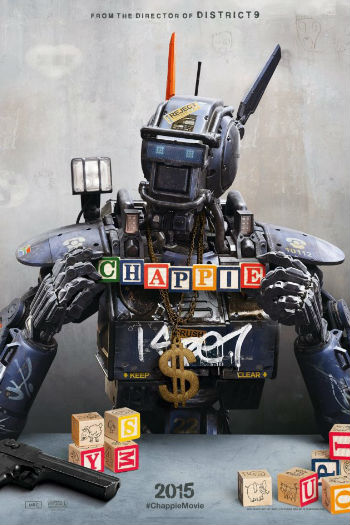 SNAPSHOT
Every child comes into the world full of promise, and none more so than Chappie: he is gifted, special, a prodigy. Like any child, Chappie will come under the influence of his surroundings – some good, some bad – and he will rely on his heart and soul to find his way in the world and become his own man. But there's one thing that makes Chappie different from anyone else: he is a robot. The first robot with the ability to think and feel for himself. His life, his story, will change the way the world looks at robots and humans forever. (synopsis via Coming Soon)
WHY I WANT TO SEE IT: I have loved everything Neil Blomkamp has done so far – the visionary District 9, the greatly underrated Elysium so I have every confidence Chappie will be every bit as touching clever and engrossing.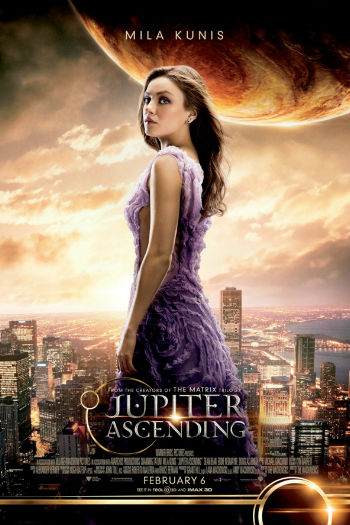 SNAPSHOT
Jupiter Ascending is written and directed by filmmaker siblings Andy Wachowski & Lana Wachowski, the duo behind Bound, the Matrix trilogy, Speed Racer and Cloud Atlas just last year. In a universe where humans are near the bottom of the evolutionary ladder, a young destitute human woman is targeted for assassination by the Queen of the Universe because her very existence threatens to end the Queen's reign. (synopsis via First Showing)
WHY I WANT TO SEE IT: I have always a loved big epic truly imaginative films (as opposed to empty blockbusters) and the Wachowskis deliver more often than they don't. Plus who doesn't love a big, all-enveloping space opera?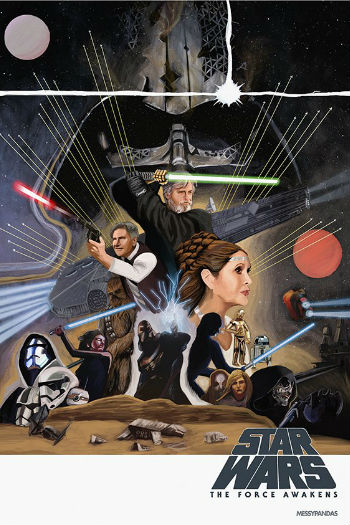 SNAPSHOT
A continuation of the saga created by George Lucas set thirty years after Star Wars: Episode VI – Return of the Jedi (1983). (synopsis, such as it is thanks to J. J. Abrams's impressive ability to keep a secret, via IMDb)
WHY I WANT TO SEE IT: Star Wars + J. J. Abrams + Carrie Fisher/Mark Hamill/Harrison Ford = TOTAL NO BRAINER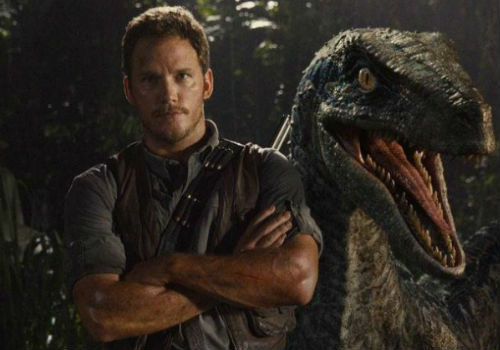 SNAPSHOT
wenty-two years after the events of Jurassic Park, Isla Nublar, off of Central America's Pacific coast, now features a fully functioning dinosaur theme park, Jurassic World, as originally envisioned by John Hammond. This new park is owned by the Masrani Global Corporation. Owen (Chris Pratt), a member of the park's on-site staff, conducts behavioral research on the Velociraptors. At the corporation's request, the park's geneticists create a genetically-modified hybrid dinosaur to boost visitor attendance, but it soon runs wild on the island. (synopsis via Wikipedia)
WHY I WANT TO SEE IT: The latest instalment in the venerable franchise looks like a return to the past glories of Jurassic Park (1993) plus Christ Pratt! And velociraptors! And no doubt no expense being spared!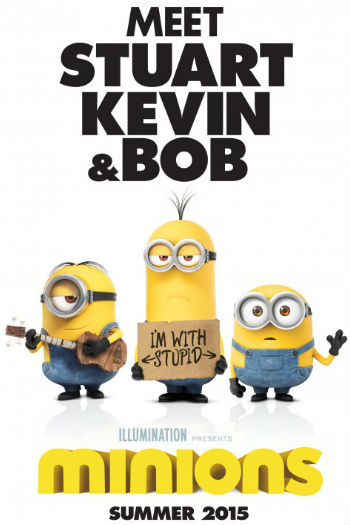 SNAPSHOT
The story of Universal Pictures and Illumination Entertainment's Minions begins at the dawn of time. Starting as single-celled yellow organisms, Minions evolve through the ages, perpetually serving the most despicable of masters. Continuously unsuccessful at keeping these masters—from T. rex to Napoleon—the Minions find themselves without someone to serve and fall into a deep depression. But one Minion named Kevin has a plan, and he—alongside teenage rebel Stuart and lovable little Bob—ventures out into the world to find a new evil boss for his brethren to follow. The trio embarks upon a thrilling journey that ultimately leads them to their next potential master, Scarlet Overkill (Academy Award® winner Sandra Bullock), the world's first-ever female super-villain. They travel from frigid Antarctica to 1960s New York City, ending in mod London, where they must face their biggest challenge to date: saving all of Minionkind…from annihilation. (image via official Minions site)
WHY I WANT TO SEE IT: They were adorable, funny and pretty much stole the show in Despicable Me and Despicable Me 2 so an entire movie full of the fun-loving if evil master-serving Minions should be an absolute joy.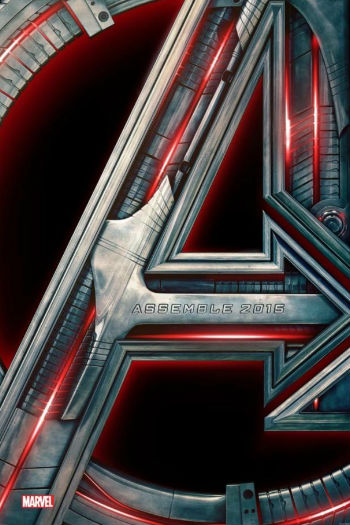 SNAPSHOT
In The Avengers: Age of Ultron Earth's Mightiest must reunite and work with newcomers Quicksilver and Scarlet Witch to battle new antagonist Ultron, who receives an all-new origin story, while dealing with a new level of inner conflict amongst the team. Quicksilver & Scarlet Witch may not necessarily agree with The Avengers and Tony Stark may be responsible for the creation of the new villain. (synopsis via Screenrant)
WHY I WANT TO SEE IT: The first Joss Whedon-helmed Avengers movie was well nigh perfect, a pleasing balance of action and humanity and all indications are the sequel will follow in the same vein.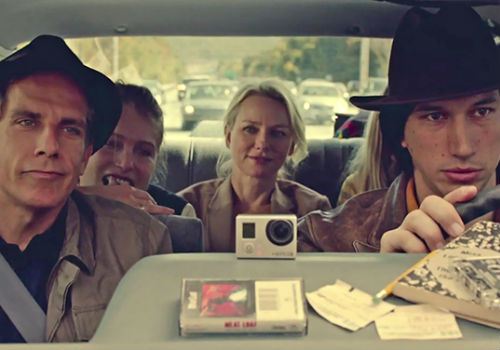 SNAPSHOT
Noah Baumbach's exploration of aging, ambition and success stars Stiller and Watts as a middle-aged couple whose career and marriage are overturned when a disarming young couple (Driver and Seyfried) enters their lives. The film also stars Charles Grodin, Maria Dizzia, Adam Horovitz and Ryan Serhant. (synopsis via Coming Soon)
WHY I WANT TO SEE IT: Noah Baumbach, like Wes Anderson, is one of those clever, singular-vision directors who produces consistently engaging work that you just go and see no questions asked. It helps that While We're Young stars Ben Stiller, Naomi Watts and the awesome Adam Driver.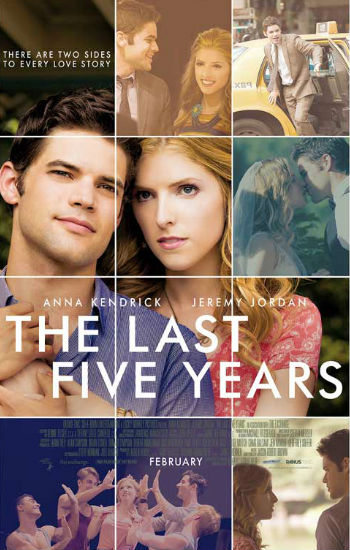 SNAPSHOT
The Last Five Years follows Cathy (Anna Kendrick), a struggling actress, and Jamie (Jeremy Jordan, of Broadway's "Newsies" fame), a successful writer, throughout the titular time period, from the moment they meet, to falling in love, getting married, and the relationship's ultimate unraveling. That story is told from both characters' perspectives, as Cathy sings about the end of their marriage and works backward to their beginning; Jamie, meanwhile, sings about their relationship in sequential order. (synopsis via Moviefone)
WHY I WANT TO SEE IT: It takes me a while to catch on to the magic of musicals – I used to revile them when I was young mocking the synchronised singing and hackneyed plots – but I am now a big fan. Done well, and The Last Five Years looks it's done exceedingly well, they're a great way to tell a story.