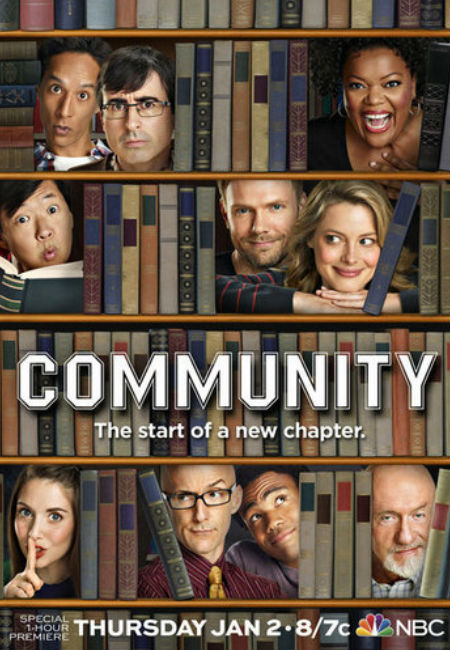 It's back to school we go with Community and this time everything's back to the way it should be!
Dan Harmon, creator and showrunner of NBC's Little Sitcom That Could Get #sixseasonsandamovie, for the first three seasons, is back in the creative saddle after a fairly lacklustre season 4 overseen by David Guarascio and Moses Port and it looks like Community has its mojo back!
OK granted it is only a short trailer, which focuses mainly on Jeff Winger (Joel McHale) who graduated at the end of season 4, thrilled to finally be free of Greendale College and its marvellously wacky and diverse "human beings", only to find life back in the outside world not quite the slam dunk he thought it would be.
Back at Greendale as a teacher, a meta moment remarked upon naturally by Abed (Danny Pudi) in Community's trademark self-referential style, Jeff Winger looks none too happy to be back from whence he came.
The Dean (Jim Rash) however is as delighted as one man can get – perhaps a little too delighted – and the gang of course are thrilled to have Jeff back, although the dynamic of them all studying as a group is going to be naturally quite different with Jeff no longer a student.
You will also notice notice the presence of Breaking Bad alum Jonathan Banks as a rather dodgy criminology professor (would Greendale have any other kind?), Troy (Donald Glover) and Abed in hilariously over the top costumes, and Chang (Ken Jeong) popping up in the background with goodness knows what in mind.
It all looks invitingly wonderful and a return to the Community of old and it will be interesting to see what else NBC does to promote the show ahead of its double episode premiere on 2 January 2014.
UPDATE 13 December 2013
NBC has released a new dark timeline trailer for Community in which all manner of terrible yet no doubt hilarious things happen.
Britta is in power with "chair walkers" acting as her enforcer troops, the Dean is stripped down to his underwear and crying in the foetal position, Chang has apparently been masturbating "EVERYWHERE!" (the reactions by Annie and Shirley to that announcement are priceless and well, understandable) and Jeff is none too happy to be back in Greendale after his escape plan went a little awry.
On the upside, Troy makes the most perfect meta joke ever which almost makes it all better.
Dan Harmon is back people and this trailer proves it's going to be one hell of a ride!
Now just where did they say Chang was at the moment?