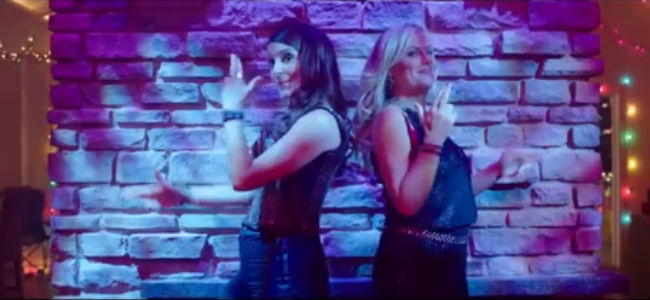 SNAPSHOT
Tina Fey and Amy Poehler reunite for Sisters, a new film from Pitch Perfect director Jason Moore about two disconnected sisters summoned home to clean out their childhood bedroom before their parents sell the family house. Looking to recapture their glory days, they throw one final high-school-style party for their classmates, which turns into the cathartic rager that a bunch of ground-down adults really need.

Fey produces the comedy alongside Jay Roach (Meet the Parents series) and John S. Lyons (Austin Powers in Goldmember), and Poehler executive produces alongside Jeff Richmond and Brian Bell from a script by Paula Pell (TV's Saturday Night Live, 30 Rock).
(synopsis via Cinemablend)
I, along with pretty much everyone else on planet Earth LOVE Amy Poehler and Tina Fey (with the exception possibly of nomadic goat herders on the Eurasian steppes who may not yet have heard of them; although I suspect even they made time to catch the recent Golden Globes telecast such is the pulling powers of these two talented women).
Whether in their solo endeavours – 30 Rock and Parks and Recreation – or together, most notably of course in their three-times-in-a-row hosting of the Golden Globes Awards, they are a comic powerhouse, consistently and hilariously incisively funny in a way that few others can match.
So it is with understandable joy, and an insistent longing for the ability to travel through time, TARDIS-powered or otherwise, that I discovered they have made a movie together, Sisters, which is due out just before Christmas this year.
And you wondered how you were going to fill that great big The Hobbit-sized void? (OK fair enough Hobbits themselves aren't that big but did you Smaug? HUGE. That's a big hole to fill my friends, BIG.)
Wonder no more for Fey and Poehler, who could make reciting grocery shopping lists or Bluray manuals sounds thigh-slappingly funny, will make your Yuletide more than a little bright and joke-laden with the tale of two sisters taking one big mighty last trip down memory lane.
No doubt there will be some poignant moments too as is the way of movies which examine what it's like to go back from whence you came – they do say to never go back but sometimes it's kind of hard to avoid and there are only so many jokes you can make before you inevitably get a little reflective – but for the moment the teaser trailer is focusing on all the humour inherent in this comically-rich premise.
Looks like Santa will really be delivering this year.
Sisters opens in USA on 18 December 2015 in USA and on 1 January 2016 in UK.