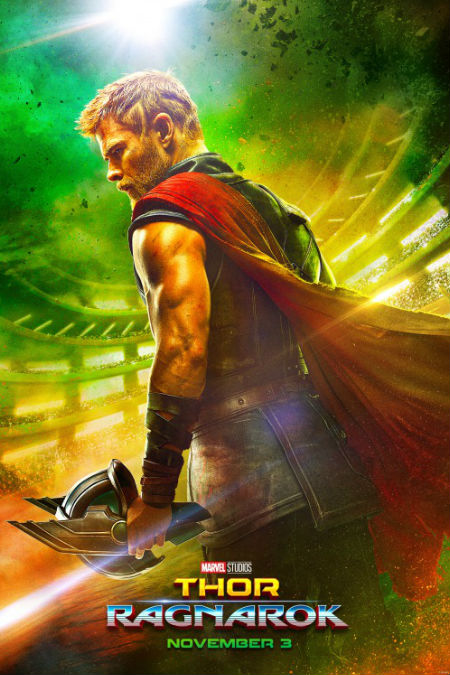 SNAPSHOT
In Marvel Studios' Thor: Ragnarok, Thor will arrive in Asgard after hearing about trouble in his home world, and when he arrives he finds Loki's style of ruling (while impersonating Odin) has led to some lapses in the rules and leads to the freeing of prisoner Hela. Thor and Hela naturally come to blows when they meet, which sees Thor "blasted" to Sakaar, described as "a barbaric planet ruled by the charming but nefarious Grandmaster (Jeff Goldblum)." There he meets Valkyrie, who is hiding out on the planet, and brings him to the Grandmaster to make him a gladiator, where he meets the most popular competitor in the arena, The Hulk, and loses his trademark hair and hammer.

Thor: Ragnarok will feature the return of Chris Hemsworth as the God of Thunder himself, with Tom Hiddleston as Loki, Mark Ruffalo as the Hulk, Idris Elba as Heimdall and Sir Anthony Hopkins again portraying Odin. Cate Blanchett plays the mysterious and powerful new villain Hela, Jeff Goldblum stars as the eccentric Grandmaster, Tessa Thompson will bring the classic hero Valkyrie to life, and Karl Urban will add his might to the fray as Skurge. (synopsis via Coming Soon)
It will surprise exactly no one that Marvel has made a great success of investing its films with a particular look and feel, and even a relatively set narrative template.
While it does mean you get a reasonably consistent, and often enjoyable, entertainment experience, the downside is that there isn't deal of variance between the various films, which results in a feeling of relative sameness.
Thankfully, Marvel has begun to experiment of late with Guardians of the Galaxy, Deadpool and Doctor Strange all making merry with the great set-in-stone template and twisting, turning and throwing things around in a great big blender, a trend which has now, to my great delight "infected" the Thor franchise.
Thor: Ragnarok, directed by one of the best directors in the biz, New Zealand's Taika Waititi (What We Do in the Shadows, Hunt For the Wilderpeople), a man with an inspired sense of humour and great love of inventive world building, channels much of the spirit, energy and fun of Marvel's outliers like Deadpool, proving that some deftly used humour goes a long way.
Having said that, there's some great drama in the trailer, with new villain Hela (hooray Kate Blanchett) ready to lay waste to Asgard, Thor and his beloved hammer, Mjolnir which doesn't get out of the trailer in one piece alas.
While a trailer does not a movie make, this trailer is a promising start to proceedings, confirming everyone's confidence that Waititi would bring something fresh, different and engaging to the much-awaited third Thor instalment.
Thor: Ragnarok opens in Australia on 26 October and USA on 3 November.
Not being a die-hard comic books fans myself, I will leave it to Brandon Maggiano to break the trailer down for you …