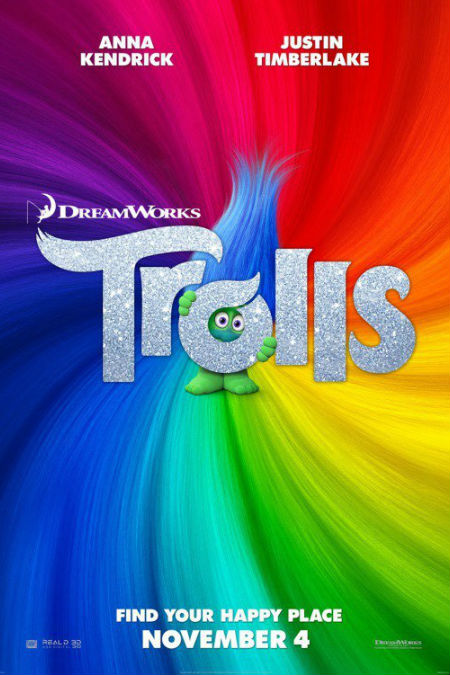 SNAPSHOT
DreamWorks Animation's Trolls is an irreverent comedy extravaganza with incredible music! From the genius creators of Shrek, Trolls stars Anna Kendrick as Poppy, the optimistic leader of the Trolls, and her polar opposite, Branch, played by Justin Timberlake. Together, this unlikely pair of Trolls must embark on an adventure that takes them far beyond the only world they've ever known. (official synopsis via Monkeys Fighting Robots)
I have to say that when I first heard about a Trolls movie, my eyes rolled back in such a "Oh not they're not!" fashion that the sound of it likely reverberated around the globe (OK maybe not but it was fierce and loud my friends … FIERCE and LOUD).
While the troll dolls first made an appearance in 1959 at the hands of Danish woodcutter Thomas Dam, and enjoyed resurgent popularity in the '70s and '80s, they never really resonated with me growing up, and all I can really recall of them is their overflowing presence on the desk of Mimi, the office nemesis on The Drew Carey Show.
Frankly I didn't think they were all that cute, and were actually kinda creepy, and though they were colourful, they never really struck a chord with me.
I couldn't therefore understand why anyone would make a movie about them; more than though I have a very dim view of people making movies based on toy lines (with the exception of The LEGO Movie which is freaking wonderful).
So colour me more than pleasantly surprised when I watched the latest Trolls movie trailer, and discovered that, apart from a infectiously catchy theme song "Can't Stop the Feeling" courtesy of one Justin Timberlake, who voices one of the two main characters, the Trolls movie might actually be a lot of silly, wisecracking, irreverent fun.
It doesn't look it will reach the dizzy heights of such animated wonders as Inside Out or Zootopia but that's OK; it  has every chance of being good old goofy fun with an earnest message of some kind tucked away somewhere in the story.
And that is completely OK when you have talents like Justin Timblerlake and Anna Kendrick keeping things kicking along.
Trolls opens in USA 4 November and in Australia on 8 December.