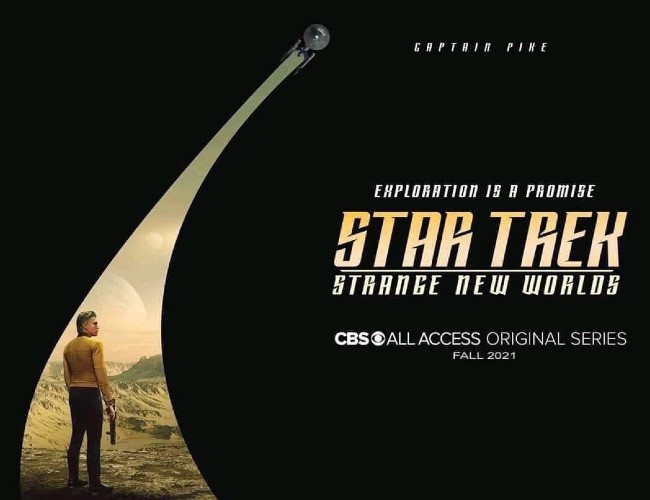 SNAPSHOT
CBS All Access has ordered a full series of Star Trek: Strange New Worlds, based on the years where Captain Christopher Pike (Anson Mount) helms the U.S.S. Enterprise. The series will feature Star Trek: Discovery Season 2 fan favorites Anson Mount as Captain Christopher Pike, Rebecca Romijn as Number One, and Ethan Peck as Science Officer Spock. The series will follow the trio in the decade before Captain Kirk boarded the U.S.S. Enterprise, as they explore new worlds around the galaxy. (synopsis (c) cbs.com)
These are exciting days for Trekkies!
After a period of sustained dormancy, during which there was only the occasional Star Trek film to break the Kirk, Sisko, Picard and Janeway-less gloom, we are awash in a dazzling array of Roddenberry-inspired riches.
Star Trek: Discovery has led the way, a bolder, badder version of the franchise which owes more to Deep Space Nine than it does The Next Generation, which will air its third series later this year or early next, COVID-19 permitting; it was joined this year by Picard, a sequel series of sorts for perhaps Star Trek's most loved captain which took a quietly methodical and emotionally resonant approach to some very thoughtful, action-packed storytelling.
Now, while we wait for other treasures like Below Decks, comes word that the series every body was begging for, and yes, they were, take a look at social media over the last six months or so for proof, is on its way!
Captain Pike, played with smouldering and good natured self-assurance by Anson Mount, is getting his own series Star Trek: Strange New Worlds which will cover the decade prior to Kirk's era and give us more time with the man who went a long way to defining the flavour and sensibility of the second season of Discovery.
He will be joined, as he must be, by his Number One (Rebecca Romijn) and Spock (Ethan Pike) and hopefully those featured in one of the Discovery-inspired Short Treks films, "Ask Not", for what looks like being a great new spirited addition to the franchise, about which CBS All Access is understandably excited, what with fans already heavily invested in the series before it reaches any kind of screen.
"Fans fell in love with Anson Mount, Rebecca Romijn, and Ethan Peck's portrayals of these iconic characters when they were first introduced on Star Trek: Discovery last season," said Julie McNamara, Executive Vice President and Head of Programming, CBS All Access. "This new series will be a perfect complement to the franchise, bringing a whole new perspective and series of adventures to Star Trek." (cbs.com)
And Alex Kurtzman who oversees all things Trek for CBS All Access is, along with fellow Executive Producer Akiva Goldsman, pretty hyped too.
"When we said we heard the fans' outpouring of love for Pike, Number One, and Spock when they boarded Star Trek: Discovery last season, we meant it," said Executive Producer Alex Kurtzman. "These iconic characters have a deep history in Star Trek canon, yet so much of their stories have yet to be told. With Akiva and Henry at the helm, the Enterprise, its crew, and its fans are in for an extraordinary journey to new frontiers in the Star Trek universe." (cbs.com)
"This is a dream come true, literally," said Executive Producer Akiva Goldsman. "I have imagined myself on the bridge of the Enterprise since the early 1970s. I'm honored to be a part of this continuing journey along with Alex, Henry, and the fine folks at CBS." (cbs.com)
An air date for Star Trek: Strange New Worlds has not been confirmed.