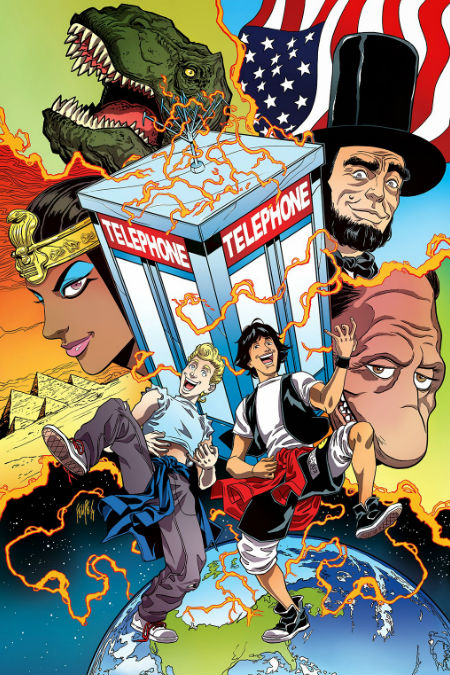 SNAPSHOT
Following the time-traveling historic epic of Excellent Adventure and the turbulent life and death of Bogus Journey, Bill and Ted must now fulfill their destiny as the inspiration for galactic harmony! How can someone hate the Wyld Stallyns as much as the evil Chuck De Nomolos? With the power of time travel, Bill and Ted set their sights on turning a young 27th-century Nomolos' non-non-heinous attitude into something most outstanding and metal! Plus, each story will have a back-up adventure!  (synopsis via Forces of Geek)
Oh how I love William "Bill" S. Preston Esq. (Alex Winter) and Theodore "Ted" Logan (Keanu Reeves), simply known to many as good old Bill and Ted, they of the most excellent bodacious cinematic adventures, Bill and Ted's Excellent Adventures (1989) and Bill and Ted's Bogus Journey (1991), two films which showed, in no uncertain and endlessly hilarious terms that it was possible to be a metal-loving slacker and travel through time.
While it's been 24 years since they last slipped into their telephone booth, with a third movie still stuck somewhere in development hell (though Alex Winters assured everyone in September 2014 it was still very much a happening thing), Bill and Ted are going to ride again this year in comic book form, Bill and Ted's Most Triumphant Return, an announcement heralded in a most awesome fashion by Forces of Geek:
 "Award-winning publisher BOOM! Studios is most honored to announce the excellent return of the most outstanding time-travelers of the '80s and '90s in Bill & Ted's Most Triumphant Return. Taking part in Bill & Ted's non-heinous return to comics is accomplished wordsmith Brian Lynch (TMNT: Microseries, Angel: After the Fall, screenwriter of the Despicable Me spin-off feature film, Minions) and stellar illuminator of fine comics Jerry Gaylord (Fanboys Vs. Zombies). There will also be totally resplendent back-up stories in each issue, including a short by the excellent Ryan North (Adventure Time, The Unbeatable Squirrel Girl) and non-bogus artist dude Ian McGinty (Bravest Warriors, Munchkin) in issue #1."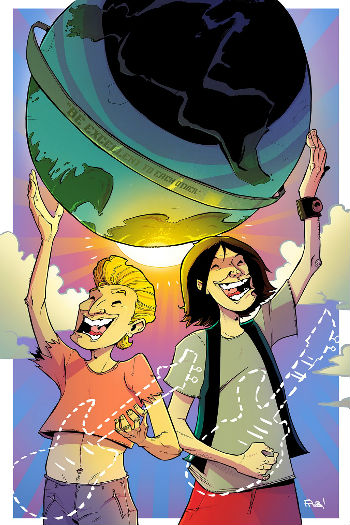 What has me most excited, apart from Bill and Ted returning at all, is the amazing talent involved in the project, a who's who of talented writers, all of them adept at writing material that is funny, clever and utterly out-of-the-box, a rare commodity in today's cookie-cutter world of mass homogenised creativity.
I cannot wait to see what they have come up with especially since BOOM! Studios Editor-in-Chief Matt Gagnon seems to be pretty excited about what's in the offing, and in a genuinely passionate, not-just-trying-to-sell-stuff way:
"San Dimas, California's favorite sons, Bill S. Preston, Esq. and Ted 'Theodore' Logan, are making a most triumphant return to comics—and the telephone booth—this March. Brian's scripts are hilarious and Jerry's art channels all the magic of Bill and Ted's first excellent adventure. We couldn't be happier! This series is going to rock as hard as the Wyld Stallyns."
I would,of course, take another movie in a heartbeat, happily travelling with Bill and Ted, and Abraham Lincoln and Cleopatra and whoever else these happily oblivious guys managed to scoop up on their most excellent journeys – may you escape from development hell sooner rather than later and with elegance and humour than Dumb and Dumber's Harry and Lloyd – but 'til then I am more than happy to settle down with this comic book, which looks to be as outstandingly resplendent as it's possible for a comic book to be.
Bill and Ted's Triumphant Return hits comic store shelves on 11 March 2015.
To check out more art, go to Forces of Geek.