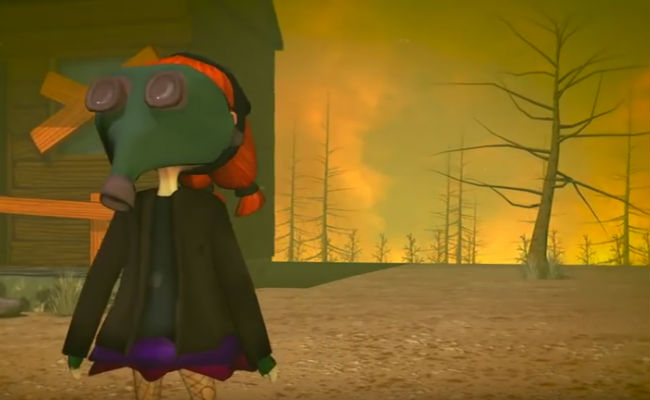 SNAPSHOT
Ginger is a little girl living in the wake of a zombie apocalypse. While most of the planet has perished because they stuck to the cities, Ginger lives way out in the country and thus far hasn't seen a single zombie. She also hasn't seen a living person in a while, so has grown quite lonely. That is until one day when she receives a guest, a zombie she names Snapper, and the two form a friendship that's like a steak with whipped cream on top: sweet and savory. Lachey Chabert (Mean Girls) is perfectly cast as naïve and lonesome Ginger, and voiceover artist Liam O'Brien (Planet Hulk) tackles the nuanced groans of Snapper. (synopsis (c) FilmSchool Rejects)
If you watched the season 7 opener of The Walking Dead, you would have realised fairly quickly, if it hadn't occurred to you already, that the zombie apocalypse is not exactly a laugh-a-minute scenario.
It's not just the masses of ambulatory flesh-hungry corpses bringing down the mood, which given it's the apocalypse is already plumbing the depths of morale anyway, but the opportunistic humans seeking to make the most of the end of civilisation to feather their own Lord of the Flies-inspired nest.
Not exactly a stand-up special on HBO is it?
But two very talented animated filmmakers, writer/director/narrator D. C. Douglas (Z Nation) and animator Rachael Leone, have managed with impressively funny results to inject some humour into a bleak situation where the funny bone is more likely to be munched by a zombie than tickled in any kind of pleasing way.
The Story of Ginger and Snapper is a delight on just about every possible level – the writing is razor sharp hilarious with Ginger in particular being handed some lines so funny you will need to rewind the scene to enjoy them all over again, the voice actors are perfectly cast and the story manages a highly-engaging arc in just under five minutes that many feature films would do well to mimic.
No, the zombie apocalypse isn't a thigh-slapping hoot of epic proportions but The Story of Ginger and Snapper is, with some real poignancy and genuine humanity thrown for good measure, giving us the funniest and in many ways the most-economically-elegant take on the apocalypse yet.
(source: FilmSchoolRejects)