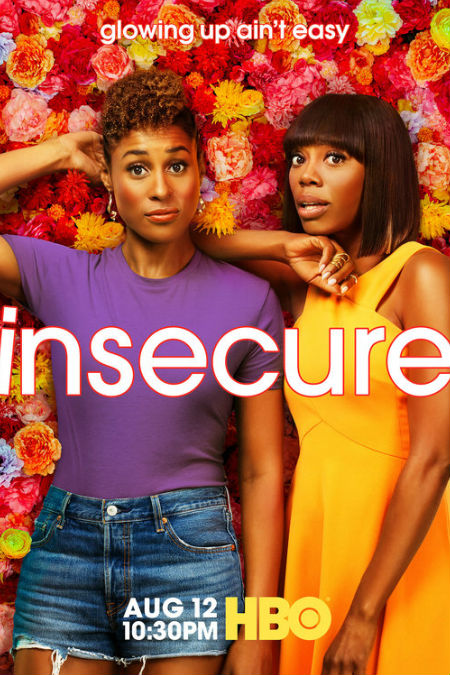 In a very real sense, Insecure, the creation of multi-talented actress/writer/producer/director Issa Rae and Larry Wilmore, has been "glowing up" since the moment of its creation.
Beginning life as highly-acclaimed web series, The Mis-Adventures of Awkward Black Girl, affectionately referred to by most people as Awkward Black Girl, the series, which ended its third season last year with a fourth in the offing, has been living out its tagline in ways big and small.
"Glowing up", if you aren't cheek-by-jowl with the lingual zeitgeist, is, according to VOX ATL, a "process focuses on the improvement of physical appearance, individual style, overall attractiveness and maturity" which originally referred to puberty but now means a whole lot more.
It is, essentially, a clever riff on "growing up" which everyone in the show does a lot of in the third season, whether they feel like they're doing it or not.
Still sporting the wounds of her break-up with Lawrence (Jay Ellis), Issa Dee (Issa Rae), whose mother "helpfully" texts her Bible verses with no personal context of any kind, as if someone had handed God a mobile phone and said "have at it", feels, she admits to bestie Molly (Yvonne Orji), who is successful in career but not love, that she often feels like a "fuck-up".
We've all been there, shouldering good old Imposter Syndrome like it's some kind of existential deadweight, but for Issa, the one friend out of four which includes Molly, accountant and exuberant wild child of sorts Kelli (Natasha Rothwell, who writes for the show and co-produces) and happily married and pregnant Tiffany (Amanda Seales), the first of the friends to take the next big step in life, who isn't seeming to take great strides towards a glow up, it feels like a permanent anchoring state of existence.
She is, of course, trying to do everything she can to get ahead, but whereas Molly is playing it hard at her new law firm (a successful tactic but one which results in her socially isolating herself) looks like she's nailing this whole life thing every time, Issa is struggling to find her groove, to find that part of her that feels like it really matters.
In season 3, she quits her long-time job at "We Got Y'all", a non-profit working with kids of disadvantaged areas, sick of being the token black woman in an organisation staffed largely by well-meaning white people, starts driving for Lyft, and takes on a supposedly part-time job as a building complex supervisor which isn't a disaster but not exactly an exact fit for her creatively-ambitious skill set.
As a black woman who's about to turn 30, which she does in one episode where Molly plans the perfect birthday outing, Issa feels the weight of expectation bearing down upon her, surrounded by successful members of her community who are seizing the American Dream and making it work.
Appearances can be deceiving, of course, and while Issa feels like the fuck-up of the group, the reality is that no one is knocking it out of the park.
They're not floundering either, but as an unexpectedly wild and loose weekend at Coachella reveals, soaked in the drug Molly (yep Molly does Molly, something the character in question finds hilarious, multiple times), no one has a stranglehold on the perfect life.
Desperately trying to get on the partner track at her law firm, Molly's only great romantic engagement of the year is with married friend 'Dro' Peña (Sarunas J. Jackson) who's in an open marriage but obviously isn't about to leave his wife, and she spends much of the season flailing, able to afford blueberry facials for her dog but feeling like she's not succeeding at work or in life.
She's getting somewhere but she's not sure where, a sensation matched by Issa who meets the luminously-eyed Nathan (Kendrick Sampson) on a Lyft ride one day, a kismet of meetings that arrives just as she's decided that on/off again potential lover and boyfriend and old school friend Daniel (Y'lan Noel), and the man on whose couch she is crashing when the season begins, is not someone worth pursuing.
At that unenviable place where nothing concrete is emerging and all the irons in the fire such as launching a career as an events organiser by staging a celebration of local music in her home neighbourhood of Inglewood are really glowing hot as she would have liked, Issa begins to feel like every step is a huge misstep.
That's not wholly correct of course but then people are generally not very good at separating fact and perception, and Issa is no exception, with season 3 ending with a penitent Nathan wanting to fix their nascent relationship up, and a fellow black events entrepreneur helping to mentor her (but who's she dating? Uh-oh, awkward) but Issa feeling like the only achievement is finally unpacking all her boxes and getting her apartment finally sorted.
While Insecure shines an illuminating light on black professional life in modern L.A., celebrating its life, culture, good and bad points in the process, it also embraces the universality of human experience to such an extent that season 3 saw the show go from fan favourite to Twitter-phenom, one of those shows that would, in the old days, be described as a "water cooler show".
It is, however you slice it, a very funny, literate, clever and heartfelt show that reflects contemporary American black culture, and the hopes and aspirations of its community, offering up as it does so, characters that you want to spend time, situations that feel real and relatable, and a sense that life, done well, is a glow up of epic proportions, even if it is not visible to us as we're going through it.
Quite what season 4 has in store is anybody's guess, but suffice to say, the glow up, Issa Rae promised via Twitter, is continuing apace, with the season 3 finale leaving us in no doubt that while we may not always feel like life is going places in fabulous heels, it is often doing better than we realise and maybe all we need to do is open our eyes.
Hard to do true, but if anyone can do it, Issa can.