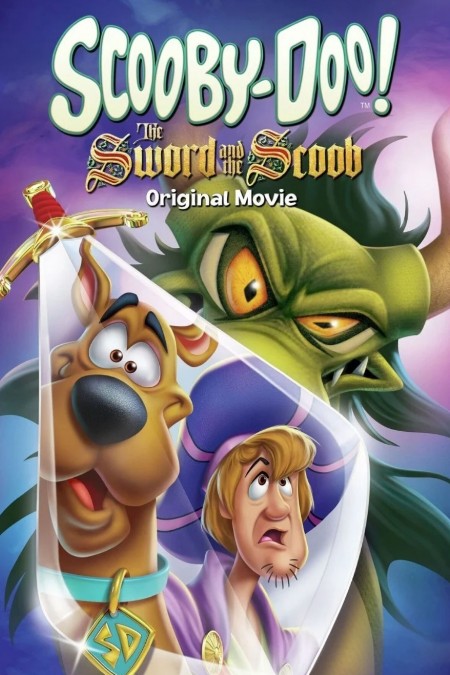 SNAPSHOT
Produced by Warner Bros. Animation, Scooby-Doo: The Sword and the Scoob takes our favorite teen sleuths on a trip to England to trace Shaggy's family roots, where they suddenly find themselves in the Middle Ages and meet the legendary King Arthur and his noble knights. It's an unforgettable adventure inspired by medieval legends and fantasy that the whole family can enjoy together.

Take a journey back in time to King Arthur's court in this legendary saga of wizards, knights, dragons…and Scooby-Doo! An evil sorceress tries to seize power in Camelot, so King Arthur needs the help of our favorite super sleuths to save his throne. But will their valiant efforts only make things royally worse? This new movie serves up laughter on a platter, and Scooby and Shaggy are ready to dig in!

Scooby-Doo: The Sword and the Scoob features the familiar voice talents of Frank Welker as Scooby-Doo/Fred Jones, Grey Griffin as Daphne Blake, Matthew Lillard as Shaggy Rogers and Kate Micucci as Velma Dinkley. The film also features Jason Isaacs as King Arthur Pendragon and Nick Frost as Merlin. Scooby-Doo! The Sword and the Scoob was executive produced by Sam Register and produced by Maxwell Atoms, Spike Brandt, Jim Krieg and Colin A.B.V. Lewis. The film was directed by Atoms, Christina Sotta and Mel Zwyer, and was written by Jeremy Adams. (synopsis via Flickering Myth)
There are scares and frights enough in the present you might think but in the upcoming animated film Scooby-Doo: The Sword and the Scoob (a delightfully fun riff on a movie title with which most people will be familiar) Scooby, Shaggy, Velma, Fred and Daphne find out there are lots in the past too.
All courtesy of Morgan le Fay, a powerful enchantress taken straight from Arthurian legend, who sends the supernaturally-aware gang back to Camelot and the Knights of the Round Table to solve a mystery of epically historical proportions.
It looks, as do pretty much all Scooby-Doo adventures like a lot of fun; well, for the audience at least, and Velma, Fred and Daphne, but for Scooby and Shaggy?
Not so much, which of course, makes it all the more fun for us.
Just how much fun is what we'll find out when Scooby-Doo: The Sword and the Scoob releases 23 February 2021 via DVD and digital formats.