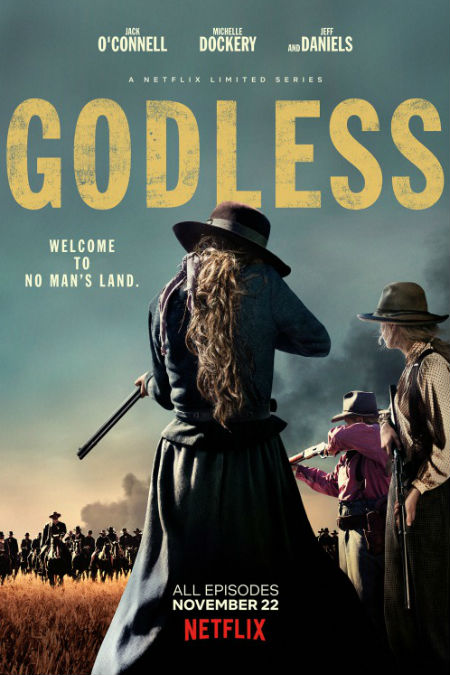 SNAPSHOT
Set in the 1880s American West, Godless follows notorious criminal Frank Griffin (Daniels) and his gang of outlaws on a mission of revenge against Roy Goode (O'Connell), a prodigal son type who betrayed his former brotherhood. While on the run, Roy seeks refuge at the ranch of hardened, outcast widower Alice Fletcher (Dockery) in the isolated and run-down mining town of La Belle, N.M., which is mysteriously made up entirely of women—an interesting wrinkle to an otherwise standard-issue set-up. When the residents of La Belle catch wind that Griffin is headed their way, they're forced to band together for a showdown with the outlaw's murderous gang. (synopsis (c) Paste Magazine)
Westerns are one of those genres with (in some cases, literal) well-worn tracks.
Good against bad. Weathered souls and hopeful newcomers. Overwhelmed law enforcement (such as it is) against staggeringly powerful criminal elements.
Godless, from the master hand of Steven Soderbergh, seems to have all these and more, and yet for all the wild western tropes present and accounted for, you get the very real sense that there is something utterly remarkable and wholly original in the offing.
There is a real poetry (thanks in part to the sampling of actual poetry by Spanish-Jewish poet Yehuda Halevi) to this gorgeously-rendered teaser trailer, a sense of being taken deep into something, which augurs well for a TV show with a premise as immersive as this one sounds.
Godless premieres on Netflix 22 November.