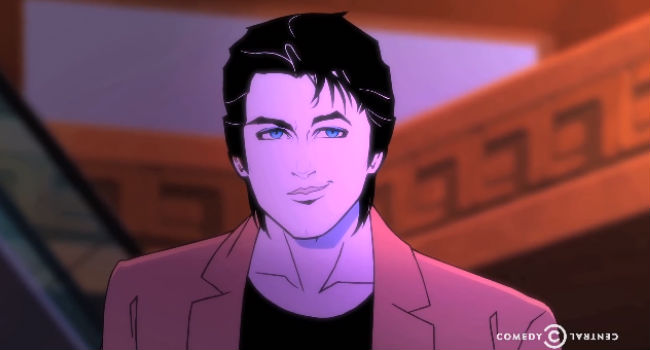 SNAPSHOT
Set in the 1980s, with the color palate to match, [Rob] Lowe plays Dazzle Novak, a not-so-bright undercover cop who is always in search of a good time (when in fact he should be hunting down the bad guys). Banks co-stars as Novak's hard-ass boss, while [Kate] Mara plays a young officer considered a rising star in Novak's same squad.

Although Novak bears a striking resemblance to Sterling Archer, in both appearance and demeanor, Archer's skill level in the field supersedes Novak's skill set by more than a mile. To Novak's advantage, though? An awesome stripper name.      (synopsis Indiewire)
I am a man who lived through and loved the '80s.
I listened to the songs of Duran Duran and Tears For Fears, managed to not break any windows when I threw my maddening Rubik's Cube as far away from me as possible, witnessed the end of the Cold War, survived the split of ABBA and happily wore stonewashed jeans hypercolour T-shirts (and bright red men's sandals).
It was a happy decade, one that I seem to constantly re-visit in the best possible way any time songs by La Roux and Lady Gaga are played or TV shows like The Goldbergs show an episode, and now I get to experience the Miami Vice-inspired colours and sensibility in Comedy Central's new animated masterpiece Moonbeam City.
Scheduled for a premiere in 2015, and written by Funny or Die's Scott Gairdner, it centres on a detective working in the titular Moonbeam City, dubbed "America's most fluorescent metropolis", who is more adept at looking fashionable and having a good time than actually, you know, solving crime.
With a soundtrack provided by synth pop group Night Club, and according to Cartoon Brew, "a striking visual style that consciously references the iconic early-Eighties illustrator Patrick Nagel", Moonbeam City looks like a gloriously technicolour hilarious homage a decade that is going to delight and muse my '80s loving soul no end.
Bring on the animated shoulder pads, I'm ready for all the absurdist fluorescent mirth you can throw at me!