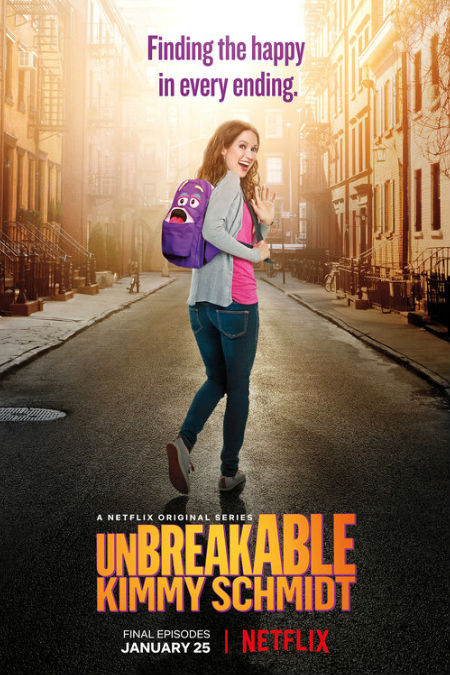 Unbreakable Kimmy Schmidt (UKS) has always been a goofily, quirky show.
Almost from the word-go, but certainly as it went on over four seasons and 51 gloriously kooky episodes, one of Netflix's big sitcom breakouts came to inhabit a televisual body that never shied away from being as hilariously off-the-wall surreal and mischievous as possible.
From the idea that the rundown New York townhouse the main characters lived in was actually a sideways tugboat not quite up to code, through to the cameo characters such as Mimi Kanassis (Amy Sedaris) and Sheba Goodman (Busy Philipps) and the highly-probable idea that Cats is actually a weird cult-like family made up of ambitious "I can do that!" actors, UKS has always dwelt in a disarmingly-funny space just this little bit centre of normal (whatever the hell that is).
Or really, wholly and completely left of centre of the real world.
And that is its crowning glory because adopting this goofy persona gave it the ability, like a Nobel Prize winner dressing as a sequin-bedazzled fairy at a party, to both defy expectations and to get away with some pretty hard-hitting, wholly-substantial and deeply-meaningful storylines.
It's something all the good sitcoms get away with in spades but some are more obvious (and not in a bad way; take the magnificence that is Frasier for instance) than others.
UKS is one of the outliers that at first glance looks solely like a sugary confection playing it solely for visually-rich, oneliner-heavy, fantastically-whimsical laughs; dig deeper though and you'll rich a beating heart that takes life very seriously, thank you.
It continued to defy expectations in rewardingly-pleasing fashion all the way through its final sex episodes – though there is now an interactive special planned for 2020 so it's not completely the end; not just yet, anyway – offering up such gems as Kimmy (Ellie Kemper) having a family "affair" with a current date's parents – they have games nights behind his back; oh the shame – and Jacqueline (Jane Krakowski) playing a bizarrely-appropriate game of steal the client (including an alternate-career, decision-suspect Greg Kinnear in fine self-skewering form) with rival agent Eli Ruban (Zachary Quinto) who is as silly as he is calculating.
In a way, it's nothing unusual from a show that delighted in pushing comedic boundaries to make a heartfelt point (though it winningly never stay stationery long enough to turn to unlikeable saccharine), but there was something about the final six episodes that really nailed the tone, ethos and intent of a show that was always happy to look a rainbow-clad, mad dream kids' nursery rhyme while spouting and discussing Kafka.
That it pulled such a tricky balance is a tribute to the production team, headed by creators Tina Fey and Robert Carlock, but also to actors like Kemper, Krakowski, Tituss Burgess as the deliciously self-obsessed Titus Andromedon and the legendary Carol Kane as the daffy Lillian Kaushstupper who in this half-season is given the chance to be the leader of a Latino drug-dealing gang and to converse with the ghosts of her dead husbands, two flights of fantasy that end up feeling satisfyingly emotionally-grounded into the bargain.
Between them, they took some truly wacky ideas, and they were in execution sitcom gods be praised, and gave them the kind of emotional resonance that many dramas would kill for.
The key was slipping the "a-ha! This means something profound" moments into the chaotically-silly madness so that while you were laughing at the manically-fun of it all, you were suddenly hit with how deeply impactful it all was.
It wasn't so much a spoonful of sugar letting the medicine go down as an entire factory of fairy floss allowing some incredibly therapeutic revelations to play out, and it worked a treat, especially for Kimmy who, as one of the women held underground and abused by a madman reverend (played with suitable handsome silliness and seriousness by Jon Hamm) for fifteen years whose release and subsequent move to New York set all the heartfelt daffiness in motion.
In these final six episodes, Kimmy's self-published, and dubiously under-promoted children's book of feminist empowerment and self-acceptance, The Legends of Greemulax – which, all thanks to the synergistic, merchandising gods you can actually buy! – goes viral, she almost becomes a horse-owning millionaire when the start-up she works at goes public (equity+ horses get it?) and she struggles to strike up a friendship with one-time bunker mate Donna Maria Nuñez (Sol Miranda), all while dealing with some huge issues of family, belonging and acceptance.
If you thought that the story of Kimmy had been essentially told in the preceding 45 episodes as she successfully re-defined herself as a self-made woman in a woman 15 years removed from the one she knew when she was kidnapped into the bunker as an eighth-grader, you were a little wrong.
Yes, we had been treated to Kimmy coming to terms with not just who she could be but who any woman could be, even with the formidable obstacles piled in her way – the series acknowledged in typically madcap fashion and gave them due seriousness while parodying the heck out of them – but in these final gloriously-silly episodes we saw once again that life for Kimmy would always be one of discovery and open wounds needing fresh dressing.
Which, when you think about it, is true for any of us; we find healing and a salvation of sorts when we tackle the soul-scarring skeletons in the emotional closet but the journey to wholeness never ends, each piece just further fuel to the self-healing fire.
We understand how powerful an arc this is when in the middle of an entirely goofy episode such as "Kimmy is in a Love Square!" where our protagonist ends up liking the sense of family her date's mum and dad provide her far more than her date and coworker Josh, played by Cougar Town alum Dan Byrd, ending with the unlikely threesome sneaking around behind Josh's back on mini-golf and pizza dates.
Off-the-wall silly yes, but at heart, as heartfelt as it comes as Kimmy yet again comes to understand how much she lost in her years in the bunker (although her mother, played by Lisa Kudrow, was a mess of a mum who never really delivered the maternal goods, anyway).
It's touching and hilarious all at once, epitomising, along with just about every Titus storyline, how much of a sustained beating heart sits at the centre of this sugary sitcom confection.
There's also only one partial misstep in the final six – "Sliding Van Doors" shows us what life might have been like for our unlikely foursome if Kimmy hadn't stepped in the Reverend's doors all those years ago and while it's funny, it never really fully hits its mark, going exactly where you think it will – but overall the final six episodes of UKS, complete with the kind of happy endings that every sitcom character deserves, especially the denizens of this piece of confected, substantial fun, are the perfect so long, farewell and thanks for all the existential hilarity goodbye to a show that dressed like a manic pixie girl in a parade while delivering the kind of not-in-your-face sermonising that would have pleased Freud no end.