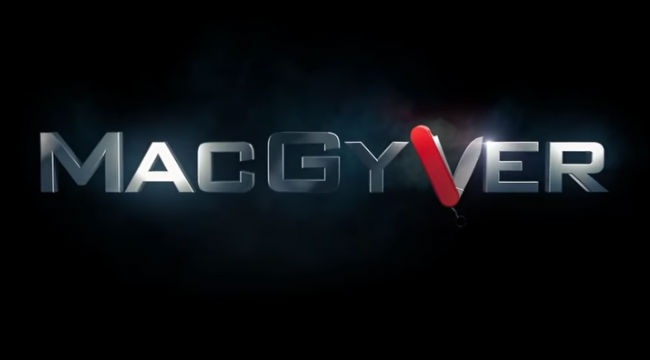 SNAPSHOT
In MacGyver, the twentysomething Mac is behind the formation of a new (but not necessarily publicized) government organization where he can showcase his amazing knack for using science and critical thinking to solve any problem that comes his way. And as you might imagine, some of those problems are extremely dangerous as he makes his way around the globe with the former CIA agent and high five-bypasser Lincoln, as played by former CSI star George Eads. (synopsis (c) Cinemablend)
One of the earliest posts I ever featured on this blog was about MacGyver, entitled "Making a nuclear plant from string and a tin can".
It was back in January 2011, long after the final episode of the series had ended in 1992, and back when I was still trying to figure out what kind of blog this would be and what it would look like (as you can see, for reasons unknown, I favoured brightly-coloured lettering).
The fact that I featured it on the blog that long after the series, which featured Richard Dean Anderson as the eponymous, endlessly-inventive hero, had ended says a great deal not only about how often it appeared in reruns but also its enduring watchability and fun.
Clearly CBS, which is reviving the show with a whole new cast and a not surprisingly modern look, thinks the premise for the show still makes for eminently watchable viewing.
But can a show so of its time and so attached to one actor work with a revived entity? Can TV's mania for everything-old-being-new-again grant MacGyver a charmed existence, rubber bands and chewing gums included, all over again?
Cinemablend thinks it might be in with a chance:
"I know, I know. It takes a sec to get used to seeing X-Men franchise star Lucas Till as the titular brainiac Mac, after so many years of only picturing Richard Dean Anderson in that role. And yes, there's something about Till's smarm and borderless self-confidence that makes one want to reach into the screen and slap something. And that last winky-winky bit in the airplane is insufferable. But this is still MacGyver, and it's more about seeing seemingly inescapable situations getting bamboozled by whatever objects just happened to be in the vicinity."
All of which is true and all of which could augur well for the show jumping right back into the zeitgeist which, to be honest, it never really left.
And if any show can rig up another audience out of nostalgia, fan wishes and a brave new approach it's gotta be MacGyver right?
We will see if the show can live again when MacGyver premieres on Friday nights on CBS later in the year.