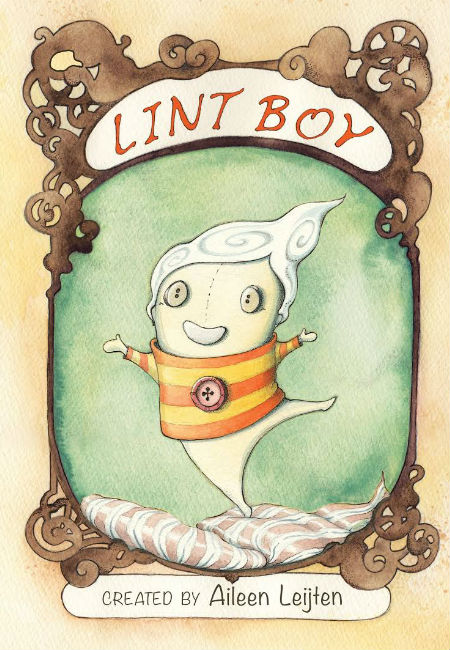 There is a quiet peace and an air of bucolic contentment that comes from knowing you belong to someone and belong somewhere that is your own.
Contrast that sense of intimate belonging with the loss of it and the person that helped make it so and you have the essence of Aileen Leijten's quirkily heartwarming tale Lint Boy, a graphic novel composed of both a deep, abiding heart and some of the most delightful art you're likely see anywhere.
At its heart, and Lint Boy has it in entirely non-mawkish spades, this beautiful book is a testament to the power of friendship and love, but also to how these unbreakable bonds fuel a willingness to do the kind of amazing, envelope-breaking things that can topple the status quo.
In this case, the overlordship of a terrified house by a bitter, cruel old lady called Mrs PinchnSqueeze who decades earlier was a still very curl girl called Tortura, who delighted in the most sociopathic of ways in destroying other kids' beloved toys and playthings.
Decades later, she's still at, with the seventh iteration of her pet pugs named Snort by her side – unwillingly; she is horribly cruel to them too – and a host of toys including the butchered beauty of a doll named Pinhead (her lustrous locks replaced by you-know-what) hanging in cages from the roof, close enough that she can bang them together whenever the urge strikes her in a terrifying "game" called Rattle-and-Battle.
Into this macabre chamber of hanging horrors, comes Lint Boy in search of his very special friend Lint Bear, their home in the clothes dryer where they were worn foregone in the name of saving the one you love.
In one sense, the story of Lint Boy is not overly complex but that is the beauty of it – it takes an admirably simple tale of fighting to save the one you care about more than anything, and fashions a redemptive narrative where the odds stacked against you and the tyranny of the evil that besets you are no march for a tenacity born of love.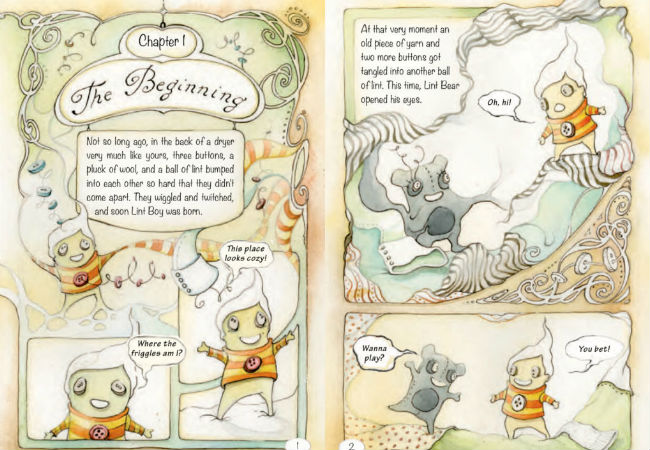 Possessed of gorgeous washed-out colours and minimalist dialogue which pays tribute to the Belgian-born, LA-resident artist's superlative ability to capture an idea in a taut, skillyfully-worded sentence or phrase, Lint Boy is reminiscent of books like The Velveteen Rabbit which sings a similar story of the power of love to transform things that do not look transformable.
With a history of animating for the likes of Hanna-Barbera and Disney Imagineering, it is clear that Leitjen has a great eye for judging just how much detail to put on a page, and the precise amount of emotional resonance that will capture the moment, and the heart, without inducing nausea.
Lint Boy is pitch-perfect in almost every day.
It celebrates love, belonging, bravery and waking from inertia borne of long imprisonment – Lint Boy awakens the other cage dwellers to the possibility of seizing back from their lives from Tortura grown up who keeps them caged because she's convinced they're alive; which they are but none will give her the satisfaction of confirming her Toy Story-is-right thesis – with quiet verve, never pretending the task ahead will be easy but always erring on the side of the idea that its fulfilment is entirely possible, and yes, necessary.
Reading Lint Boy takes you back to those heady, anything-is-possible days of childhood when you earnestly believe, even in my case in the face of incessant bullying and cruelty from others, that anything is possible.
It's a much-needed, astonishingly beautifully-illustrated shot in the arm to jaded adulthood, an artfully-joyful reminder that life can be tough and arbitrary and just plain nasty at times but that it is entirely dealable with if you have love on your side.
Again, the love Leitjen celebrates is not mawkish Hollywood-lite stuff; rather she upholds and lauds the kind of love that pushes you beyond comfort levels, way outside the place you call home, to accomplish things you might have previously thought are quite beyond you.
They're not, of course, not when you really love someone or something or even an idea, and this joy of a book is an immersive, thoroughly idiosyncratic reminder that you can overcome the villains in your life, that it may be tough and you and those you surround yourself with may doubt themselves on a multitude of levels, but that persisting through to the end is worth every last moment of terror and loss and pain.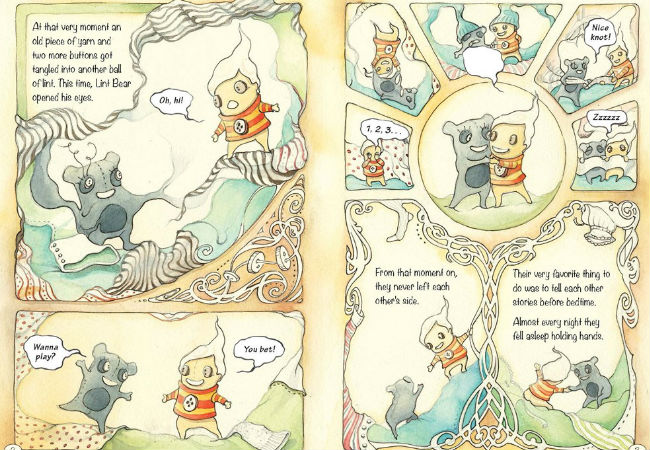 Joy of joys there is a trailer and it is, like the book itself, simply beautiful to behold …