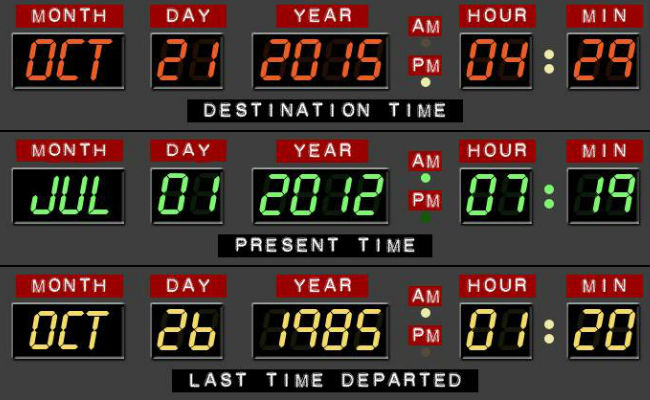 SNAPSHOT
In this zany sequel, time-traveling duo Marty McFly (Michael J. Fox) and Dr. Emmett Brown (Christopher Lloyd) return from saving Marty's future son from disaster, only to discover their own time transformed. In this nightmarish version of Hill Valley, Marty's father has been murdered and Biff Tannen, Marty's nemesis, has profited. After uncovering the secret to Biff's success — a sports almanac from the future — Marty and the Doc embark on a quest to repair the space-time continuum.
Happy Back to the Future Day everyone!
On this day in 2015, Marty McFly (Michael J. Fox) and Dr. Emmett Brown (Christopher Lloyd) arrived in good old 2015 where, of course, we all enjoy flying cars, hoverboards, holographic film advertisements, food hydrators and … well, possibly not quite just yet.
But in the 1989 sequel to the all-conquering time-travelling film Back to the Future, which left me utterly entranced ( and led to one of the most perfectly-realised trilogies ever) we most certainly do, and apart from a few itsy-bitsy timeline-shattering issues with the space-time continuum, everything is just keen.
Or is it?
In Back to the Future's version of 2015 everything is pretty "heavy" and it takes some pretty zany work on the part of Marty and Doc, when they're not sipping Pepsi Perfect or watching the Scenery Channel, to get things right.
While they do that, we can sit back, wait for the DeLorean to hove into view and grab some popcorn … Jaws 19 is about to start!
Marty McFly: Where are we? When are we?
Doc: We're descending toward Hill Valley, California, at 4:29 pm, on Wednesday, October 21st, 2015.
Marty McFly: 2015? You mean we're in the future?
Jennifer: Future? Marty, what do you mean? How can we be in the future?
Marty McFly: Uh, Jennifer, um, I don't know how to tell you this, but I… you're in a time machine.
Jennifer: And this is the year '2015'?
Doc: October 21st, 2015.
But is 2015 all it's cracked up to be? College Humour aren't so sure Marty and Doc would find it all that much to their liking since, you know, it looks, um, pretty familiar …
But fear not, Back to the Future 2 did get some things right too as Digital Spy observed.
And of those things they may have got a little wrong, the future, well now, really, has set about bringing to life in some form, such as this fantastic trailer for Jaws 19, which makes you wonder how it is you missed Jaws 4 through 18 …
And hoverboards? Totally happening! As is Pepsi Perfect (well a limited edition run of 6500 bottles anyhow) …
And yes you can even make your own Flux Capacitor at home, or get one from Ford and hey, while you're waiting for it to be installed, you can play Wild Gunman which Nintendo is releasing to the Wii U Virtual Console …
So the future is not that ridiculously far from the entrancing vision proposed by Robert Zemeckis, director and co-writer (with Bob Gale) of the Back to the Future trilogy, who has assured the world via Digital Spy that there will definitely not be a Back to the Future 4 (he and Gale own all the rights) thus sparing us any unnecessary tampering with the pop culture bliss continuum.
"It's making [Universal] insane that we don't want to do another Back to the Future. But there isn't going to be another Back to the Future so nobody has to worry. We control those characters and have no intention of letting anybody remake those movies."
That doesn't mean though that there can't be a brand new comic book series, or a release of all the movies on Blu-Ray (along with the animated series) or even a fan-made LEGO homage in which Scooby Doo and many other celebs make an appearance …
But let's leave the final word to Michael J. Fox and Christopher Lloyd themselves who have some fun in this Toyota ad reminiscing about what did and didn't appear in a future that is definitely here now and isn't too bad all things considered.
After all we've got an entire trilogy of Back to the Future magic to enjoy all over again, something that will never go away, hoverboard or no hoverboard.