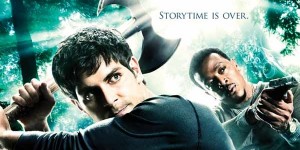 Yes I know you must appreciate the witty double play on Grimm which naturally has not been used by anyone else ever.
Now my startlingly original use of this show's title out of the way – you can email and tweet your acknowledgement of my comic brilliance at some other time – the exciting news to emerge from last week's Comic-Con Grimm panel was that … pretty everything is up for grabs!
Yes that's right folks. The panel, though charmingly and delightful to a fault as you'll see in the 4 panel clips below, did not let any stray spoilers pass their lips. What we ended up with as a result is mysteries wrapped in enigmas and shoved into a big bag of riddles (apologies to Winston Churchill for that over-creative paraphrasing of his famous phrase) and yes a sense of building anticipation for the new season of Grimm (lots of non-answers and a resulting air of pregnant mystery will do that to a fan boy).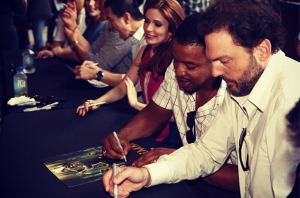 Thanks to the good folks at ew.com, the full list of people on the panel are:
The panel: David Giuntoli (Nick Burkhardt), Russel Hornsby (Hank Griffin, Bitsie Tulloch (Juliette Silverton), Silas Weir Mitchell (Monroe), Reggie Lee (Sgt. Wu), Sasha Roiz (Sean Renard), Bree Turner (Rosalee Calvert), Jim Kouf (executive producer/writer), David Greenwalt (executive producer/writer), Norberto Barba (executive producer/director), Sean Hayes (executive producer) and Todd Milliner (executive producer).