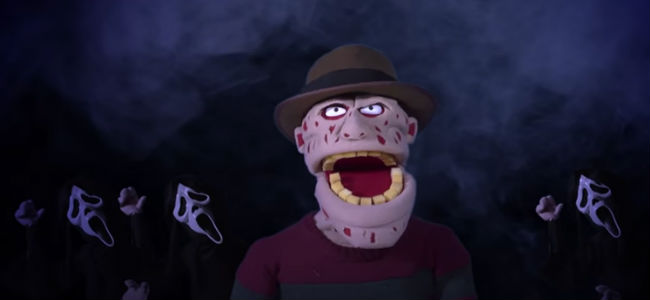 OK so here's two things you don't usually see together – Freddy Krueger from the  A Nightmare on Elm Street franchise and 1931 song "Dream a Little Dream of Me", recorded by among many others Mama Cass Elliot of The Mamas and the Papas.
But in this highly entertaining number from Glover and Boots on YouTube, who specialise in brilliantly-made puppet glove stories, Mario eats way too much junk food and discovers to his initial fright, that all that over-indulgence leads to a musically-inclined Freddy Krueger singing a twist on the timeless song.
It all looks everything will go Krueger's way until Mario decides that perhaps the solution to having too much junk food is, naturally enough, to have some more.
And it all leads to a most unexpected outcome.
But shhh keep that on the down low – we don't want to ruin Krueger's nightmare street cred now do we?