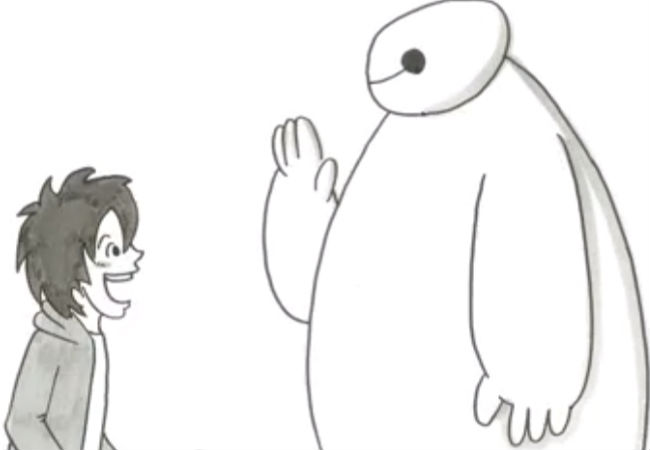 SNAPSHOT
Big Hero 6 is co-directed by Don Hall (Winnie the Pooh) and Chris Williams (Bolt) with a script that Jordan Roberts (3,2,1…Frankie Go Boom) co-wrote with the former. Based on the comic book series of the same name, the film marks the first collaboration between Walt Disney Animation Studios and Marvel. The story follows brilliant robotics prodigy Hiro Hamada, who finds himself in the grips of a criminal plot that threatens to destroy the fast-paced, high-tech city of San Fransokyo. With the help of his closest companion—a robot named Baymax—Hiro joins forces with a reluctant team of first-time crime fighters on a mission to save their city. (synopsis via First Showing)
Ask anyone who has ever seen the poignant, evocative animated works of Japan's Studio Ghibli or iconic anime TV series like Astro Boy and they will attest to the moving picture of Japanese storytelling for seamlessly and affectingly bringing together melancholy and joy into one very moving whole.
These works of art, which are invested with a deep sense of humanity and stirring insights into the human spirit, are immersive experiences that can't help but touch the soul in ways that defy the Western notion that cartoons are only for kids.
It's a style of highly personalised, deeply human storytelling that has found its way into the films of companies like Pixar and now increasingly its parent company Disney, whose latest animated effort Big Hero 6 is a clever mix of the Western cartoon tradition and Japanese anime, with the name of the city the movie takes place in, San Fransokyo, just one indication of this synthesis of creative cultures.
Disney have taken it one step further in their promotion for Big Hero 6, reports movie site First Showing, releasing a hand-drawn trailer that show Hiro and his inflatable robot Baymax getting to know one another, backed by an exquisitely beautiful pop song, "Story" by Japanese/American music artist AI.
It is hands down one of the most unique trailers I have ever seen for a movie, bringing together everything that sets Japanese animation apart – delightfully-rendered artwork, a emotionally pitch-perfect soundtrack and all the humanity you could ask for.
I share the unbridled enthusiasm of Alex Billington at First Showing who had this to say about the trailer:
"Oh my this is wonderful! To promote the release of Disney Animation's Big Hero 6 in Japan, the Mouse House is switching things up and has created a special promotional trailer using hand-drawn animation. It's absolutely beautiful and you'll probably shed a tear, whether you've seen this film already or not … This trailer really captures the emotional spirit of the film and sells it in a unique way. I wish we still tried to do something different with marketing in the US, alas we just get the same ole trailers. But this is something else. Enjoy."
It is like nothing you've seen before and you can't help but enjoy it. Just beautiful.
Big Hero 6 is currently showing in USA and opens in Australia on Boxing Day (26 December).