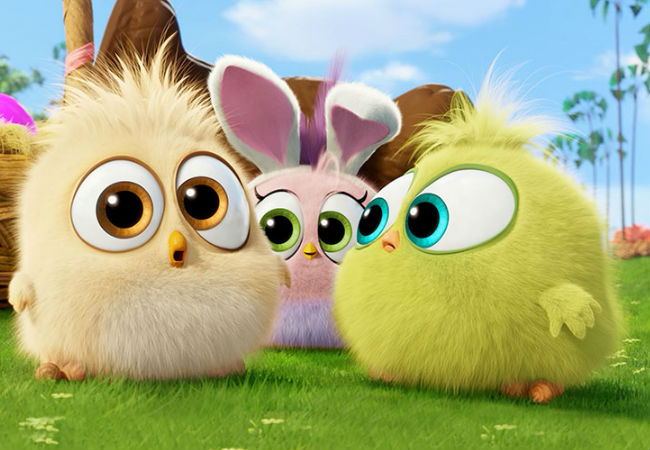 SNAPSHOT
In the 3D animated comedy, The Angry Birds Movie, we'll finally find out why the birds are so angry. The movie takes us to an island populated entirely by happy, flightless birds – or almost entirely.  In this paradise, Red (Jason Sudeikis, We're the Millers, Horrible Bosses), a bird with a temper problem, speedy Chuck (Josh Gad in his first animated role since Frozen), and the volatile Bomb (Danny McBride, This is the End, Eastbound and Down) have always been outsiders. But when the island is visited by mysterious green piggies, it's up to these unlikely outcasts to figure out what the pigs are up to.
Happy Easter everyone from the Angry Birds!
Now I appreciate that if you search the Gospels, mentions of avians, furious or not, are pretty thin on the ground. OK, fair enough, they're not mentioned at all.
But how can you resist the hatchlings from The Angry Bird Movie, adorably, super-duper adorably wishing you a "Happy Easter!" ? Answer: You simply can't.
Want proof? How about the fact that I, a man who has only played the video game once (with eager nieces and nephews), and who barely comprehended why green pigs were attacking birds, let alone why this unlikeliest of battles was the centre of a video game, and who has resolutely ignored avoided any mention of the movie based on this almost-never-played game, now finds himself featuring a clip of amazingly cute Hatchlings talking in cute childish voices all about Easter, and the Easter Bunny and Easter eggs and … well you see where this is going?
Proof enough for you of their great and magical influence? And why despite yourself, you will watch this clip over and over as you stuff Easter eggs into your mouth, a whole day early.
Wait, is that just me? OK then, just watch the clip please, I have eggs to eat in privacy while no one's watching …