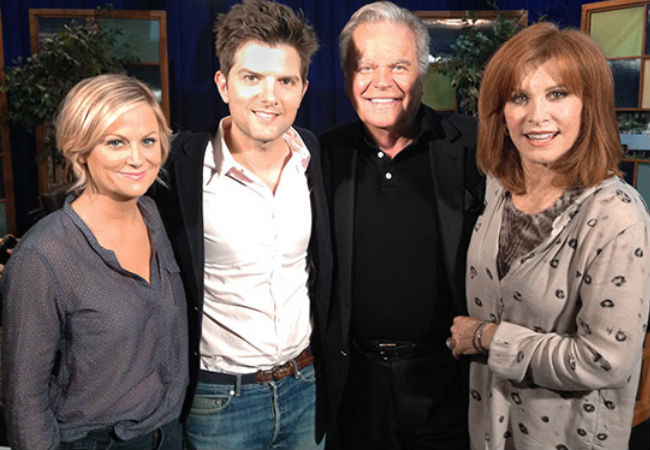 You may think there's not much to get excited about at 3 in the morning and you'd be right (save for the obvious … and by that I mean sleep thank you) unless a bout of insomnia leads you to trawl Twitter for a while and you come across an item about the cast of Hart to Hart reuniting (minus of course the much-missed Lionel Stander aka Max the Butler)!
Which I did, to my great undying fan-of-the-show joy!
(How undying? Find out here and here.)
But my joy was amplified still further when I discovered that this reunion, part of Entertainment Weekly's annual The Reunions Issue and staged in conjunction with ABC's Good Morning America program, was hosted by two of my favourite funny people in the world – Hart to Hart über-fans, Amy Poehler and Adam Scott.
It's enough to make you jump into your red convertible and hit the road for an early morning drive.
But I didn't, choosing instead to watch this wonderful reunion video where Wagner and Powers reminisce about the amazing chemistry they enjoyed playing a rich married couple very much in love who solved crimes in their spare time, a bond which looks to be as tight as ever if their easy rapport on the video is any guide.
And if that's not enough, Entertainment Weekly also provided an extra fun 2.5 minute bonus video to fans of their Facebook page, detailing all the wacky and delightfully weird predicaments that the 80s favourite amateur detectives found themselves in throughout the show's 5 year run, and seeing if Wagner and Powers could remember filming the episodes.
It was a blast seeing them back together, even if only briefly, their reunion a reminder why Hart to Hart is the enduringly engaging show it is.
If you have to be awake at 3 a.m., then these are the people you want to spend it with!