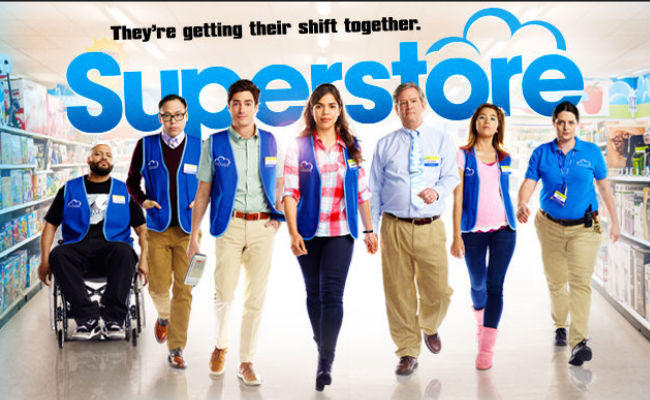 SNAPSHOT
America Ferrera (Ugly Betty) and Ben Feldman (Mad Men, A to Z) star in a hilarious workplace comedy (from the producer of The Office) about a unique family of employees at a supersized megastore. From the bright-eyed newbies and the seen-it-all veterans to the clueless summer hires and the in-it-for-life managers, together they hilariously tackle the day-to-day grind of rabid bargain hunters, riot-causing sales and nap-worthy training sessions.

The cast includes America Ferrera, Ben Feldman, Mark McKinney, Lauren Ash, Colton Dunn, Nichole Bloom and Nico Santos.

Justin Spitzer serves as writer and executive producer. David Bernad and director Ruben Fleischer also executive produce. Superstore is produced by Universal Television and the District.
Ain't working with the public, and other people who serve the public grand?
I mean, ain't it or maybe in the case of Superstore, NBC's new workplace comedy, just potentially very, very excruciatingly (in the best way) funny?
I am guessing that (a) given it's a sitcom and (b) it's set in a Walmart-like superstore called Cloud 9, which appears to be anything but that the latter is much more the case than the former.
And with the cast they've brought together including the always onpoint America Ferreira, who invests her character with aching vulnerability and warmth even in the most absurd of situations, it looks to have the goods to deliver on its bursting-with-possibilities premise.
But would you want to actually work there?
Hmm, likely not but watch people who do? Every chance in the world.
Superstore officially premieres on 4 January at 8pm, with a sneak peek at the first two episodes at 10pm on 30 November, following The Voice.