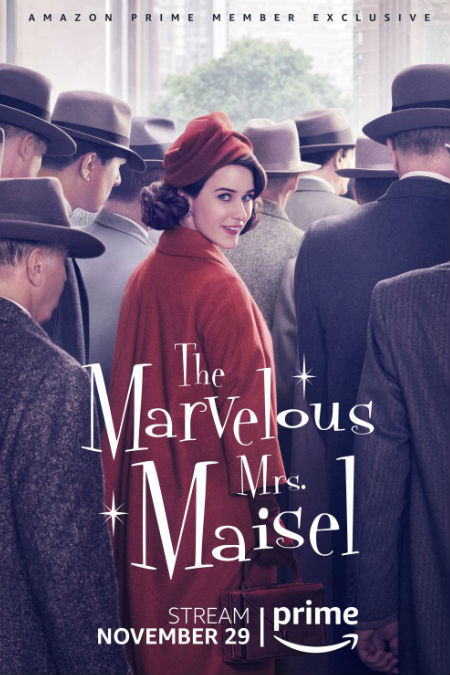 Big, epic, life-changing crossroads in life are, by their very status quo-shaking nature, profoundly dramatic events.
No matter how you slice it, and whether they represent a positive or negative shift in a person's life, they have an innate capacity for upending life as you know it.
And yet for all their business-as-usual disrupting chaos, they take place in the course of the endless, often banal momentum of life, often leaving us flailing for the next seismic step forward even as we have to get on the train to work, drop the kids at daycare or pay the electricity bill.
In other words, big life events never take place in isolation, something with which Miriam "Midge" Maisel (Rachel Brosnahan), the titular protagonist in the late 1950s-set The Marvelous Mrs. Maisel is painfully aware when, after five years of marriage and a number of years dating in college, she finds her marriage suddenly and catastrophically over.
It is so sudden that Midge, a fast-talking, vivaciously warm and funny, supremely well-planned and highly-intelligent young 1950s housewife with a degree in Russian literature, is in her nightgown readying herself for her exhausting nighttime beauty regimen when she walks into the marital bedroom to find her husband Joel (Joel Maisel) furiously packing his suitcase.
Rather, her suitcase as it turns out, something she points out in one of the witty side observations that happily populate this effervescently clever show from Amy Sherman-Palladino (Gilmore Girls, Bunheads).
Whoever the suitcase belongs to – of course hers; she's too smart to get something like that wrong – the act of it being packed, closely followed by Joel walking out of their Upper West Side apartment without once looking back, signals a massive shift in the landscape and flavour of Midge's life.
The daughter of highly successful parents Abraham "Abe" Weissman (Tony Shalhoub) and Rose (Marin Hinkle), Midge is the very epitome of a doting Jewish daughter, archetypal housewife and exemplary mother.
Planning every last part of her life to within an inch of inch of perfection and averse to sudden changes or shifts, Midge is supremely confident in her ability to handle anything life throws at her, primarily because she goes to great lengths to determine the type of object to be thrown, when, how and for what purpose.
So aspiring comic Joel's abrupt departure, following a disastrous stand-up comedy set at the Gaslight cafe where Midge has to bribe manager of stage acts (with brisket, no less), Susie Myerson (Alex Borstein) for a decent after-work slot, blows her world to smithereens in astoundingly quick order even as it ruptures the expectations of both Midge's parents and Joel's Moishe and Shirley Maisel (Kevin Pollak and Caroline Aaron).
Suddenly, the neat and tidy existence that Midge has worked towards, determinedly breathed into being and worked furiously hard to sustain is in pieces and she is at a point unlike any other in her life where there are no certain steps, no given outcomes and no unyielding, unwavering touchstones by which to judge the success and surety of her life.
In the middle of this turmoil, and in fact om the very night it happens, Midge storms out of her gorgeously-manicured apartment building in Joel's petulant wake, clad only in her nightdress and a coat and clutching a bottle of hastily-collected win, ending up in the dingy but lovable Gaslight Cafe where she delivers a fiery, drunken and hilarious raging against broken dreams and patriarchy, which attracts not only the attention of Susie but that of the NYPD who promptly arrest her.
Thus, does the transformation of Midge Maisel begin.
Palladino does a brilliantly good job in the eight carefully-calibrated episodes of the first season in exploring what happens to a person, a person of set ideas and expectations (albeit with a propensity for bucking the system when it suits), when all the certainties of life are swept away.
At turns searingly poignant and deliciously funny, with Palladino's whippet-smart conversational exchanges zinging their way through every episode, The Marvelous Mrs. Maisel manages to be insightfully and seriously thoughtful, emotionally resonant and laugh out loud funny, often in the heady space of one memorable scene.
That's not simply because the show is set in the world of 1950s stand-up comedy in New York City.
Granted those sets are funny and incisive as hell, replete with swear words aplenty, rule breaking and deadly takedowns of the prevailing misogyny of the day, especially the one that triumphantly and yet touchingly ends the final episode, but The Marvelous Mrs. Maisel comes alive thanks to its overall stellar writing and startlingly captivating performances.
The calibre of the performances is tight and evocative from the word go.
From the opening vibrant scene, Rachel Brosnahan is mesmerisingly good, at turns punchily witty, achingly sorrowful and gritty in her forcefulness, a character which, while she springs fully-formed into the adroitly-judged first episode which neatly balances introduction and momentum, is allowed plenty of room to grow, change and develop in ways that startle and delight her and mean that by the end of the first season she is a wholly different person to the one that began it.
She is breathtakingly good but the same can be said of Borstein as world-weary Susie, whose experience of life is a deeply flawed world removed from that of Midge's mostly charmed life (marriage breakdown notwithstanding) and of Shalhoub, Hinkle and Zegen, all of whom have a gifted ability to embody the fully complexity of the human experience in their characters.
Not one of them is a cardboard cutout nor a narrative convenience; they are messily, comfortingly, joyously, maddeningly, delightfully human, real people in a real world that, while it may be populated by dialogue so rich and alive that mere mortals could not possibly utter in the course of normal existence, feels as real and grounded as it comes.
The Marvelous Mrs. Maisel is an unbridled joy – searingly insightful about society's hypocritical, patriachal underpinnings and the lengths must go to to accommodate them – Rose and Midge's nightly routines, while funny, are cuttingly condemnatory about a system which demands little of the men but a great deal of the women with consequent rewards in direct proportion to the effort expended – affectionate but honest about the simultaneous sanctity and insanity of family, and humourously truthful about the way in which even the most accomplished of us can struggle when life's expectations end up being chasmically subverted by its grim consequences.
This is a show that is both hilarious and heartfelt, fantastical and authentic, serious and silly, a love letter to the 1950s in all its flawed glory that, more importantly, delights in every possible way while holding a light to the contradictions inherent in our humanity, a state of being that both gives and takes and which is a rich well from which The Marvelous Mrs. Maisel draws with accomplished and joyful skill and a life-affirming brilliance which, while admits to life's great gaping flaws, never admits to defeat, offering up a viewing experience that looks life in the eyes, admits to the very worst of it while making it clear that that is not where the story ends.