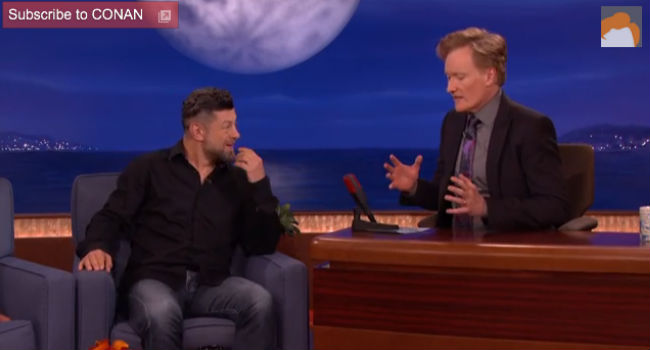 There is no doubt about it.
Andy Serkis, who has provided the speech and mannerisms for a host of motion-capture characters in movie franchises like The Lord of the Rings and The Hobbit, and The Planet of the Apes, is an amazingly talented actor.
While you very rarely see his face onscreen, lost as it is behind whichever character he is providing the voice and actions for, these movies would have lost a great deal of their appeal if he hadn't injected characters as diverse as Gollum (LOTR and the Hobbit) and Caesar in the upcoming Dawn of the Planet of the Apes with such a dynamic and captivating screen presence.
And while we knew he was clever, able to bring to life these characters in their respective films, he took things to a whole other level recently when he appeared on Conan and at Conan O'Brien's urging imagined what a phone conversation between Gollum/Smeagol  and Caesar would sound like.
In a word … HILARIOUS.
Serkis, naturally not only nails the voices but brings the characters' personalities into play making it sound, and with a bit of imagination, look like a real conversation between the two.
It only confirms what we already knew … Andy Serkis is a certifiable genius and should bring #allthecharacters to life.
Yes #allofthem.