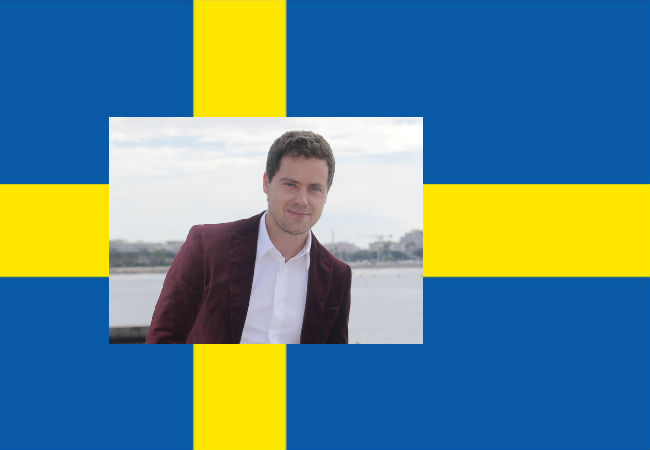 It looks like the Poehlers are getting ready to rule the entertainment world!
Or at least the NBC portion of it anyway.
With Amy Poehler's witty take on life in public service, Parks and Recreation, heading into its sixth season on the Peacock Network, younger brother and show business newcomer (he was previously a lawyer)  Greg is set to join her with an autobiographical sitcom, Welcome to Sweden.
Set to feature cameos from big sister Amy (of course), Will Ferrell, Aubrey Plaza (another Parks and Recreation cast member) and yes even KISS' Gene Simmons, Welcome to Sweden is based on Greg's real life move to Sweden when he fell in love with wife.
(Here's Greg in full stand up comedy mode in Sweden via entertainment.time.com)
A classic fish-out-of-water tale, the half hour sitcom centres on Bruce (Greg Poehler), a New York-based accountant who moves to the land of ABBA, IKEA and Volvo (to name just a few of the country's many claims to fame) when he and  a Swedish girl named Emma (Josephine Bornebusch) get serious and he follows her home to Sweden.
It will be produced by Amy and Greg's own production company Syskon (Swedish for "sibling") in conjunction with eOne Television, FLX and Sweden's TV4 (for whom it is their first English language show), and will be comprised of a largely Swedish cast, with the show shot in the country's capital Stockholm.
Here's what Carrie Stein, executive vice president global production for eOne, who sold the show into the US, had to say about Welcome to Sweden:
"This show is a 'first' on so many levels. It's the first English-language comedy for TV4; the first television show Greg Poehler has ever created and starred in and executive produced with his sister Amy; and it's the first time NBC has been involved with a comedy shot in Stockholm with a large Swedish cast! The reason this comedy has attracted all these people is because its theme is universal: Love conquers all…even if it means moving to Sweden."
No word yet of course on when it will screen but as a Sweden-ophile of long standing (is there such a thing?; let's just say there is), I can't wait to see my first episode of Welcome to Sweden, a show which could (potentially) prove that humour  really does run in families.
(via hollywoodreporter.com)
 (And here's Greg on sister Amy's YouTube channel Smart Girls via entertainment.time.com)